With recent labor as well as congestion issues taking a toll on West Coasts ports, industrial seaport markets may be affected by next year's opening of the expanded Panama Canal. It is projected that by 2016, 87 percent of the world's shipping fleet will be able to traverse the Panama Canal, which will be able to accommodate 12,000 to 14,000 TEU vessels.

According to JLL'S 2015 North American Seaport Outlook, Gulf and Eastern Seaboard ports, which are already leading in TEUs, are anticipated to capture even more West Coast discretionary cargo when the new Panama Canal opens next year; keep in mind, however, that discretionary goods are those not destined for local consumption, and thereby able to move through any entry point of the shipper's choosing. As JLL notes, it's a matter of where goods ultimately end up rather than where they enter the continent. Therefore, seaport markets based in notable population centers, e.g., New York/New Jersey (40.9 percent increase in TEU volume from 2007 to 2014), are currently faring well.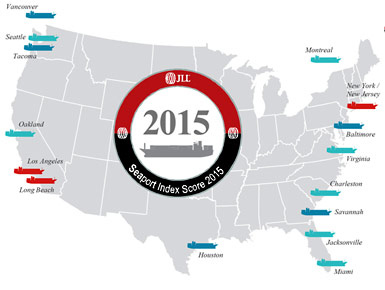 North American Seaport Outlook
It's anticipated that the ports of Long Beach and Los Angeles, which have a collective TEU volume 2.5 times that of New York/New Jersey, will remain the primary U.S. gateways in the years to come based on their infrastructure, automation enhancements, and strong rail connectivity to interior U.S. markets. However, East Coast ports in Savannah, Charleston, and Virginia — which also offer strong rail connections to interior population centers — will likely see more discretionary cargo call on their ports.

"Cost, service and risk are the three perennial drivers for supply chain executives as they develop their logistics strategy. As a result, the East Coast/Gulf seaports are gaining favor among industry veterans because they mitigate some risk, provide access to major population centers, and connect with the optimal inland transportation mode: rail," noted Mark Levy, Managing Director and lead of JLL's Ports, Airports and Global Infrastructure (PAGI) practice group.

As to demand for industrial space at the nation's seaports, JLL explains it will not directly correlate to a shift in ports of call. There are too many complexities and variables in the movement of goods to portend a macro shift in industrial occupancy. It's predicted that seaport markets with quality industrial real estate in nearby population centers will continue to see rents outpace greater market averages.

"We are seeing unprecedented industrial real estate growth around our nation's seaports. Industrial real estate occupancy has grown by 17 million square feet in the West Coast seaport markets between 2007 and 2014 and rose 15 million square feet between 2013 and 2014 alone. The East Coast and Gulf of Mexico seaports had equally impressive gains and increased by 36.9 million square feet between 2007 and 2014," Levy further noted.