Air Liquide is just the latest food grade processor to build in Tulare County, the largest food production region in the nation. Because of its central location in the heart of the state, coupled with California's famously sunny skies, Tulare County's largest business clusters are oriented toward agribusiness, goods movement, and clean energy.

This confluence of business opportunities has resulted in some interesting partnerships. A derivative economic result of the food processing industry has come together with ethanol production to create a lucrative opportunity to harvest another greenhouse gas, carbon dioxide produced through ethanol production.

Ethanol Production
Air Liquide Industrial U.S. LP (Air Liquide) recently commenced operations at a new state-of-the-art carbon dioxide liquefaction plant in Pixley, one of Tulare County's unincorporated communities. The new 450-ton-per-day facility is one of three carbon dioxide liquefaction facilities owned and operated by Air Liquide in California. The facility captures carbon dioxide emissions from Calgren Renewable Fuel's ethanol plant in Pixley.

Air Liquide captures CO2 gases from Calgren Renewable Fuel's ethanol plant, then purifies the gas and converts the CO2 gases into liquid form before marketing the grade gases to customers in the food, beverage, and manufacturing industries in the Central Valley and Los Angeles region.

"We were hesitant to build in California because the state is notorious for having a formidable regulatory environment," explains Andrew Gregory, who manages CO2 sourcing for Air Liquide. To his surprise, Gregory says he experienced one of the fastest permitting processes he has seen during his career. "Tulare County was extremely business-friendly, and they handled the environmental review process in house, which made our plant construction go very quickly," Gregory says.

Calgren recently added a large anerobic digester to its ethanol operation. Dairy waste is pumped in liquid form from nearby dairies to Calgren's facility, where the digester strips off the methane to produce clean energy. The heat generated by burning the methane aids ethanol production, and has the additional benefit of consuming harmful greenhouse gases.

Ethanol production in turn releases carbon dioxide. Air Liquide saw an opportunity to capitalize on this chemical process to capture CO2 and purify these troublesome gases into a lucrative source of food grade carbon dioxide that can be used in products such as sparkling mineral water and sodas.

The facility created four local jobs and will soon hire drivers to deliver the product statewide. Air Liquide hired 85 workers to help construct the plant. The Pixley location was chosen because of its remote access to state route 99 and its central location to the company's northern and southern facilities. Air Liquide has two other facilities in the state, one in Martinez, Calif., and another in Wilmington, Calif.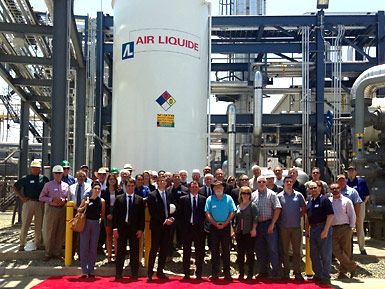 Food Production Doubled
"Processors typically go where raw commodities grow and where transportation infrastructure allows for efficient goods movement to ports and lucrative foreign markets," says Mike Washam, Tulare County Economic Development Manager.

In less than a decade, Tulare County has doubled its food production. Ag officials just announced crop sales topped $8 billion last year, up 10 percent from 2013 values. The top commodity, dairy, was valued at $2.5 billion in 2014; cattle brought in $980 million, while oranges brought in $963 million. This bump in wholesale crop production has consistently bolstered growth in food processing capacity.

Food processors continue to migrate to the Golden State's Central Valley — drawn by the proximity to raw commodities and the desire to locate along major transportation routes. And perhaps no other agricultural region has seen the recent growth in food processing capacity as Tulare County.

Why the recent love from processors? Served by State Highway 99 and an adjacent rail freight line, Tulare County is traversed by one of the busiest freight corridors in the nation. Its central location also means that processors can transport commodities to major ports in either southern or northern California in about three hours.

"In the last couple of years our county has received tremendous interest from food processors," Washam says. "We are getting a reputation for being efficient at assisting clients with navigating the local land use process and the state regulatory landscape."

Solar and "Brown" Power
This business assistance has helped the county reap huge economic benefits from the creation of a vibrant build-out of more than 380 megawatts of utility grade solar generation in the past 24 months.

Tulare County's burgeoning food processing cluster is now attracting additional green energy production facilities. Another emerging market is harvesting methane from dairy facilities by means of aneorbic digesters than can transform unwanted greenhouse gases into clean energy.

"There's a synergy to all this dairy production. If you have a lot of cows, you have a lot of milk products," Washam says. "Cows also produce 'brown power' — their waste can be captured and converted to methane."

The growing increase in Tulare County crop production values continues to feed processor growth. Tulare is the largest dairy-producing county in the United States.

CaliCheese is in the process of working with the City of Tulare to construct a 300,000-square-foot cheese plant that is expected to hire 212 workers and to process four million pounds of milk daily. Company officials say the plant will produce cheddar cheese and whey cream, whey protein concentrate, and permeate powder.

CaliCheese will add to the local dairy-processing capacity. California Dairies, Inc. (CDI), the largest dairy-processing cooperative in California, recently commissioned a third evaporator at its Visalia, Calif., plant. Co-owned by dairy producers who ship 18 billion pounds of milk annually, CDI manufacturers butter, fluid milk products, and milk powders. CDI also plans to construct another standalone processing facility just outside the city limits of Visalia.

Air Liquide officials say the company made the right move by locating its new greenfield facility in Tulare County: "This new state-of-the-art carbon dioxide facility reflects Air Liquide's continued commitment to supply high-quality products and services to customers safely and reliably," notes John Buckley, CEO of Air Liquide USA LLC. "We are proud to work alongside Calgren Renewable Fuels in this venture as we grow in California, and we are appreciative of the support we have received from the local community and from our customers in this region.