The explosive growth in the automotive and related industries in recent years has led manufacturers to come together to move the industry forward. As an example of this, in Kentucky, an organization has been created that is charged with sharing practices, finding solutions for common issues, and growing the automotive industry even further.

The Kentucky Automotive Industry Association (KAIA) has brought together manufacturers, suppliers, and other supporting entities to encourage meaningful dialogue and action. KAIA is led by Executive Director Dave Tatman, a former general manager of General Motors Corvette Assembly Plant in Bowling Green, who has 36 years of automotive experience.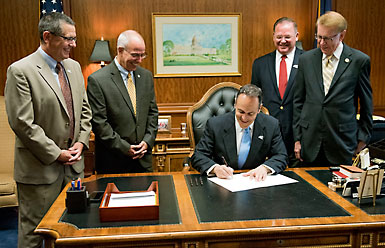 "Our industry faces fast-moving innovations and pressures," Tatman says. "Fuel efficiency standards, workforce stability, 3D printing, drones, autonomous cars, even the impending 'gray tsunami' of retiring workers could all be considered disruptive forces in auto manufacturing — and often, those forces are viewed with wary eyes."

To collectively stay on top of those new innovations and pressures, KAIA created a national conference, called AutoVision, which is held annually in Kentucky in September. Last year, in its inaugural season, hundreds of automotive industry leaders participated in the event, which featured presentations and discussions from some of the world's premier industry experts. This year's conference will be held in Lexington.

"The mix of panel discussions and breakout sessions offered everyone the opportunity to hear consistent messages about emerging trends and technologies, while also providing time to hear from industry experts about specific subjects such as workforce development and supplier needs," explains Kurt Krug, vice president at INOAC USA and a conference sponsor.

Another KAIA success has been the creation of an automotive caucus within the Kentucky legislature. This bipartisan group of lawmakers has pledged to collaborate with automotive manufacturers and KAIA on key issues in the coming years, including workforce training, business-friendly tax policies, technology development, and more.

"This is an industry that employs tens of thousands of Kentuckians and makes products known all over the world. We want to work with these manufacturers to ensure the industry's ongoing success," said caucus co-chair Rep. Jim DeCesare.

Caucus co-chair Speaker Pro Tem Jody Richards adds, "To keep Kentucky at the forefront of auto manufacturing, we must work together to ensure these businesses have what they need to maintain that momentum."

Kentucky already employs 90,000 people at nearly 500 locations, and the rapid growth of KAIA in just two years, combined with strong support from Kentucky state government, signals a positive sign for the future growth of the automotive industry in the state.