As an ongoing process, sustainability is a constantly evolving field. Every new facility that is developed has the potential to be more sustainable and energy efficient than the last as new technologies and methodologies are developed. There are many ways to conserve energy throughout the design, construction, and operation of a facility — it's not all about optimizing existing systems to more efficient settings.



Energy Efficient Distribution by Rail


One of the first things to consider when developing a new industrial facility is where to build it. More and more, firms are opting to locate new facilities close to rail hubs. Not only is it cheaper for manufacturers to ship products via rail, it is also more energy efficient. The amount of energy used to create a product is often dwarfed by the amount of energy needed to gather raw materials and distribute the product.

This trend is bringing industrial distribution full circle, as shipping via rail and water were the primary methods in the 1800s. Then, in the 1900s, manufacturers began using trucking and shipping by air as their primary distribution means. Speed, flexibility, and cheap land won out over efficient shipping methods. Due to rising costs, both financially and for the environment, manufacturers are moving toward a new distribution model: connecting the raw material to the factory and the factory to the distribution center by rail for eventual distribution by truck. However, for heavy materials or international shipping, locating near a waterfront and shipping via water route is still the most effective means of transport.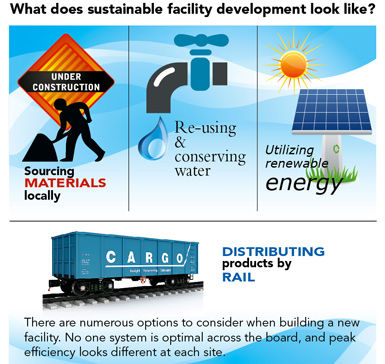 Locating near a rail hub makes such a significant difference that the U.S. Green Building Council has recognized the effort by some companies, such as Whirlpool Corp., to save money and reduce carbon dioxide emissions by using rail. The high-performance appliance manufacturer relocated distribution centers and manufacturing plants in at least four states to incorporate direct rail connections, reducing its carbon dioxide and nitrogen oxide through a partnership with SmartWay Transport® that resulted in achieving a credit toward LEED® certification.



Sourcing Materials Locally


Once a firm chooses the location for the facility, the design and development firms can begin sourcing materials for the property. Industrial properties have an advantage over other property types when it comes to the materials used to construct the building. Most industrial properties source materials locally, as developers focus on utilizing the most cost-efficient and easily obtained materials as possible. The building doesn't have to be made out of bamboo, but it's important during the construction process to waste as little as possible.

In fact, a food processing plant in China utilized 22 percent post-consumer and 50 percent pre-consumer recycled materials, based on total cost. The facility, for which Transwestern conducted on-site commissioning services, also sourced 52 percent of the materials regionally, including structural steel, concrete, and steel bars. Domestically, a new facility in Kansas sourced 20 percent of construction materials from within 500 miles of the project site.

Sourcing locally expends less energy and resources to obtain construction materials. Office buildings often cannot achieve as high a percentage of locally sourced materials because of the quality and look of materials needed to finish their interiors. Although, it is worth noting that some companies are making great strides in developing quality-finish products from recycled, regional, or renewed materials, such as National Gypsum, Armstrong, Kohler, Steelcase, and Interface.

Burning waste from a plant's own processes is considered a renewable resource and is, in effect, free energy.



Most new industrial facilities, specifically distribution centers and food processing facilities, are being constructed out of tiltwall concrete panels or insulated metal panels over steel frame construction with insulated metal roofs. Interior walls are usually made of insulated metal panel for cold rooms, concrete block for partitions, and steel stud with gypsum wallboard for office partitions.



Re-using and Conserving Water


Incorporating on-site water filtration systems is a rapidly growing trend among new developments. These systems often reuse water in two ways: in the boilers for steam and hot water heating systems and in the cooling towers for heat rejection. Without an on-site filtration system, properties would be forced to use either municipally supplied potable water or on-site wells. Having these systems in place on site reduces the potable water requirements for the facility, as well as the need to expend energy to pump groundwater.

As an example, the plant in China was designed to process all wastewater on site. Tertiary water supplies the facility's cooling towers, and condensation from the HVAC system is collected and rerouted to the cooling towers. With those systems in place, the non-potable water supply for the facility is expected to exceed 60 percent of the cooling tower's requirements, cutting its potable water demand by 11.2 million gallons per year. Additionally, the plant was able to cut its domestic plumbing fixture water usage to 60 percent of the Environmental Protection Agency's (EPA) 1992 requirements, saving 790,000 gallons a year.

Even without an on-site filtration system, some facilities are finding ways to reuse and conserve water. For instance, the aforementioned food processing plant in Kansas incorporates a system to use rainwater for urinals and toilets in the office space, as well as for irrigation on the facility grounds.

Some facilities are finding ways to reuse and conserve water without an on-site filtration system. For instance, a food processing plant in Kansas incorporates a system to use rainwater for urinals and toilets in the office space, as well as for irrigation on the facility grounds.



The Kansas plant also utilizes a high-pressure steam system for process and comfort heating, reducing energy consumption and reusing water. This system was chosen over a hot water system to work in tandem with the large process heat requirements, and it allows for one system to meet the needs of both goals (process and comfort). Heat is reclaimed from the boiler chimneys and reused by the boiler system to reduce the energy required to heat water. The boiler then creates the steam used in the high-pressure steam system. Additionally, water efficient plumbing fixtures were used to reduce the facility's water consumption by 35 percent below the 1992 EPA requirements.



Conserving Energy


Utilizing renewable energy sources is also a growing trend in industrial facilities in an effort to phase out reliance upon fossil fuels for energy. Non-fossil fuel-based energy sources emit less greenhouse gas and can earn credits toward LEED certification. Industrial facilities alone account for 28 percent of greenhouse gas emissions in the U.S., and 30 percent of energy used at these facilities is used inefficiently or unnecessarily, according to the year-end 2012 ENERGY STAR® program statistics.

In Australia, a food processing plant installed a solar photovoltaic system that will generate 150,000 kilowatt-hours per year. This $400,000 investment will reduce the plant's greenhouse gas emissions by 275,000 pounds, offsetting the energy consumption of the office space by 50 percent.

Globally, more plants are turning toward solar thermal hot water systems to expend less energy to heat water for processing. It is an efficient and inexpensive means of pre-heating water, and one of the biggest advantages of this system is the ability to utilize it, even in colder climates. A typical office building's domestic hot water demands are only 1 percent to 3 percent of its total energy requirements, so the applications for such systems tend to be small. However, many facilities utilize solar panels and wind or water turbines for general electricity use.

A $400,000 investment in a solar photovoltaic system that will generate 150,000 kilowatt-hours per year will reduce a plant's greenhouse gas emissions by 275,000 pounds, offsetting the energy consumption of the office space by 50 percent.



Certain fuel-generating methods can also reduce the amount of waste disposed in a landfill. Burning waste from a plant's own processes is considered a renewable resource and is, in effect, free energy. Though all incineration methods produce greenhouse gasses, agricultural waste and biogas is preferred because the short carbon cycle doesn't significantly increase the carbon dioxide in the atmosphere. On the other hand, when fossil fuels or consumer waste is burned, carbon dioxide is released that was previously sequestered within the Earth's crust, increasing the amount in the atmosphere (in addition to many other pollutants).

One of Transwestern's clients has set a goal of operating only "net zero" facilities by 2040. These facilities would send zero waste to landfills and emit no greenhouse gases. It's a lofty goal, but this client already has nine facilities that divert no waste to landfills, so it is very much attainable.

And one facility in Kenya is exploring the possibility of burning local agricultural waste, such as cane sugar or coffee husks, as its source of energy. Key considerations in selecting a biofuel agent are availability and consistency of supply, low moisture content so that less energy is expended to burn off steam, as well as high caloric content, which creates a higher burning temperature.



In Sum


There are numerous options to consider when building a new facility. No one system is optimal across the board, and peak efficiency looks different at each site. These are things that have to be taken into consideration for each project.

Designing a sustainable plant is a road with many paths, and each facility has its own end goal, whether it be conserving energy, reusing water, or emitting less greenhouse gases. The field will continue to evolve as better technologies become available and more efficient processes are developed. Market leaders of the future will be the companies that can set clear goals today and muster the determination to make it through the learning curve.