For several years now, building information modeling, known as BIM, has steadily become the preferred method for developing the design of a new building. Instead of producing a series of flat and representational drawings, BIM creates a digital database that represents the building in three dimensions, allowing the design team, building owners, and contractors to virtually "walk" through the facility before it's built.

One of the early benefits of BIM to building owners was virtual 3D coordination of the work, commonly referred to as "clash detection." This process allows for both the design and construction teams to combine 3D models to coordinate the design and resolve conflicts prior to construction of the building. This better coordination, in turn, typically leads to fewer requests for information (RFIs) and change orders. But what many facility owners and operators don't know is the benefits of BIM can extend long after construction is complete. The data collected and stored in BIM is like a building's medical record — it can tell us its measurements, how it's used, and when it needs its next scheduled maintenance or "check up," among other information. And since nearly 80 percent of a building's lifecycle costs come after construction, having that data available to owners can make a big difference in the facility's long-term health.

Going Beyond Design
For starters, BIM can simply provide a building's as-built record, accurately portraying its true measurements, layout, etc. after any alterations to the original design were introduced during construction. And with that accurate account comes an exact understanding of how the building's space is used. In the healthcare world, this kind of information can be critical for reimbursements from federal agencies. Hospitals in the U.S., for example, are required to report the sizes of their departments to reflect how many people they are serving and, thus, how much Medicaid or Medicare reimbursement they receive. Life safety information is also tied to hospital accreditations. So, many hospital owners use BIM to track exit capacities, smoke compartments, suites, and fire ratings.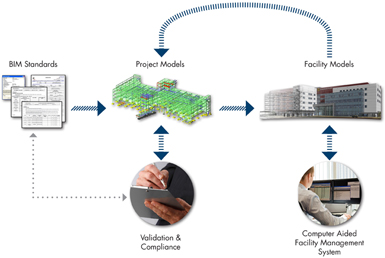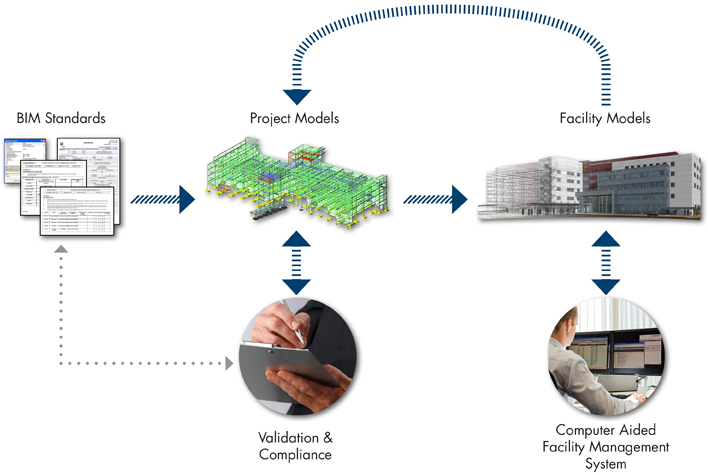 The same approach can apply to industrial buildings, particularly when it comes to space allocation, asset management, and maintenance. BIM can include data on the age of equipment, its dimensions, when it is scheduled to receive maintenance, etc. With all of this information tracked for each piece of equipment in the building — down to the types of light bulbs in each light fixture — owners and operators can better anticipate issues and plan their budgets to account for equipment repairs and replacements. Similarly, should the facility need a new type of technology or system, BIM can help determine exactly where it should go and how it can be integrated into the current layout. With this kind of equipment tracking, BIM can be especially useful for the commissioning process as well. As equipment is being procured and installed, the contractor can enrich the model with all of the pertinent information so that it's ready when the commissioning phase begins. The information entered into the model can also be integrated into whatever commissioning system the agent and owner may be using.



Getting Started


Another little known fact about BIM is that model development isn't limited to new design and construction — models can be created for existing facilities as well, no matter their age. For most existing facilities, two-dimensional computer-aided design (CAD) drawings and plans can serve as the basis for the model, and the geometry and additional details can be added over time as renovations or other changes are made.

For very old buildings whose only records are blueprints, the BIM team can use a 3D laser scanner to create the base for a model, to which building intelligence is added. With this technology, a scanner essentially pulses the scene repeatedly with a laser, collecting the spatial data for each of the hundreds of thousands of points it sees, and then reproduces that data to form a series of images. The resulting views look much like digital photographs but have all of the three-dimensional angles and perspectives of the real thing, down to the electrical outlets. Again, the data the building owner is interested in collecting and reporting through the model can then be added to this foundation.

Defining the goals for BIM is, in fact, the most important part of the process, whether for new design or an existing building. For example, if commissioning is the goal, the model will be built to primarily focus on equipment installation, maintenance, and related information. Or, let's say a facility is being decommissioned. The model can provide a detailed understanding of the building's real estate, floor and/or room sizes, equipment, and other assets to better organize what is appropriate for resale, reallocation, or other distribution. And for facilities with existing asset management systems, the model can be developed to focus on, say, the building's mechanical systems, leaving asset tracking to the existing system.



The Future of BIM


Perhaps the biggest advancement in BIM in the last few years is its nearly routine adoption into the design/build process. Contractors now often require a BIM workflow — with so many partners involved, it's a relatively easy means to achieve certainty of geometry, leaving little room for discrepancies. Now that BIM is becoming a more routine tool in the design and construction process, building owners are looking for more ways to use it, which includes facility management.

One of the benefits of BIM for facility management is its flexibility, which allows a building owner to modify a model as needs and circumstances change. Right now an owner may want to maintain an existing facility management system, using BIM as a supplement. Data from the model can be extracted and integrated into the existing system, creating a fuller picture of the building conditions without requiring a complete switch between systems. BIM can also be used to solve very specific building information management challenges, such as space management. In the near future, designers using BIM will be able to integrate energy measurement into BIM so that a model can also help owners track energy use and how changes in building systems, uses, equipment, etc. affect it.

While BIM is readily being used for facility management in healthcare and higher education settings, the principles and process are largely the same for industrial facilities. Whether it's tracking the department sizes of hospital floors or managing an industrial plant's 30-ton cranes, it's the same modeling process, which reaps the same informational benefits. So no matter the age of an industrial facility, getting started with BIM now can help save time, money, and headaches for the rest of the building's life.