Toronto - This city and the adjoining Ontario province is home to a robust, richly diverse aerospace and aviation sector. Viewed from practically any perspective, Ontario's landscape of 350 aerospace and aviation companies, $6.4 billion in revenues, and over 22,000 skilled employees comprise a powerful regional engine for economic growth and development.

Ontario's tightly knit aerospace sector is a classic Porter-esque industry cluster, defined as "close groups of inter-connected companies and associated institutions in a particular industry sector" by global competition and economic development strategy expert and Harvard Business School professional, Dr. Michael Porter.

Ideally, Porter and his proponents contend, clusters succeed, in part, because proximity of location encourages market collaboration, which tends to spur economic development for companies clustered in a specific geographic area.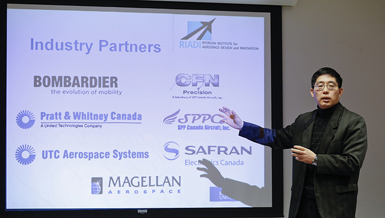 Clusters, Ontario's aerospace sector being an excellent example, also require the support of an array of related industries and other public and private entities including governments, universities, investors, standard setting agencies, think tanks, vocational training providers and trade associations to spur and sustain competitiveness.

But in today's global, knowledge-intensive tech clusters, places like Toronto and Ontario are finding that they need to look beyond trade and commerce, beyond just sector and cluster economics in order to sustain business growth and future economic development.

Competition is intensifying, not just for regional trade and more global aerospace customers, but in Ontario and other key regions, the scramble has never been more fierce or nor more demanding than now for the right people, technical skills, engineering talent, technology, and new innovations needed to thrive in today's sharp-toothed global marketplace.

And, as regional officials readily admit, the global face of aerospace is changing with emerging economies like Mexico, Brazil, Russia, China and Indonesia, to name only a few – becoming increasingly competitive, making a strong push to become aerospace powers in their own right.

Added to this international competition are mounting pressures of globalization and an aging Canadian workforce coupled with increasing market demands of 2014's knowledge-intensive, global economy. Ontario's challenge, the grand challenge, is simple: how does the region, and its many clusters, stay at the cutting edge of global technology competitiveness?

Aerospace is Canada's largest R&D target, with Ontario accounting for 3o%, or $462 million of all aerospace R&D in Canada.

Based on recent site visits and local interviews in and around Toronto's aerospace cluster, including industry, government, university and public/private associations executives, the region's response is focused on developing and nurturing their own version of a Silicon Valley-like 'innovation ecosystem' capable of supporting clusters like aerospace and their evolution toward increasing tech skills, tech talent while building a stronger regional culture for innovation and technology development.

The core of this new ecosystem is the Downsview Aerospace Innovation and Research (DAIR), a working group that currently includes the University of Toronto Institute for Aerospace Studies, Ryerson University, York University, Centennial College, Bombardier, Pratt & Whitney Canada, Honeywell, UTC Aerospace Systems, MDA Corporation and Sumitomo Precision Products Canada Aircraft, Inc.

Under the developing plan Centennial College will receive up to $26 million from the provincial government to relocate its aviation programs to the former de Havilland aircraft manufacturing center at the park, located in Toronto.

The investment is seen as the first step towards turning the existing aerospace training and research hub into a fully empowered innovation ecosystem capable of developing new technologies and innovations needed to grow and sustain the aerospace cluster. The plan will recast the former military airbase as a global aerospace hub that would function as an innovation incubator to create and attract new investment.

The de Havilland plant will be renovated to accommodate new classrooms, workshops and hangars and will house an innovation and research working group consisting of industry leaders and academic officials from York University, the University of Toronto, Ryerson University.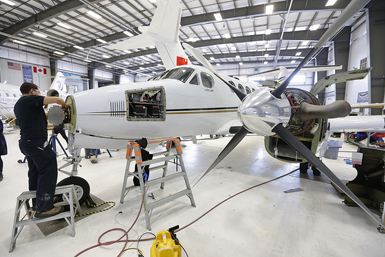 Also helping to support and sustain Ontario's new innovation ecosystem, is a large and vibrant research and development (R&D) effort across Canada with annual spending in 2013 of $1.54 billion. Aerospace is Canada's largest R&D target, with Ontario accounting for 3o%, or $462 million of all aerospace R&D in Canada. Critical R&D programs that support innovation and technology development for Ontario's aerospace sector include advanced engineering materials, advanced manufacturing, autonomous systems, electric power, ergonomics and simulation methods and tools.

For the aerospace sector a better, stronger, healthier innovation ecosystem can't come soon enough as new materials and ever-more complex manufacturing technology is putting mounting pressure on aerospace worker skills as the region sees rapidly escalating demand for high tech-skills positions, especially qualified engineers, technicians, designers and scientists across all disciplines.

Ontario's aerospace cluster is diverse in capabilities, producing and and shipping finished aircraft and aircraft sub-assemblies to customers throughout North America and Europe, and, increasingly, to Asia where growing economies are driving unprecedented expansion in the civil, business and private aviation sectors, especially in China where demand for ultra high-end custom personal aircraft is booming.

Ontario boasts, and promotes proudly, its technology and innovation leadership position within the aviation sector, one that includes several aerospace 'firsts,' including development of the Avro C-102 Jetliner – the first commercial jet transport built in the Western hemisphere and the development of the world's first emergency locator, or 'pinger' device, now required equipment on all aircraft.

The bright red Chinese flag set with 1 large and 4 small yellow stars adorned the tail fins on many, many aircraft seen in various stages of production and completion during onsite plant tours here in Ontario this March.

But not everybody these days is ordering personal jets fitted with rare rainforest wood inlays and custom Italian leather interiors, as good a business as that is today for companies like Peterborough based Flying Colours Corp. A great, regional small business success story, Flying Colours specializes in what the industry calls aircraft 'completions' a high value-add customization business which can include anything from refurbishment to maintenance and modifications on a wide range of aircraft.

More broadly, companies in the Ontario region are involved in the development, production and shipment of a very wide range of aircraft components, including tubo prop and fixed wing business aircaft, turbo jet engines, body and wing landing gear, electronics systems and space robotic systems used on the International Space Station.

Today the aerospace business is much less regional than it is global, with customers increasingly spread all over the world in both the civilian and military sectors. Ontario fills customer orders for a long list of makers and suppliers of components such as Airbus A380, the Boeing 787 Dreamliner, the F-35 Joint Strike Fighter as well as many of the world's leading air frame makers.