AD: Can you explain the convergence between data protection and cybersecurity?

Beloussov: Cyber protection solutions address the convergence of data protection and cybersecurity. Legacy approaches, like standalone backup or non-integrated security point solutions, are no longer effective. A modern approach is needed that addresses all five vectors of cyber protection.

AD: Can you describe the five vectors of cyber protection?

Beloussov: It's important for organizations to understand that as data volumes grow, the way data is accessed changes, and safeguarding that data involves complex and often competing considerations. Those considerations are the five vectors of cyber protection — also known by the acronym SAPAS:
Safety — ensuring that a reliable copy of your data is always available;
Accessibility — making your data easily available from anywhere at any time;
Privacy — controlling who has visibility and access to your data;
Authenticity — having undeniable proof that a copy is an exact replica of the original data; and
Security — protecting your data, applications, and systems against malicious threats.
Cyber protection balances the access against the need to keep your data safe, private, authentic, and secure. The balance is important to deliver easy and efficient protection.

AD: How do advances in blockchain figure into this?

Beloussov: Today's digital world contains a huge number of assets whose originality and ownership are difficult and costly to define and track. Blockchain technology can solve this problem by providing a secure, publicly verifiable way to ensure the authenticity and integrity of data and transactions of any kind — reducing the cost and complexity of centralized systems while making data "tamper-proof."

A blockchain-based service for file notarization, e-signing, and verification enables customers to ensure the integrity of their business-critical data while achieving regulatory transparency and decreasing security risks. It also features an e-signature service where customers or required parties electronically sign documents (via a web console or API) while generating publicly verifiable proof of the time stamp and integrity of signatures.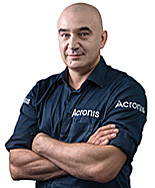 AD: What about machine learning and artificial intelligence?

Beloussov: With an ever-evolving threat like ransomware, it's not enough to have traditional anti-virus software in place, which solely defends against known threats. Active protection must be integrated into your backup solution to effectively defend against evolving strains of malware, also known as zero-day threats. By employing artificial intelligence and machine learning models, ransomware attacks can be recognized and halted in real time.

Machine learning (ML) models are generated by artificial intelligence infrastructure that analyzes hundreds of thousands of computer processes — both legitimate and malicious. Those models are then incorporated into active protection, which monitors systems in real time, analyzing the behaviors of every process in order to detect unusual activities, such as unauthorized encryption. When a suspicious process is identified, the technology stops the attack and immediately notifies users or IT administrators — saving time and simplifying their response.

AD: How does Acronis partner with cloud providers, software vendors, and other service providers?

Beloussov: With one SaaS solution, service providers and their customers gain access to hybrid cloud backup, disaster recovery, AI-based ransomware protection, file sync and share, and blockchain-based file notarization and e-signature services, all managed from a single console. By accessing our cyber platform, developers can support new data sources, new data locations, and integrate their applications with cyber protection solutions.

AD: I understand Acronis has selected Tempe, Ariz., for a new R&D center. How did that decision come about?

Beloussov: Arizona is North America's hub for data center operations and professional services, and companies who overlook Tempe miss out on the talent and opportunities that the location offers. A top technology center in Arizona, Tempe is a leading choice for major corporations and, in particular, a hotbed for technology — with tech companies from aerospace and nanotechnology to solar energy research and software development and manufacturing having a footprint in the city.

As the cyber protection industry continues to grow, our team is constantly working to develop services that make total protection easy, efficient, and secure for users. By opening this new research and development office in Tempe, we're able to draw more experts to this effort and continue providing the innovative services that have made Acronis the success it is. Additionally, Acronis' investments in R&D will contribute to Arizona becoming a technology hub competing with the overpriced "silicon neighborhoods."

AD: Will Acronis be partnering with the Tempe area's educational institutions to fulfil its workforce needs at the R&D center?

Beloussov: Yes, Acronis has pledged to invest $50 million dollars into the city over the next three years through innovative blockchain, machine learning, and artificial intelligence-based cyber protection research and development projects — all led by local talent with staff pulled from the thriving engineer and IT professional community of the city. Furthermore, to develop and enhance our innovative cyber protection services, Acronis plans close connections with Tempe's engineering community and with local schools like Arizona State University.