On May 23rd, the U.S. Department of Commerce initiated an investigation into "whether imports of automobiles — including SUVs, vans, light trucks, and automotive parts — into the United States threaten to impair the national security." You read that correctly: they think your neighbor's Dodge Charger and your Toyota Rav4 might be plotting against our homeland!

Since then, untold amounts of taxpayer dollars have been spent on determining if international automotive manufacturers pose a threat to U.S. national security. Hearings have been held and thousands of pages of documents and proprietary information from auto companies have been gathered. Overwhelmingly, the collected evidence points to the obvious: America's auto industry is stronger than it has been in years thanks to the massive investments that international companies have made into our economy.

Even the Administration struggles to justify this effort. In launching the investigation, Secretary of Commerce Wilbur Ross wrote to Secretary of Defense James Mattis saying that, "[t]here is evidence suggesting that, for decades, imports from abroad have eroded our domestic auto industry." Yet, when asked by Senator Orrin Hatch (R-UT), during a Senate Finance Committee hearing held on June 20th, to provide the requisite evidence upon which this investigation was initiated, Secretary Ross stated, "Well, as you know, the investigation, Mr. Chairman, has just begun so we do not have the detailed answers to any of those questions."

Here are the facts that are evident:
The Commerce Department's own Bureau of Economic Analysis (BEA) reports that job creation by international auto manufacturers in the United States increased by 79 percent from 2010 to 2015, compared to a 35 percent increase in the overall U.S. auto industry. International automotive companies support nearly 520,000 jobs in the United States. More than 410,000 of these U.S. jobs are in the manufacturing sector.

Further, international auto companies have longstanding manufacturing operations in 14 states, research and development facilities in 16 states, and dealerships employing Americans in all 50 states. These companies have invested $75 billion into their U.S. businesses, nearly 85 percent of which occurred after the North American Free Trade Agreement (NAFTA) took effect.

This surge in investment proves that free-trade policies boost U.S. competitiveness and economic growth. Trade also continues to create employment opportunities in the United States. According to BEA data, U.S. exports by international companies in the automotive sector have also grown by a staggering 200 percent in the past five years. The production and exporting of American-made automobiles in 2016 alone created 265,000 new jobs.

When international companies invest here, it means other nations now have a stake in America's success. Unfortunately, these proposed tariffs are targeting longtime U.S. allies like the United Kingdom, Canada, Japan, Germany, and South Korea.

International companies operating in the United States are a good measure of U.S. competitiveness. Sadly, Commerce's actions could dampen foreign direct investment (FDI) in other sectors, having a massive impact on our economy.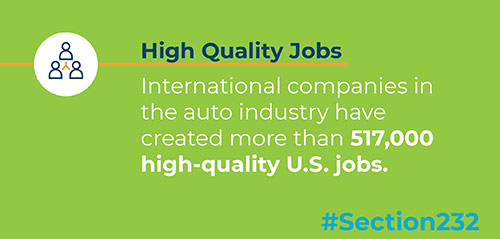 International Investment Grows High Skill American Jobs
Today, there is more than $4 trillion of cumulative FDI in the United States. This investment supports more than 24 million workers in the United States, including 6.8 million American workers directly employed by international companies. Notably, compensation for these U.S. workers is 24 percent higher than the private-sector average.

Most global investment flows into the U.S. manufacturing sector. Today, one fifth of all U.S. manufacturing jobs are at an international company. Over the past five years, these firms have created 54 percent of all new U.S. manufacturing jobs.

International companies help diversify America's economy, making it more resilient, and open new markets for American-made goods. U.S. employees of international companies produce 23 percent of U.S. exports, shipping nearly $1 billion in goods per day to customers around the world.

American scientists and engineers employed by international companies are also leading our nation's innovation advantage. International employers spend more than $57 billion on R&D activities annually, or 16 percent of all R&D performed by U.S. companies.

Strengthening America's Workforce
Far from being a security threat, international auto companies go beyond creating jobs and opening markets — they help create a more highly-skilled U.S. workforce through state-of-the-art training programs.

For example, Toyota developed the Advanced Manufacturing Technician (AMT) program, which provides both classroom instruction and paid, hands-on experience at world-class manufacturing facilities. Students in this program can graduate debt-free, earning an Associate of Applied Science in Advanced Manufacturing degree.

Importantly, the program creates more than just a direct pipeline of high-quality talent for Toyota. Some 300 other companies, from large U.S.-based multinationals to small- and medium-sized manufacturers across nine states, also benefit from this program. As a result, the Toyota AMT program is strengthening American manufacturing from Plano, Texas, to Charleston, West Virginia.

Mercedes-Benz, which employs thousands of U.S. workers and has invested more than $5 billion in its Vance, Alabama, facility, created the Mechatronics training program in partnership with Shelton State Community College and AIDT. Combining mechanical, electrical, computer, and control engineering training, the program prepares students for advanced manufacturing jobs, including potential full-time positions at Mercedes-Benz.

Likewise, Hyundai Motor Manufacturing in Montgomery, Alabama, partners with Trenholm State Community College to run a six-month maintenance apprenticeship program that includes both classroom and hands-on training.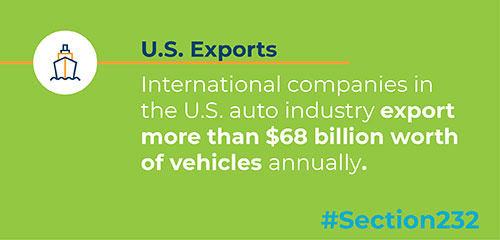 Supporting America's Veterans
Ironically, on the same day that President Trump and his daughter unveiled their "Pledge to America's Workers" initiative, OFII testified at the Commerce Department's hearing. While many other witnesses echoed the contributions mentioned above, I thought it was important to remind the panel of what global automakers are doing for America's veterans.

At the hearing, OFII shared the experience of a V-22 Osprey mechanic — a sergeant in the United States Marine Corps. Here is how he describes the challenges he faced transitioning into civilian life:

"When I left the military, I didn't really have a mission anymore, I was on my own. Trying to fit in, trying to figure out where I was and what my purpose was again….The program has been pretty awesome….My future is now clear, and I am going to keep expanding my horizons with this company and see where the road takes me."

An Air Force aircraft electrician who defended this country's national security through a career that included nine tours in Asia had this to say about finding a job in the country that he spent decades defending overseas:

"It was a struggle….As soon as I got accepted into the program I saw kind of a light at the end of the tunnel. Now I can't wait to get to back to work and get my hands dirty."

The program these American heroes are describing was developed by Jaguar Land Rover North America through its Veterans Careers Program. This program connects "skilled and experienced transitioning service members and veterans with positions across the Jaguar Land Rover retail network."

Mercedes-Benz was the first luxury automotive manufacturer to partner with the U.S. Department of Labor and Department of Veterans Affairs to offer a Registered Apprenticeship Program.

The Administration invoking U.S. national security in pursuit of bygone industrial policies is like slapping an old carburetor onto a modern direct injection engine. Not only is it wasted effort, it could easily inflict irreversible harm.

The views and opinions expressed in this article belong solely to the author.