As the industrial economy expands, corporate occupiers are looking to mitigate risk by selecting locations where all the stars align. Critical location factors such as labor supply and costs, building supply and costs, highway accessibility, along with strong economic offsets (incentives) are the drivers to most location decisions now. Thus, the Area Development Corporate Survey rankings results come as no surprise. The top-five site selection factors for 2016 are the same critical location factors aforementioned.

The continued absorption of existing industrial product has really changed the cost structure for industrial projects. Corporations are continuing to see a shortage of available buildings and increasing land and building costs. According to Cushman and Wakefield, Inc.'s U.S. Fourth Quarter MarketBeat, overall industrial vacancy is 5.5 percent due to 63.6 million square feet of net absorption. This is the 27th consecutive quarter of industrial absorption gain; as a result, the construction of 215.6 million square feet of new industrial product is coming to market. The growing demand is raising asking triple net rents to an average $5.64 per square foot, a drastic change from 2012 when asking rents were under $5.00 per square foot and vacancy was over 8 percent.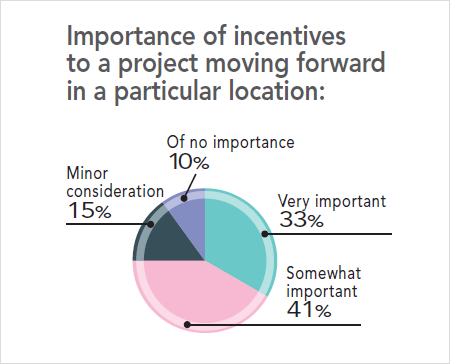 While e-commerce demand continues its growth, the market will continue to see supply constraints of available industrial buildings in certain markets, and asking rents will rise. That, coupled with a low unemployment rate and increased wages, has made industrial expansions more expensive than ever. As the labor and real estate markets tighten and increase in costs, it is critical for locations to have strong economic incentives to offset costs. As these costs rise, the economic incentives conversation is top of mind for real estate and supply chain executives. Economic incentives are now not just the icing on the cake, they are now truly making projects a reality.