A few years ago, Bill Bouchey, director of interior design at HOK's New York studio, worked on a project renovating the Montreal regional headquarters of a large financial institution. The project proved emblematic of contemporary workers' evolving preferences and the ways companies are striving to both accommodate and encourage those workers in their new habits. The undertaking saw the company reduce its footprint on its main campus in downtown Montreal and open up new space at two smaller facilities — one located uptown and one located in a transition area between urban Montreal and the suburbs.

The goal, Bouchey says, was to respond to trends such as remote working, flexible working, and hoteling to allow employees to work "in a more agile way, including being able to work remotely part of their workweek and part of the time to travel to other locations that were connected to the corporate culture but weren't necessarily all the way downtown."

In the new arrangement, workers who resided in the suburbs might split their time between working at home, working at one of the satellite facilities, and working at the main campus, depending on their inclinations and the demands of their jobs. The company "wanted to use this project to help attract and retain people," Bouchey notes. "They know that people are looking for flexibility in how they work and conduct themselves as corporate professionals."

Emphasizing Agility and Flexibility
The changing nature of work has created challenges for companies as they develop new headquarters and regional hubs and renovate existing ones.

"Technology has changed everything," says Meredith O'Connor, an international director and co-chair of the Headquarter Practice Group at JLL, so that new models for the workplace "seem to change almost by the month."

In response, companies are prioritizing agility and flexibility in their facilities — both in the design of the spaces and in the strategic decision of where to actually locate them. In the case of the Montreal project, research demonstrated the paths that many of the companies' commuters were taking to get downtown, enabling the company to identify convenient locations for the satellite offices along the route.

"We're not arbitrarily picking the locations for these places," Bouchey explains. "We've done some internal work that tells us that there are people who would benefit from it — that people are actually asking for it. It's a matter of how does this relate to where employees come from, and how do we create centers of excellence that appeal to the current demographic?"



Technology-enabled advances are leading to reconsideration of how and where to locate workers.

Bouchey says locating facilities in areas that are convenient for workers is a matter of not only keeping existing workers satisfied but also of pursuing and attracting talent. For instance, he says companies often consider opening regional hubs in areas that are hotbeds for young, skilled knowledge workers.

The flexibility to reduce the influence of the large, central campus is a direct result of technology, O'Connor says: "When you had large brick-and-mortar headquarters located on sprawled-out campuses, everything you needed was on that campus," she points out. "You had your HR department, your finance department, your legal department, all of your C-suite, and all of the key decisions had to center around that particular building or that place. But now with technology enhancements and the ability to communicate anywhere anytime, some companies are asking, 'Is it really necessary?'"

O'Connor says decentralizing from a main headquarters to devote resources to regional hubs can help organizations better access their customers and give those customers a sense of connection to the community — which can be a crucial strategy for customer-service-focused industries such as banking. On the other hand, according to O'Connor, decentralization of an organization can create some management challenges related not only to the physical locations of facilities but also to the sometimes "roaming" workplace locations of workers.

"Things have become so flat that people get comfortable not necessarily having to report to anybody or having to know really whom to report to," O'Connor explains. "Losing that hierarchy can be challenging sometimes. Other times, you can say it creates a better culture. It depends on the company itself, but I think having a centralized headquarters certainly brings the hierarchy that makes that part of it easier to understand."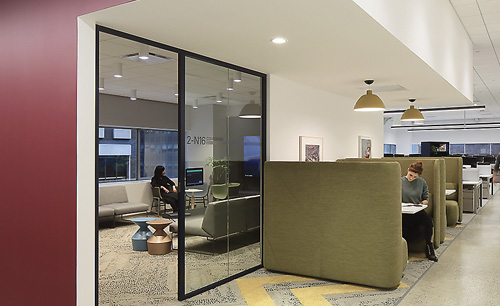 Welcoming Workers Back
Although technology now allows certain types of workers to complete their tasks remotely, O'Connor says many organizations are re-emphasizing the value of employees spending time meeting face to face and collaborating with each other in person. That makes the design of the workspaces at regional hubs and central headquarters crucial.

"We're seeing companies work to get employees back into the office, but they have to give them a place that they're proud to be in," say O'Connor. "That's why companies are spending money in that area."

She says companies should embrace the trend as a chance to deepen employees' sense of connection to their workplace, fellow workers, and the company mission: "It's really an opportunity for executives to think about changing a culture or creating an identity or brand, where employees are very comfortable and happy to be coming back into the office…They have a sense of pride…and they enjoy the work…and they find a place where a lot of collaboration is happening that wasn't happening in the past when people were in closed offices."

At offices everywhere, including regional and central headquarter campuses, private offices are being jettisoned for open floor plans, and dedicated desks are being exchanged for flexible spaces and universal workstations. In a 2017 JLL survey, 70 percent of U.S. employees said they would trade an enclosed office for an open-plan workspace in exchange for access to innovative environments such as community, collaborative, or creative workspaces.



Technology has changed everything, so that new models for the workplace seem to change almost by the month.

Meredith O'Connor, international director and co-chair, Headquarter Practice Group, JLL

Bradley Migdal, senior managing director at Cushman & Wakefield, says he believes that an open, collaborative space creates a better office experience: "It allows people to create a connection with their colleagues, which in turn creates better team-building and longer tenure."

O'Connor further notes that the inventive use of space to encourage the mingling of workers from all departments and levels of an organization can pay major dividends. Creative collaborations that would never have been drawn up on paper can materialize from something as mundane as waiting in line at a coffee shop installed in a common area.

"From the perspective of an executive, it's priceless in its ability to make people communicate in a way that they were never able to communicate before," O'Connor says.

Research-Based Design
According to HOK's Bouchey, companies are closely studying how their employees work to develop more efficient spaces that align with worker habits. For instance, at the Montreal regional headquarters of the financial firm, an analysis revealed that the facility had too many large conference rooms that often sat empty. The new plans called for more two- and four-person huddle rooms that better fit the way workers actually conduct daily business. However, Bouchey says, it was critical that the company aimed to understand how its different units worked and not to apply the same template to the work environment of every group.

"It's important to first understand the objectives of a group," Bouchey says. "You have to do this to right-size not only the footprint but to understand the attitudes and proclivities of each group. For instance, sales groups almost always can work in a smaller footprint and be out of the office 50 percent of the time, as long as when they come into the office they can shut a door somewhere and conduct a transaction call. So strategy comes first."

Migdal echoed the importance of examining the needs of workers before creating solutions. Otherwise, companies risk erecting obstacles for their employees.

"In a virtual world that requires video and teleconferencing connections with clients, the lack of personal, quiet, and confidential space is becoming more challenging," Migdal notes. "Companies need to understand the workload and the need for a quiet/confidential space before designing the workspace."

O'Connor also emphasizes that the key to embracing an open, flexible plan that eschews dedicated offices is providing choices for private spaces. For example, at JLL's office in Chicago, O'Connor says, "If you need a small conference room for just two or four people, they're everywhere. Wherever you look in our office, you can find spaces where you can just close a door and have some privacy."

In addition, O'Connor says, companies are providing amenities — such as fitness centers and coffee shops — more readily at larger offices in exchange for the loss of privacy that comes with the move away from dedicated, closed-door offices. Formerly, such amenities were considered "nice to have," but O'Connor says they are becoming requirements to remain competitive as an employer. "Everything is about keeping your workers happy," she concludes.