AD: As the U.S. appears to still be grappling with the COVID-19 pandemic, how has the nation's manufacturing sector been affected?

Knavish: The coronavirus pandemic has impacted the coatings industry overall and PPG's global businesses in many ways. At the onset of the pandemic, with almost all countries sheltering in place for an extended period of time, travel slowed and as a result dampened demand for some of our products, including aerospace, automotive refinish, and automotive OEMs.

On the other hand, we've seen an increase in demand in some of our businesses, including architectural coatings. As much of the world continues to spend more time at home, homeowners have taken a closer look at their spaces, evaluating how they function and how they make them feel. Because of this, PPG has seen a surge in DIY home improvement projects, as homeowners use their excess time to tackle the projects that have long been on their to-do lists.

PPG products also play an essential role in a wide range of important industries during this time. Our paints, coatings, and specialty materials help enable life-critical products for the healthcare, defense, food and beverage, hygiene, agriculture, energy, public works, and electronics industries, as well as many others.

AD: What steps have industrial companies taken to meet the challenges of the coronavirus crisis in terms of workforce health and safety?

Knavish: At the center of PPG's purpose is a commitment to 'protect and beautify the world.' As we continue to navigate the COVID-19 pandemic, the word 'protect' has taken on even greater meaning, as we remain focused on protecting our people, customers, communities, and all of our stakeholders.

PPG's most important core value is protecting our people and their families, as well as our customers and communities. At the onset and throughout the pandemic, we implemented proven, safe operating processes according to guidance from the CDC, the WHO, and local governments, including the use of effective personal protective equipment, social distancing, and best-practice hygiene techniques that have been used around the world to keep our people safe.

AD: Why is a strong manufacturing sector important to a post-pandemic U.S. economic recovery?

Knavish: The U.S. manufacturing sector has established itself as the backbone of economic stability and renewal amid times of crisis or downturn. In spite of business disruptions caused by the COVID-19 pandemic earlier in the year, the future for manufacturing is strong. According to the National Association of Manufacturers (NAM) fourth quarter 2020 outlook survey, 74 percent of manufacturer respondents are positive about their own company's outlook (an 8 percent improvement over Q3), expecting sales, employment, production growth rate, wages, and more to increase at varying levels over the next year.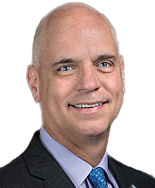 AD: In terms of supply chain challenges, can you discuss the need to address the nation's infrastructure problems and possible solutions?

Knavish: The pandemic placed a spotlight on infrastructure and its critical role to keep supplies moving to meet the needs of Americans across the nation, and we have reached a pivotal moment where we need to invest in and modernize our transportation and infrastructure systems. The current condition of U.S. infrastructure has not kept pace with the growing needs and demand. In fact, the American Society of Civil Engineers released a report card in 2017 of infrastructure in the U.S. and gave the nation a rating of D+.

Without adequate investment, the U.S. is on track to lose 5.8 million jobs by 2040. Investment in a modern infrastructure system has proven ties to job creation and economic stability, demonstrating its importance to both manufacturers and all Americans alike. In addition, modern infrastructure will be critical in order to accelerate the functionality and overall adoption of electric and autonomous vehicles — an area that is a high growth opportunity for PPG.

AD: What steps should manufacturers take to keep their talent pipeline viable in terms of formal education, training initiatives, apprenticeships, etc.?

Knavish: At PPG, we know that the manufacturing of tomorrow starts with the students and workforce of today. A study by Deloitte and The Manufacturing Institute found that manufacturers will need to hire 4.6 million workers by 2028, and that 2.4 million of those jobs could go unfilled if appropriate steps aren't taken now to prepare more workers for the next generation of jobs. It is critical that the manufacturing industry supports and creates programs that help to increase and diversify the talent pipeline needed to sustain the evolving manufacturing landscape.

To broaden the diversity of our talent pools, PPG recruits at events sponsored by organizations representing diverse candidates. In the U.S., for example, we take an active role in the National Society of Black Engineers (NSBE). We also provide PPG Foundation grant money to NSBE's Summer Engineering Experience for Kids (SEEK) camp, and our interns volunteer at the camps for at least one day. PPG's intern class in 2020 was 41 percent female and 37 percent racially and ethnically diverse.

AD: Are workforce generational and diversity issues being adequately considered?

Knavish: In 2020, as Black Lives Matter protests erupted, companies and individuals realized that to make real change, we all had to listen, learn, and seek to understand justice and equality in a more purposeful way. At our core, we are a company that believes in the basic values of human dignity, diversity, equity, and inclusion (DE&I). These are some of our most important values. We know that our differences make us stronger.

One of PPG's greatest strengths is the diversity of our people. We take a wide-ranging view of diversity, inclusive of gender, race, ethnicity, sexual orientation, disability/ability, religion, nationality, educational background, among other factors. Our employees' unique perspectives enable us to meet challenges quickly, creatively, and effectively, providing a significant competitive advantage in today's global economy.

In 2020, PPG strengthened its focus on DE&I across the company. We also relaunched and expanded our Employee Resource Networks, providing employees with more opportunities to participate and best leverage the unique skills, experiences, and perspectives of our team as we continue to build a more inclusive work environment. Across the globe, we have trained more than 1,800 managers over the past few years on unconscious biases.

AD: How should governments respond with regard to tax and financial incentive considerations?

Knavish: Permanent pro-growth provisions in the tax code and a competitive U.S. tax system are important for manufacturers like PPG. The NAM recently reported that two-thirds of its members would need to consider reducing investments in the U.S. if tax reform were rolled back. However, a commitment to tax reform ensures manufacturers have the opportunity to continue to pay forward the benefits.

AD: Is there anything else you would like to add?

Knavish: The paint industry has reached a pivotal moment where customers have become even more comfortable with — and oftentimes expect — an easy-to-navigate e-commerce experience and seamless pick-up and delivery options. COVID-19 has accelerated the need for these types of digitally-driven buying models, and we as manufacturers have a responsibility to continue to anticipate our customer needs in a post-COVID world.