Organizational leaders talk a lot about how to change a culture. Changing the culture of an existing business, especially mature businesses like Romeo RIM — which has been around for 35 years — can be an amazingly difficult task.

Once a company decides it needs new leadership at the top, it has an immediate challenge — credibility. New leaders start on important initiatives and the individuals at the organization's lowest levels are skeptics: "We've seen this before; all we need do is wait him out and he will go away like the rest of them." This is the reality of a new change agent within any company.

How, then, do organizations make a culture change?
It always starts with vision/mission and a confirmation or re-creation of the business' core values. However, focusing on core behaviors — the first priority in cultural transformation — is a better approach than focusing on values. One cannot measure values, but we can observe and measure behaviors, and if employees do not have clarity about which behaviors are acceptable or not, then subcultures and factions of confusion will arise.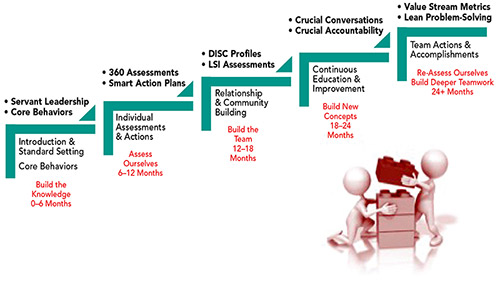 Servant Leadership
At Romeo RIM, we have continued to invest in our infrastructure with state-of-the-art technology over the years. What we've found is that machinery is only as good as the people who operate it, so we've also invested heavily in attracting and keeping the most talented manufacturing professionals available.

One of the ways we've contributed to this is by implementing a communication expectation system that has completely changed how all our associates interact with each other — Servant Leadership (SL). This system is focused on empowering line-level associates, creating better communication streams between all groups, and building a cohesive workforce. To make this work, we needed a culture change.

Our journey at Romeo RIM began after several of us attended a leadership development seminar through Bartell & Bartell, pioneers in organizational and leadership technologies. When we asked Shawn Ishler, director with B&B, what is their preferred reference material for Servant Leadership, he suggested James Hunter's The Servant.



Once a company decides it needs new leadership at the top, it has an immediate challenge — credibility.

We developed a system of training that started with us re-creating our core behaviors and then communicating them throughout the organization, including training and interaction. For us, the core behavior of all core behaviors is "help." Being helpful has become our leading SL mantra. We are constantly asking ourselves and holding each other accountable to helpfulness. "Will what am I about to say or do be helpful to my goal? Will my actions with my team members help or hinder our progress?" These simple questions are transformative to culture and workforce development.

Servant Leadership means a long-term focus on getting the right behaviors to support incredible teamwork for world-class customer service. It is a simple concept that requires consistent top-level support. World-class teamwork, a pillar of our strategic plan, relies heavily on this program of Servant Leadership and the transformation of our culture.
Some of our successes in transforming our SL culture have been:
Improving our "employer of choice" status and attracting the right people from the start
Customer recognition of our cohesive team driving business in our composites technology
Board members commenting on the energy of the business through these kinds of innovations
Reducing our breakeven point through cooperative "Lean" continuous improvement
Teamwork and culture — starting with Servant Leadership — trump strategy every day, all day.