AD: How does Hemlock think the U.S. should respond to China's efforts to dominate the market for both polysilicon and semiconductors?

Beebe: Policy actions such as the U.S. Innovation and Competition Act (USICA) and the Solar Energy Manufacturing for America Act signal that the U.S. government is ready to incentivize robust domestic semiconductor and solar manufacturing supply chains and invest in thousands of high-quality semiconductor and clean energy manufacturing jobs across America.

For its part, Hemlock is invested in contributing to sustainable global semiconductor and solar supply chains. We want to see semiconductor and solar manufacturing increased in the U.S. to meet the ever-expanding demand for connected devices and clean energy to meet our nation's ambitious climate goals. We also want to see the highest manufacturing standards adhered to worldwide.

AD: Why is a strong manufacturing sector important to a post-pandemic U.S. economic recovery as well as to national security?

Beebe: We believe the proposed semiconductor and advanced solar manufacturing production incentives are a crucial step in building a strong American supply chain within the next decade. By incentivizing manufacturing directly, we can harness American ingenuity, while creating high-quality jobs in Michigan and across the country.

The United States has a strong foundation in the most costly and difficult-to-operate part of these supply chains: polysilicon. Expertise at the front end has been demonstrated for decades by Hemlock. Building out American semiconductor and solar manufacturing capabilities creates supply chain control and reliability, as well as tens of thousands of high-quality jobs.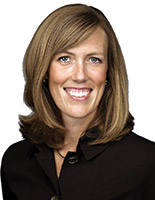 AD: As the largest electricity user in the state of Michigan, what is Hemlock doing to improve its energy efficiency and reduce its carbon footprint?

Beebe: In 2017, HSC purchased a data analytics platform — a significant investment that seemed like a huge financial risk at the time. This gave HSC the tools to visualize how it was using energy and to turn its engineers and operators loose to look for ways to reduce energy consumption.

For example, instead of energizing reactors and raw materials with electricity to create polysilicon rods in the afternoon, when power demand is high, HSC now runs more of the process in the evenings and on weekends. This also has allowed Consumers Energy to reduce its peak demand reserves, lessening its costs, reducing variability on the electrical grid, and creating fewer of the emissions that drive climate change.

AD: The shortage of skilled workers in the U.S. has been long documented. How is Hemlock making sure it has the pipeline of skilled workers necessary to produce its products?

Beebe: HSC puts a strong focus on supporting youth programs and STEM (science, technology, engineering, and math) education in the Great Lakes Bay Region. To ensure the next generation in our communities has the support it needs, HSC has invested in the Hemlock Area STEM center, the new home to STEM after-school programs such as FIRST Robotics for five local school districts. We also have granted scholarships annually to around 30 high school students in the Great Lakes Bay Region to cover all costs for attending Michigan Technological University's annual weeklong Engineering Scholars Summer Youth Program.



The proposed semiconductor and advanced solar manufacturing production incentives are a crucial step in building a strong American supply chain within the next decade.

AD: The pandemic brought to the forefront the need for diversity and inclusion in the workforce. Are there specific D&I initiatives being undertaken at Hemlock in this regard?

Beebe: We recognize we have a way to go in creating a more diverse and inclusive organization. In 2020 we created a new role to focus our efforts in this area and hired our first diversity and community liaison. Over the past three years, we have increased our hires of women and non-white males into professional and technical roles and worked more closely with university D&I departments to reach diverse student populations. Our culture is very focused on learning and development, and we have formed groups such as the Women's Technical Network that provides an environment where women technical professionals share experiences and develop their capabilities and potential as leaders within HSC.

AD: How and why is it important for manufacturing companies to be good corporate citizens in the communities in which they are located? What specific efforts has Hemlock taken to build community relations?

Beebe: As one of the largest employers in the Great Lakes Bay Region, we have a strong commitment to making life better in the communities where our employees live and work. That commitment was behind HSC's efforts in recent years to help its area communities deal with the danger and harm caused by the COVID-19 pandemic and a devastating flood, as well as to give grants to community organizations so they can extend their work in the Great Lakes Bay Region. It's one of the reasons we won the Michigan Manufacturers Association's Community Impact Award in 2021.



Building out American semiconductor and solar manufacturing capabilities creates supply chain control and reliability, as well as tens of thousands of high-quality jobs.

As an example of our commitment to the community, HSC scoured its plant for supplies during the early weeks of the COVID-19 pandemic when Covenant HealthCare was trying to find additional personal protection equipment for its healthcare workers. HSC workers boxed up more than 15,000 masks, coveralls, gloves, and other materials that healthcare workers at Covenant could use at its four main campuses in and around Saginaw and facilities in 14 surrounding counties. HSC also purchased 650 gift cards to support 14 local establishments in Saginaw County's Richland and Thomas Township and gave the cards to employees to use.

After two area dams broke during heavy rains, severely flooding Midland and the surrounding area, HSC set up an employee emergency fund to support HSC workers affected by the flooding. Our employees also donated personally to the fund to help their fellow team members.

HSC also has created its Community and Regional Empowerment (CARE) Fund, whose grants are awarded by a diverse internal committee comprised of 15 HSC employees. The company has awarded more than $300,000 in CARE grants in 2020 and 2021, with another round about to be announced in July.

AD: Is there anything else you would like to add?

Beebe: Hemlock is the only American company creating the foundational material for the electronic (semiconductor) and solar industries that are critical to the ever-connected and clean energy economy of the future. Hemlock manufactures its polysilicon using cleaner, renewables-rich electricity, closed loop manufacturing, and energy efficient operations, ultimately leading to a significant reduction in embodied carbon.