While the COVID-19 pandemic continues to create an environment of unpredictability, the one certainty is that the way in which people previously commuted to their jobs — and the way in which goods and services were traditionally delivered — is likely changed forever.

It is still too early to predict the entire spectrum of mobility changes that are destined to occur, but one thing is for sure — the COVID-19 pandemic has laid bare the fact that our mobility systems are critical to our day-to-day lives and serve as the backbone of the U.S. economy. Now, more than ever, if the U.S. is to keep pace with the mobility advancements being made in other countries, government and business must address the need for an infrastructure strategy that contemplates a future mobility system that is both autonomous and electric.

There is an up-front cost to ensuring a robust infrastructure network that can accommodate autonomous (AV) and electric vehicles (EV); however, the costs of not making these investments will be even greater as societal shifts demand mobility systems that provide better health protection measures. Given the public health guidance issued by the Centers for Disease Control that recommends limiting contact with others, consumers are rethinking shared transportation models.

In a survey conducted by the IBM Institute for Business Value, which polled more than 25,000 U.S. adults in April 2020, respondents indicated they plan to reduce their use of, or give up completely, mobility options such as ride-sharing, peer-to-peer networks, and public transportation. Some 17 percent of the respondents indicated they plan to use their personal vehicles more, and more than half indicated they would use ride-sharing apps less, or stop using them altogether, with 20 percent saying they will no longer use any form of public transportation, and 28 percent saying they will use it less often.

Consequently, this raises the likelihood that even with the increase in teleworking, the use of transportation infrastructure systems are not likely to decrease, as more people rely on personal mobility options that allow for greater control over the numbers and frequency with which they come in contact with others. This means that the pace at which autonomous and electric mobility systems are developed will likely accelerate over the next few years, and investments must be made now in order to accommodate this changed world of mobility.

To talk more about these changes, McGuire Woods Consulting asked Nicole Barranco, senior director of Government Relations at Volkswagen Group of America, to share her thoughts on pandemic-related shifts and the future of transportation.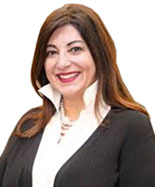 Michele: What changes can you point to that suggest the pandemic is accelerating the pace at which autonomous and electric vehicle systems will be adopted?

Nicole: Prior to the pandemic, there was already a growing acceptance of autonomous systems by the public, particularly as more consumers became comfortable with advanced driver-assistance systems that are now standard features in many vehicles. Systems like adaptive cruise control, lane centering, and automatic parking are all autonomous vehicle systems that the drivers are becoming more accustomed to as well as reliant upon.

While the demand for these systems had been growing, there are a number of indicators that suggest the COVID-19 pandemic is increasing the pace at which autonomous and electric vehicle systems will be adopted.

First, from an economic standpoint, more manufacturers are acquiring autonomous technology platform companies and making greater electric vehicle investments. While there have always been partnerships between manufacturers and technology companies, recently there has been a greater consolidation between the two. For instance, in June, Volkswagen AG closed on its $2.6 billion investment in Argo AI, a Pittsburgh-based autonomous vehicle innovator. Mercedes-Benz and NVIDIA joined forces this year to create automated vehicle architecture, and Volvo Cars and Waymo recently partnered in order to integrate Waymo's self-driving technology to create an electric vehicle platform for ride-hailing services.

This fall, Volkswagen will introduce its new all electric EV — the "ID. 4"— which will join the group's electric vehicle portfolio. Additionally, Amazon recently agreed to pay more than $1 billion to acquire Zoox, another autonomous technology platform that includes developing zero-emission vehicles built for autonomous ride-hailing services. These investments and acquisitions point to the investor enthusiasm that has grown as a result of the current crisis.

Second, from the consumer perspective, the Consumer Technology Association (CTA), which, among other things, tracks mobility, smart infrastructure, and autonomous vehicles and technology, noted in a recent report that there is overall greater enthusiasm for all unmanned technologies, including drones, ground vehicles, and robotics, among the buying public. While mobility functions were always certain to change, the pace at which these changes are happening is picking up speed as society is adapting to a new normal. While the specific mobility modalities still remain to be seen, we know that consumers are rethinking shared transportation, and we as automakers expect increased consumer demand for vehicles that are both autonomous and electric.

Michele: Is the pandemic reshaping electric and autonomous vehicle infrastructure investments?

Nicole: IEA's May 2020 technology publication, Global EV Outlook 2020, reports that the EV market had been growing steadily both in and outside of the U.S. over the past 10 years, with the global stock of EVs passing 7.2 million in 2019. This is underscored by a recent report by Bloomberg NEF that not only projects a short-term improvement in internal combustion engine (ICE) vehicle sales after COVID-19 lockdowns are lifted, but anticipates EV sales will continue growing, with EVs reaching 58 percent of all passenger vehicle sales by 2040.



The United States must direct funding toward the widespread installation of charging stations, electrification incentives, and infrastructure investments.

However, it should be understood that across the United States, EV adoption generally remains low and the market requires further maturation. Battery electric vehicles (BEVs), specifically, have only gained a market share of 1.54 percent as of 2019. Unfortunately, despite the positive projections made by the Bloomberg and IEA reports, the disappointing news is that the growth is expected to come primarily from countries outside of the U.S. These countries, despite the COVID-19 pandemic, are continuing to make strong AV and EV infrastructure investments in anticipation of worldwide market growth in the EV sector.

The future of EV mobility presents an opportunity for the U.S. to build a post-COVID-19 world of new jobs and related technological advancements that we cannot afford to miss — be it battery manufacturing, communication opportunities related to the wireless infrastructure needed to accommodate vehicle-to-vehicle and vehicle-to-infrastructure communication, or the building of a robust EV charging system across the country. Growing the EV market in the U.S. will require the involvement of state/federal government to help incentivize consumers to make the choice of electrification.

Michele: What investments should the United States make to support autonomous and electric vehicles?

Nicole: Despite the challenges of COVID-19, the U.S. must move boldly forward in making EV and AV infrastructure investments or we risk being outpaced by other countries. For instance, despite the pandemic, China has continued to identify ways to support and energize the EV market, and the country is moving forward with massive stimulus measures to invigorate its economic recovery. Following the pandemic, China worked quickly to extend its EV subsidy (that was scheduled to expire) and worked to ensure that the country's COVID-19 stimulus package included strong investments in infrastructure, including 5G networks, artificial intelligence, ultra-high voltage transmission, and electric vehicle charging stations, to name a few.

To keep pace with this accelerating global marketplace, the U.S. must direct funding toward the widespread installation of charging stations, electrification incentives, and infrastructure investments such as 5G networks that will improve vehicle-to-infrastructure communication and will complement the deployment of AVs.

Addressing the COVID-19 recovery specifically, funding supporting the EV and AV economy is not only appropriate but critical within future federal response legislation. To date, no federal COVID-19 response bill has allocated funding specifically aimed at stimulating this sector. Outside of direct spending, the U.S. should look at other ways to support the industry, namely, extending the federal EV tax credit. An extension of this credit would incentivize sales and build consumer confidence by signaling that the U.S. is serious about investing and supporting these technologies.

In addition to federal initiatives, states will also need to make substantial commitments and investments if the U.S. is to compete globally and support true market transformation. California serves as an illustrative example, given that the state has achieved the highest market share of EVs in the U.S. To reach this goal, the state has invested billions of dollars into market development and provides a number of consumer incentives, including the California Clean Vehicle Rebate Program, which rebates consumers up to $7,000 for the purchase of a zero-emission vehicle.

Similarly, there are examples of non-financial incentives where states have realized enormous success at steering consumers to adopt low-emission vehicles. Two examples include Virginia's and Georgia's high occupancy vehicle lane policies. When these policies were in place, the plan yielded indisputable positive results, and once repealed, consumers responded accordingly.

It should be noted that EV infrastructure investment is critical to inspiring confidence for consumers to enter the market. Electrify America, Volkswagen Group of America's subsidiary, continues to install more than $2 billion worth of EV infrastructure coast to coast. In fact, just this summer, Electrify America announced the completion of its first cross-country route, which allows electric vehicle (EV) drivers to travel from coast to coast using the largest open DC fast-charging network in the United States. It is the first of two cross-country routes the network will complete this year, and spans 11 states and over 2,700 miles to take drivers from Los Angeles to the nation's capital, Washington, D.C. It is investments like this cross country network that will give consumers the confidence to make the choice of electrification.

Michele: Parting thoughts?

Nicole: The COVID-19 pandemic has placed a spotlight on the importance of our nation's mobility system and the need for a future that not only includes cleaner air, but also meets evolving consumer demand…It is critical that we fully utilize the opportunities created during this crisis to develop a clear set of goals and emerge ready to rethink how the U.S. can remain a mobility leader.