Editor's Note: This article was contributed by the Kentucky Cabinet for Economic Development which approved and paid for this post.


While the pandemic caused massive supply chain disruptions that hindered the global distribution and logistics landscape, it also shined a spotlight on the industry's importance, which only stands to grow in the coming years.

Consider its impact on Cincinnati/Northern Kentucky International Airport (CVG), located on the Kentucky side of the Ohio River in the community of Hebron. As airports across the nation grappled with plummeting passenger traffic, a boom in air cargo provided a much-needed silver lining for CVG. Cargo volume skyrocketed following the pandemic's onset, and throughout the rest of the year, shipments reached levels typically seen only during the holiday season.

This cargo boom stems from significantly accelerated growth in e-commerce, as consumers' reliance on online ordering and home delivery reached an all-time high. E-commerce played a major role in the distribution and logistics industry's growth across the past two decades, during which online shopping grew from less than 1% of all retail sales in 2000 to more than 11% in 2019.

In 2020, that steady climb took a sharp upturn as more consumers relied on online ordering out of necessity. In the third quarter, e-commerce accounted for over 14% of retail sales after the figure topped 16% earlier in the year.

With e-commerce showing no signs of slowing, states like Kentucky —– with its ideal geographic location and formidable logistics landscape — are poised to leap ahead. But before that leap occurs, the nation must put an end to the pandemic; and fittingly, the distribution and logistics sector is playing a pivotal role in bringing that goal to fruition.

"Kentucky's distribution and logistics industry, along with the sectors that help keep it moving, has been instrumental in our state's ability to battle the pandemic and set the stage for future success," Gov. Andy Beshear said. "Our logistics leadership has placed Kentucky at the forefront of the effort to distribute safe, effective COVID-19 vaccines to Americans, and it is key to building a better, economically stronger Kentucky. As the industry grows, we will continue taking steps to ensure its future success here in the Bluegrass State."



With e-commerce showing no signs of slowing, states like Kentucky are poised to leap ahead.

Kentucky's longstanding logistics prowess became even more essential amid the pandemic. Most recently, the state powered the distribution of the first vaccines to arrive in the U.S. in mid-December. Distributing these vaccines has proven no easy task, particularly given the initiative's massive scale and the challenges posed by the need to store vials at frozen temperatures.

Even so, companies like UPS and FedEx, each with significant presences in Kentucky, made and continue to make tremendous contributions toward ending the pandemic. The former houses the planet's largest automated package-handling facility — UPS Worldport — as well as its Centennial ground hub in Louisville. FedEx operates several large ground hubs throughout the commonwealth. These operations and the industry as a whole will help end the pandemic in the coming months, as vaccine allocations from the federal government are expected to increase.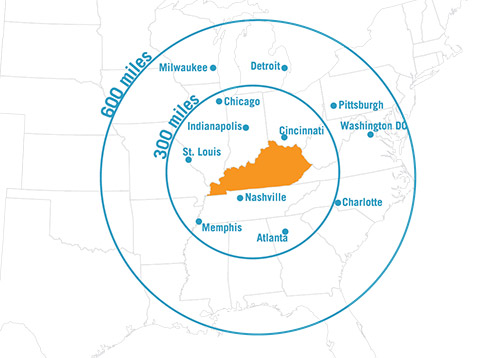 Looking to the Future
Looking to a post-COVID future, the already prominent sector stands to play a pivotal role in rebuilding the economy.

Distribution- and logistics-related companies benefit from the state's second-to-none geographic location. Kentucky sits at the center of a 34-state distribution area, and its borders lie within a day's drive of more than two-thirds of the nation's population, personal income, and manufacturing operations.

Circling back to air cargo, Kentucky stands out as the country's only state with three air cargo hubs: the aforementioned UPS Worldport, housed in the Louisville Muhammad Ali International Airport; DHL's Americas hub, located at CVG; and the new Amazon Air hub, a $1.5 billion development that will establish the center of the retail giant's air transportation network in Northern Kentucky.

This strong presence by the world's most prestigious logistics companies means products manufactured in Kentucky can virtually get anywhere in the world overnight. Already the No. 2 state in air-cargo shipment volume, Kentucky is poised to take the top spot as Amazon's hub comes online, expected to begin in late 2021.



Our logistics leadership has placed Kentucky at the forefront of the effort to distribute safe, effective COVID-19 vaccines to Americans.

Governor Andy Beshear, Kentucky

These benefits became critical during the pandemic, particularly for companies whose products and services were needed to protect lives. Looking ahead, those same strengths — plus Kentucky's highly skilled workforce and low cost of doing business — point to long-term growth. "Kentucky offers companies unique transportation advantages, placing them within a day's drive of roughly two-thirds of the U.S.

population and personal income and offering a multitude of transportation methods through the state's extensive network of highways, railways, and navigable waterways," said Jeff Taylor, business development commissioner at the Kentucky Cabinet for Economic Development. "Businesses in the industry have continued announcing new projects and expansions even during these very uncertain times, and we aim to carry that momentum forward into the post-COVID economy."

In 2020, distribution and logistics led all Kentucky sectors in announced jobs (1,671) and placed second in announced investment ($313 million). Companies making these announcements ranged from Dollar General Corp., which in August unveiled plans to create more than 365 jobs with new distribution facilities in Northern and Western Kentucky, to Louisville-based HANDLE Global, a healthcare supply chain technology company adding 80 high-paying jobs across its distribution and headquarters operations.



Kentucky hosts more than 580 logistics and distribution facilities, which employ nearly 78,000 people statewide.

In total, the state hosts more than 580 logistics and distribution facilities, which employ nearly 78,000 people statewide. But of equal importance are the businesses that underpin distribution and logistics, such as conveyor and automated sortation equipment producer Material Handling Systems Inc. Headquartered in Mt. Washington, Kentucky, MHS combines advanced technology with precision manufacturing to help logistics companies connect the world with the products it needs.

In January, company leaders announced plans to create 200 full-time jobs with a $7.6 million investment to establish a new facility in Bowling Green, Kentucky. The expansion, MHS CEO Scott McReynolds said, stems from "new peak demand levels" from the company's customers. A subsector of Kentucky's nationally renowned manufacturing industry, currently 58 material-handling equipment manufacturers operate in Kentucky, employing over 3,200 people statewide. Since 2016, there have been 24 projects announced within the subsector, totaling more than $100 million in new investment and nearly 1,400 projected jobs for Kentuckians.

Considering the ever-rising demand for fast, reliable delivery of goods, the distribution and logistics sector appears more important than ever before — and Kentucky sits at the center of the industry's imminent growth.