Editor's Note: This article was contributed by the Kentucky Cabinet for Economic Development which approved and paid for this posting.


Picturing Kentucky's food and beverage industry likely evokes images of bourbon and Kentucky Fried Chicken. But that's only part of the story. A look at the complete picture reveals an industry investing billions of dollars in the state in recent years. And it's an industry with a flourishing agritech sector and a growing number of companies at every stage of the food production process working to make a better Kentucky.

Currently, the commonwealth's food and beverage sector includes more than 350 manufacturing, service and technology facilities of all sizes and specialties that employ over 52,000 people. Since 2014, the industry saw more than 300 new location or expansion projects announced, expected to generate over $5 billion in investment and nearly 8,300 full-time jobs in the years ahead. Those investments, jobs and wages are building a stronger Kentucky and helping to feed the world.

Despite the challenges facing businesses throughout the country and around the globe as they navigate the COVID-19 pandemic, Kentucky's food and beverage sector continues to grow. Since Gov. Andy Beshear took office last December, 34 new location or expansion food and beverage projects have been announced, totaling more than a half-billion dollars in proposed investment with the potential to create nearly 1,200 jobs.

"We are proud of the continued growth of our state's food and beverage sector, as it plays a front-line role in building a stronger, brighter economy," Gov. Beshear said. "The commonwealth has long been a national player in agriculture, and our historic bourbon industry has never been stronger. Our great workers, favorable business climate, and status as a logistical hub make it easy to see why so many companies are making their home in the commonwealth."

One such company is Wilde Brands Inc., a producer of high-protein, keto diet-friendly snack chips made from all-natural chicken breast. In September, the Boulder, Colorado-based company announced plans to locate a production and distribution facility in Winchester, a few miles southeast of Lexington. The new $9.78 million facility would create 50 jobs and is expected to open later this year.

The commonwealth has seen growth of existing businesses as well.

In February, T. Marzetti Co. shared its intentions to add 140 jobs with an expansion in the Central Kentucky community of Horse Cave. The $92.8 million investment would create up to 140 full-time jobs and boost the company's production of dressings and sauces. T. Marzetti and its sister company — Sister Schubert's Homemade Rolls, both operating as subsidiaries of Lancaster Colony — have combined to announce $273 million in investment with the creation of 700-plus jobs in the region since 2004.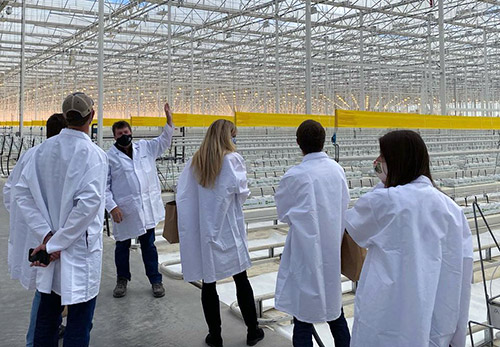 Where Agriculture Meets Technology
Ensuring Kentucky's future through the growth of the rapidly evolving agritech industry has been a major initiative for economic development leaders in the commonwealth, with Gov. Beshear leading the charge.

Earlier this year, he announced Kentucky's AgriTech Advisory Council, which includes representatives from state government, colleges and universities, and agritech companies throughout the state.

One member of that task force, Jonathan Webb, founder and CEO of AppHarvest, last month hosted one of Kentucky's most highly anticipated economic development events of 2020, with the grand opening of his company's high-tech greenhouse in Morehead. Announcements of two more greenhouses, this time in Madison County — Berea and just outside Richmond — promise to create hundreds of agritech jobs in the coming years. Webb recently noted AppHarvest and the state have a common goal in looking to secure a better future.

"The world is looking to Kentucky as a leader in the field, as the building of our controlled-environment agriculture facility in Morehead has captivated onlookers from around the globe," Webb said. "As one of the world's largest structures, it's creating a forward-thinking economy that's focused on improving nutrition, using less of our precious natural resources and creating better, high-paying jobs. This task force provides the support of government and universities that is essential to creating the robust ecosystem we need to transform American agriculture."

Now operational, the company invested more than $100 million to construct the massive 60-acre, 2.76-million-square-foot high-tech greenhouse for production of tomatoes and other fresh produce. AppHarvest aims to ship approximately 45 million pounds of produce to grocery stores throughout the Eastern U.S. Production includes digital monitoring, sun and LED lighting, recycled rainwater, and non-chemical growing practices. More importantly, the project creates 285 job opportunities in Eastern Kentucky with the potential for substantial expansion in the near future.

As well, Kentucky Fresh Harvest — another company represented on the AgriTech Advisory Council — last month cut the ribbon on a $20 million high-tech greenhouse expected to create up to 75 jobs in Stanford. Having planted their first crop of five varieties of snacking tomatoes in April, the company not only began operations while adjusting to new guidelines to combat COVID-19, but did so with great success. KFH filled 37 of its announced positions as of late October and plans to keep adding employees throughout next year and beyond.

Kentucky's advantages in logistics and distribution play a key role in companies like AppHarvest, KFH, and other food and beverage-related companies locating in the commonwealth. In trucking from Kentucky, big rigs can arrive in 20 states within a day across the Midwest, Eastern Seaboard, and South. Three global air shipping hubs — UPS Worldport, DHL, and Amazon Air — allow Kentucky companies to get products to market quickly, a crucial factor for any food and beverage company. With access to 10 interstates and 10 parkways, 2,600 miles of freight rail, and over 1,600 miles of commercially navigable waterways, companies have numerous options to ensure products reach their destination as soon as possible.

Bourbon Is Booming
Though Kentucky's food and beverage industry is more than just bourbon, the beverage most commonly associated with the state continues to play a big part in its economic growth. Kentucky boasts production of 95% of the world's bourbon supply, and in 2019 led the nation in whiskey exports.

Since January, the Beshear Administration has announced a dozen bourbon and other spirits projects, totaling $160 million in new investment with the promise of creating approximately 230 full-time jobs in the coming years.

Clermont Distilling Co. announced in September it would construct a new distillery in Bullitt County with a $13.4 million, Phase I investment. The project, expected to create 22 high-paying jobs, could set the foundation for significant future expansion and job creation when work begins this coming spring. With plans that include a tasting room, gift shop, grain house, and rick house for storage of 24,000 bourbon barrels, the sizable operation is a natural fit within Kentucky's historic bourbon industry.

In May, Bardstown Bourbon Co. broke ground on its new $20 million bottling facility adjacent to its distillery in Nelson County. The project is expected to create 25 full-time jobs upon completion next spring. Meanwhile, industry powerhouses Buffalo Trace and Maker's Mark also announced substantial investments for increased warehousing.

From agritech to bourbon and everything in between, Kentucky's food and beverage industry is set up for long-term success, a healthier economy, and a bright future.

A full list of Kentucky's food and beverage facilities can be found here.

Visit CED.ky.gov to learn more about locating and expanding in Kentucky.