Editor's Note: This article was commissioned by the Orlando Economic Partnership, which approved and paid for this posting.Orlando, Florida, is a preferred destination for business consulting firms. Over the last four years, the Orlando region has landed impressive investment projects from high-profile companies such as KPMG ($430 million), ADP ($28 million), and Deloitte ($49 million), representing a total of more than 3,600 new jobs.

After thorough, extensive searches, these companies selected Orlando based on key site selection advantages that were highly critical to their operations — such as a well-educated population, an abundance of high-quality colleges and universities, a highly skilled labor pool, efficient air travel (especially direct flights), and a high quality of life.

"The process of coordinating information-sharing and troubleshooting was highly efficient, which helped us make quick decisions," says George Tobjy, tax managing director in the Global Location and Expansion Services Practice of KPMG in New York. KPMG was "very pleased" by the spirit of cooperation and collaboration across all the organizations that were involved in helping it make its decision. "There seemed to be a unified commitment among the city, county, and business development representatives to work together with KPMG to make Orlando the best fit," says Tobjy. "The Orlando Economic Partnership provided tremendous support for our project and helped us build local relationships and served as our primary point of contact with local agencies, which streamlined the entire process."

A Vibrant, Expanding Business Cluster
The Orlando area is the center of an expanding professional services cluster, including accounting, financial, IT services, and business and management consulting firms. The recent addition of global players such Deloitte Consulting, ADP, and KMPG add to Orlando's growing reputation as a top location for business consulting firms.

With the expansion of its U.S. Technology Delivery Center in Orlando, Deloitte Consulting is in the process of hiring up to 1,000 new workers, including software development, system analyst, and information technology positions. Deloitte was highly impressed by the Orlando workforce. In fact, "we met our initial hiring goals in half the time we expected it would take," states Bert Naquin, managing director for Deloitte Consulting and the center's director.

ADP, a global provider of cloud-based human capital management solutions was drawn to Orlando's educational system, workforce, and strong business climate. "The Orlando area is home to more than eight colleges and universities, most of which offer business programs that fit well with the career opportunities at ADP," states Gustaf Isaksson, division vice president and general manager. "Orlando is also convenient for travel with a large international airport and is a highly desirable place to live, which also attracts top talent."



The Orlando area is the center of an expanding professional services cluster, including accounting, financial, IT services, and business and management consulting firms.

Construction of KPMG's 55-acre, 800,000-square-foot learning, development, and innovation center is under way. At $430 million, this is the firm's largest-ever capital investment project. After evaluating site selection factors such as air travel accessibility and performance, transportation to and from the airport, operating and labor costs, climate, economic incentives, potential sites, and cost of land and construction, KPMG selected Orlando from a short list of 50 candidates.

"We were also impressed with the opportunity to build our new facility in Lake Nona — a master-designed community that's attracting other world-class organizations that, like KPMG, are focused on innovation, collaboration, education, and health and wellness," adds Tobjy. Lake Nona is also just five miles from Orlando International Airport — making it very accessible and convenient for training participants, another key consideration."

Top Talent and Accessibility
Labor is almost always the number-one concern for companies that are relocating or expanding. And it is not just a matter of skill sets and trainability — it is also availability, especially being sure there are enough workers to meet future expansion needs, even as other companies move in. Executives who consider Orlando as a business location are impressed when they learn the University of Central Florida alone delivers nearly 3,000 new business graduates into the marketplace every year. Other area colleges contribute an additional 4,700 qualified individuals who are eager to start new careers.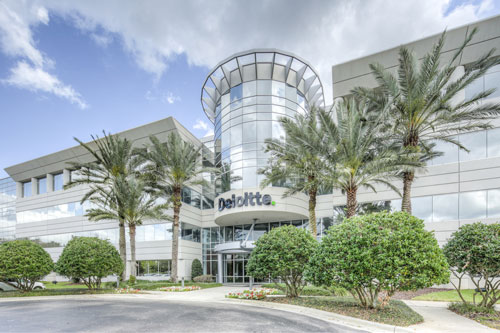 "Talent and future talent are very important to consulting firms like Deloitte and ADP," says Casey Barnes, vice president of business development for the Orlando Economic Partnership (the Partnership). "Not only is the immediate workforce attractive, but companies also like to see that Orlando is one of the fastest-growing regions in the U.S., adding more than 1,000 people per week to the region's labor pool demographics."

For example, Deloitte, which requires more than 2,000 software developers for its new training center, felt confident that Orlando's highly skilled and rapidly growing labor pool would provide the labor sustainability and scalability it needed. ADP was also in the market for college graduates, especially in the humanities, and was impressed by the number of available candidates it found for its new offices.

In addition to highly skilled workers, high on the KPMG list was an efficient airport that provided plenty of easy connections for the thousands of employees from around the world who would be arriving to train at their new facility. Orlando won hands down — the Orlando Airport serves 90 percent of KPMG's U.S. locations with direct flights. "With a need for approximately 150,000 room nights per year, KPMG was also pleased to learn that, as a result of our tourism market, Orlando has the additional capacity to meet these accommodation needs," adds Barnes.

Committed to Excellence
The KPMG team worked very closely with the Partnership and Enterprise Florida to learn about the many advantages that Orlando provided for the project. The Partnership helped organize multiple meetings to introduce KPMG to other Partnership members and key city and county representatives, including personnel from the Greater Orlando Aviation Authority and the Orlando Utilities Commission, to facilitate discussions and information gathering.

ADP's Isaksson agrees: "The Partnership was a great business partner and even helped bring many key officials and local community members to our celebratory pre-opening, ribbon-cutting ceremony," he says. "We have been impressed with the Partnership's work to create a dynamic environment, which connects business and community leaders to solidify Orlando as an innovative city."