Site selection professionals travel all over the United States, looking at hundreds of potential sites for development with a goal of finding suitable sites for their clients. What does it mean to achieve success? Ultimately, they must be incredibly efficient in evaluating and narrowing site lists, while balancing a seemingly endless spectrum of potential conditions and visualizing optimal scenarios for the end user's product/facility. In the context of site selection, many challenges need to be decisively navigated.

High-definition vision: Real solutions that decisively navigate site selection are key to generating a successful site plan, which ensures the end users' requirements are met. As design professionals work to assist the site selection process, the goal is to deliver a conservative vision of the site plan that can be modified or adjusted to the specific needs of the prospect and ultimately meet the vision of the end user.

The more detailed the information provided results in casting a vision of increasingly higher definition for site selection professionals and prospects. Using location, acreage, availability of utilities, and potential development complications as limiting factors can help design professionals deliver a simple site plan to demonstrate site viability to evaluate against and satisfy the site criteria matrix.

Urgency: As availability decreases, having these early insights work toward successfully identifying size and lot configuration criteria to enable the process to move forward. In many instances, a basic site plan that can be presented to community development professionals, affiliated brokers, site selection consultants, or design/build contractors helps projects effectively advance.

Site Selection Drivers
Evolving drivers – the site criteria matrix: Multiple interrelated drivers influence site selection. While in the past site selection was motivated by budget dollars, this is no longer the case in many industries. In today's ever-changing climate, land and construction cost often take lower priority to speed to market, which makes locally driven site factors more critical. Today's industry leaders want to get to market as quickly as possible, addressing the particulars motivating their growth, and they are willing to spend more money to ensure speed to market. And, the norms are changing, as stakeholders are more concerned with the present, not 10 years into the future.



In today's ever-changing climate, land and construction cost often take lower priority to speed to market.

Region-specific knowledge: Site-specific knowledge (soil conditions, grading, weather tendencies, endangered species concerns, stream/wetland constraints, AHJ permitting) is key in any region. Providing stakeholders with extensive information — and the population of technical experts touching the project who have a wealth of regional-specific knowledge about construction, utilities, environmental concerns, local politics, and construction risks — can play an important role in the process. Avoiding future problems is always a concern, and design professionals can help end-users avoid potential pitfalls like soil issues, environmental constraints, and construction delays, which could mean they miss their window for development.

Age of COVID adds to market fluctuation: Though there will certainly be different issues to tackle in the years ahead, the change in the age of COVID-19 has been unprecedented. Like other industries, site selection, engineering, and design have been deeply impacted. Therefore, the best options today might be dramatically different in just a few years. The industry saw a time-sensitive shift to e-commerce and support of shipping/distribution networks for providers, and the easing of COVID-19 restrictions has already seen a slowing of the development pace of some e-retailers, especially in states/areas that have recovered the quickest.

Consider an example: For developer-led projects for a certain e-retailer, the timing to develop and construct plays a crucial role in site selection. Speed to market is critical to their processes, the rise of an unexpected site constraint could negatively impact the delivery of the building, which may mean a shelved project for one region and a shift in focus to projects without issues. Often this means sites with streams or wetlands are removed from consideration due to the time to permit (nationwide or individually) because of increased risk factors during the Corps of Engineers (COE) permitting processes.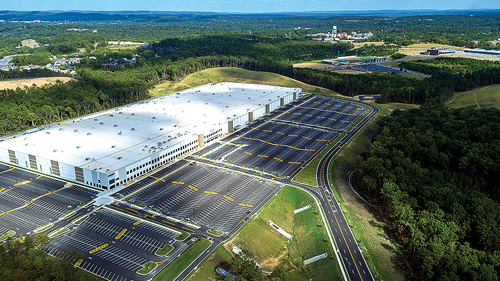 Optimizing the Process:
Site Plan Development
As selection teams generate a site plan, it is crucial to define the regulatory context and site conditions to envision how the facility would ultimately work on the site.

Local Influences: As each state is different, industrial leaders and selection teams aim to understand how industrial access funding flows from the state to the end-user's project, as well as the restrictions that apply, and this could have an impact on timing of the development.

Project leaders aim to acquire a good working knowledge of environmental constraints in their region. For example, in Alabama, a biologically diverse region, it is difficult to find a 100-acre site without wetlands, making impact crucial for project stakeholders. Schedule is important because the site must be prepared as needed by project stakeholders. Understanding how restrictions on habitat development, like bats protected under the Endangered Species Act, can substantially restrict construction schedules is extremely helpful in avoiding such risks.

Clear and defined parameters: Selection teams also seek to make decisions with clear and defined parameters in the site selection process to ensure the project can be completed as presented. Stakeholders and project teams look to connect with the right people, be that a utility provider or local municipality. This is important to ensure accurate answers for vital topics including permit processes, incentives, environmental constraints, and more. Every industry is unique, which makes answering site selection queries a unique challenge. And, as leaders get closer to the decision, the questions become even more difficult to answer, elevating the vital importance of identifying the right people for responses.



It is crucial to define the regulatory context and site conditions to envision how the facility would ultimately work on the site.

Capture/provide reliable data + optimize limited information: Getting accurate, reliable information can prove elusive to project teams, so engineers often must use limited information (aerial maps, 10/5/2 ft. GIS contours, and tax maps) to find sites that meet the fundamentals of suitability and practicality. Looking at the challenges through the eyes of the stakeholders — economic development professionals, site selection groups, local brokers, or end-users — impacts the engineers' processes.

Consider an example: Economic development professionals want help with a specific project they're hoping to win, while local brokers are often affiliated with national entities and have multiple sites in multiple cities to review. The closer the consulting engineer can get to the source, the better the information in understanding the stakeholder's point of view.

Visualize completed project: Site selection leaders can also understandably struggle to visualize the big picture or put the end user's product/facility into a tangible vision. Engineers work to gather the information needed, no matter how limited, and generate a box diagram to help others — site selection professionals to local economic developers — visualize the final product/facility. Practical and functional site selection is effectively executed when it addresses all the concerns — i.e., grades, utilities, access, etc. — and visualizes the end user's product/facility in a way that will work should the site be selected.

Insight into Selection
Addressing significant issues: When navigating site viability against the criteria matrix of stakeholders, communication is the element vital to success. While parameters can be fluid from stakeholder to stakeholder, understanding the crucial parameters and significant priorities is important. Without that understanding, selection teams might address potential issues that are unimportant to stakeholders while simultaneously missing significant issues. Effective communication is also invaluable in understanding goals, which provides the insight to recommend whether the client should pursue a site or move on.



When navigating site viability against the criteria matrix of stakeholders, communication is the element vital to success.

Sufficient, correct information to advance selection: Having correct information in sufficient quantities allows selection teams to choose the proper approach for the project and stakeholders. Given that site selection has become more time-sensitive, and as businesses react to ever-changing markets, site selection "inner circles" are more willing to share information on the front end to keep the process moving and avoid mistakes and costly delays. This information often includes motivational factors such as market, utilities, employees, and seclusion, which is extremely helpful to engineers; after all, a large, 400-acre prison site will have different needs than a 400-acre industrial site.

Stakeholders are often articulate, able to explain their needs, describe their processes, and provide crucial information to speed up site selection. Industrial leaders, in particular, know their motives and drivers and can convey the information to engineers to speed the process of site selection. Selection teams can then leverage stakeholder needs at the local level with their extensive knowledge of the area to accelerate the site selection process and avoid costly delays.

Solutions for Decisively Navigating Site Selection
Effective site selection involves factoring the stakeholder criteria matrix, site conditions, regulatory issues, and ever-changing market forces into the decision. When multiple dynamic solutions are decisively navigated to serve stakeholder objectives, selection teams navigate leaders to success.