In a year full of turmoil and strife caused by an unexpected pandemic, data centers were quickly recognized for their crucial presence in all lives, for maintaining communication and knowledge during a period of sudden change for humanity.

Data center operators and major services held fast throughout the troubled, early days as they were identified as truly mission critical. Companies large and small rapidly scaled up workloads with cloud service providers so employees could access their normal applications; schools and universities moved online as students attended classes remotely; and all people looked to the Internet for entertainment as they stayed home for days at a time.

Several trends that were beginning prior to the year accelerated rapidly throughout 2020. Businesses were forced to continue their IT transformation with a suddenly fully remote workforce, and many moved workloads straight to major cloud services. While most of this will remain in the public cloud environment, costs and regulatory concerns may lead to some moving to a colocation or even on-premises situation. As a result, increased cloud adoption and hybrid IT scenarios are fueling growth in the data center sector for both established and emerging markets.



Increased cloud adoption and hybrid IT scenarios are fueling growth in the data center sector for both established and emerging markets.

Development Pipeline
An active development pipeline is a useful indicator of market strength, as it signifies continued local demand leading to the creation of ever-greater supply. Development under way shows that local authorities are willing to approve new builds, that power and fiber were obtainable at the site, and that project financing is available.

Few developments in the data center realm are launched speculatively. More often an anchor tenant has signed on for a significant portion or all of an initial phase. Signing a major hyperscale, corporate or government tenant also assists in the creation of the local ecosystem, as entities with similar requirements often follow.

While the recent pandemic has caused construction difficulties across all sectors of commercial real estate, data centers have been less affected than most, as their early designation as essential operations indicates. Construction continued at most locations, and although supply chains occasionally tightened, most projects saw minimal disruption. This is reflected in the overall increase in construction from our previous study to this year. Our 2020 report tallied 1.6 gigawatts in progress across the 38 markets reviewed, while this edition totals 2.9 gigawatts across 48 markets. Organizational needs and the move to modernize information technology have pushed both operators and hyperscalers to action.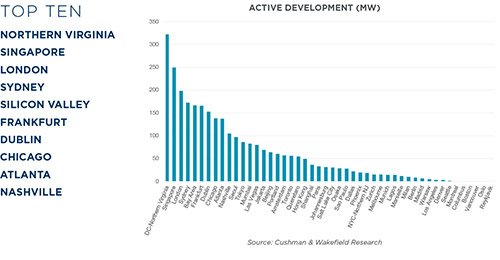 Markets leading the charge in terms of active development include many of the global primary markets: Northern Virginia, Singapore, London, Sydney, and Silicon Valley round out the top five, with Frankfurt, Dublin, and Chicago following. Several of these markets are experiencing shortages of potential sites (London, Sydney, Silicon Valley), power (Frankfurt, Dublin), or both (Singapore), and it remains to be seen if local concerns over further builds will lift throughout 2021. Of note are the number of secondary markets where the colocation sector continues to blossom, including Seoul, Mumbai, Jakarta, Portland, and Queretaro. These fast-growing regional hubs are emblematic of the smaller market expansion that began in earnest in 2020, and expectations are high for similar growth worldwide.

Access to the Internet has now exceeded half the global population with no end in sight. Between increasing demand from existing users, the increase in corporate cloud demand, and new geographies adding access, we expect strong demand to continue for data centers around the world.