In 2011, when Western Digital's disk drive manufacturing plant in BangPa-in Industrial Estate in Ayutthaya, Thailand was inundated by flood waters, the local work force did not abandon ship. Quite to the contrary, company workers — a group that includes executives, managers, porters, clerks, and shift operators from the production lines — all came together in an heroic effort to deal with and mitigate the disastrous aftermath of the historic monsoon flood.

And it wasn't just here. In factories and plants throughout the flood zone, Thais rose unfailingly to the occasion to hold the tide, a fitting testament to the spirited and resourceful nature of the Thai people.

The floods caused major disruptions across a wide swath of Thailand's far-flung manufacturing operations. It affected regional automobile production throughout Southeast Asia, a place where Thailand is the leading local supplier.

Within the electronics sector, flood damage caused a global shortage of hard disk drives and other critical high-tech components, which lasted throughout 2012. The term "second sourcing" came back into the vocabulary. Since then, Western Digital has resumed all operations and, in its most recent financial statement it reports that the company "has made a phenomenal recovery after its manufacturing facilities in Thailand were hit by devastating floods in 2011."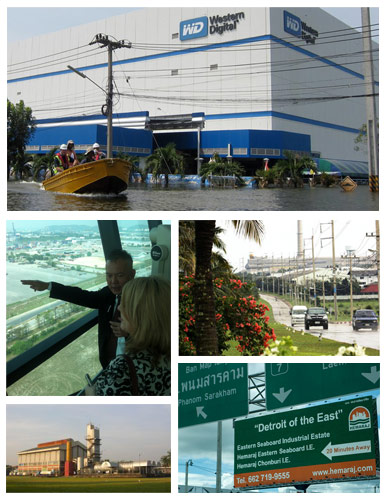 Thailand too has proved buoyant, a testament to three things: its valuable location and position in the Southeast Asia industrial supply chain, a resilient and motivated work force, and a strong foothold in the digital future. The floods caused a "reset" for Thailand's leaders, accelerating, if anything, its already aggressive plans for the future.



Epic Tide


A good witness to Thailand's resilient and spirited work force is Yoshihisa Kainuma, president and chief executive officer of Japan's Minebea Co., Ltd., one of Thailand's largest employers.

When the floods struck Thailand, Kainuma joined the local response headquarters where he took charge of the response team himself. "I saw all our employees take part in efforts to confront the disaster with the conviction that they were protecting their own workplace," the top executive observed. "Each day, under the burning sun, more than 3,000 employees collaborated to build embankments against the floodwaters, and despite the hardship, they never lost their good spirit."


Thailand's Industrial Heartland
Thailand's industrial heartland has several popular titles, depending upon which industry you favor. Electronics and computer? Welcome to DiskDrive Alley. Cars? Welcome to The Detroit of the East.

Japanese drive makers in the Minebea Group, Western Digital, and myriad other suppliers in this region form a critical link in the global electronics supply chain. In Ayutthaya, Western Digital produces hard disk drives and magnetic disk heads for the computer and storage industries.

Nearby, factory-ready industrial estates, trade zones, and factory clusters are home to a diverse mix of industries and companies, including the leaders in electronics, automobile manufacturing, food processing, and logistics.

The production lines up and down the east coast of Thailand contain assembly or component operations that produce just about everything that can be found in today's computers, cars, kitchens, and consumer shopping carts. Huge industrial estates, some seemingly expansive enough to qualify for city status in the U.S., dot the landscape, owned by regional operators like Hemaraj Land and Development, whose mega estates occupy large footprints in Bangkok, Royong, Saraburi, and Chonburi.

To Bangkok's south, and adjacent to both deepwater ports and modern air logistics centers, Amata City Industrial Estate is home to Washington state-based Primus International. Primus is a supplier of high-tech engineered metallic and composite parts, kits, and assemblies to the global aerospace industry. Primus specializes in high-stress, moving systems in high-value, high-growth aircraft. Primus's Thailand facility produces specialty parts for Airbus and other regional aerospace customers.

A short distance up the coast, The Eastern Seaboard Industrial Estate sprawls in all directions, crisscrossed by modern highways and fed by busy railways, ports, and warehouse centers. Located in Rayong province, this hub of industrial activity is known as "Detroit of the East" and is home to automakers such as GM, Ford, and growing numbers of European and U.S. automakers. It's also home to innovative second-tier suppliers like American Axel, based in Rayong.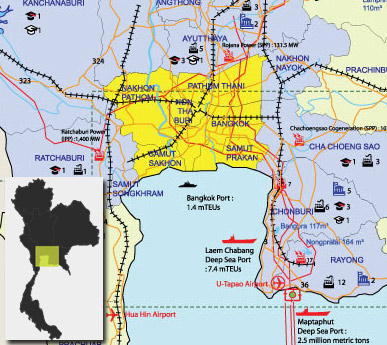 Thailand has the second-largest economy in ASEAN and is a leading manufacturing and exporting center for automobiles and parts, including engines and axels. It's a major supply chain link in the semiconductor, computer, and electronics industries, as well as a leading supplier of plastic resins, chemicals, rubber, and metal products to industry. Thailand is also a world-class center for precious gemstones and jewelry. Thailand cannot sit on its laurels, however, many of which went down stream during the flood, an event that supplied, according to one plant manager, a "geographical reset" that "changed the industry totally."
Next: Moving up the value chain