This article is adapted from Emsi's presentation at Area Development's Consultants Forum Automotive Workshop.



The blurring of automotive and technology stands out in the real-time job postings data and the online worker profiles that Emsi parses every day. Auto makers are looking for design engineers and software developers with skills like design failure mode and effects analysis, Simulink, and computer-aided 3D interactive applications (CATIA). There are workers with these skills based on our professional profile database that normalizes publicly available data from CareerBuilder, Facebook, Twitter, Github, Google, and Quora, and other professional networking sites.

But are there enough of them in the right places considering the changing geography of the auto industry?

We looked at the most common skills and job titles asked for in job postings from 11 major auto makers from January 2016 to January 2017. (Job ads don't give the full picture of potential hiring, especially in production-intensive industries, but they still indicate the skills and job titles that auto makers are requesting in their online postings.) We then matched the job postings data with our profile database as a proxy for gauging current workforce supply and demand.

Auto Makers' Job Posting Patterns
In the last year, Chrysler has posted the most raw job ads of any automotive manufacturer. But when we de-duplicate these postings, GM and Tesla stand above Chrysler and every other auto maker. And after the top three, there's a big drop-off in unique job postings from Chrysler to Ford and Honda … and an even bigger drop-off from Honda to Volkswagen and Toyota.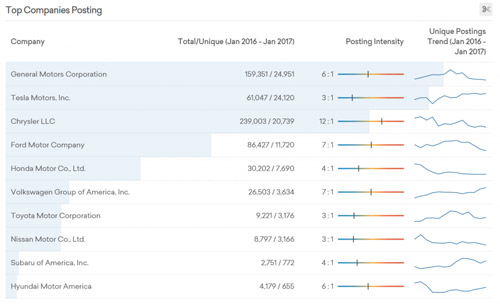 The Detroit area (Auburn Hills, Dearborn, Warren) make up the largest percentage (over 30% of where these ads are posted. But Bay Area cities like Fremont and Palo Alto, as well as Oxnard in southern California and Austin and Dallas, also show up prominently in postings of auto makers. This indicates, as does standard labor market data, that the concentration of auto jobs is flattening—first from the Rust Belt to the South, and now to the West Coast and Texas.

The 11 auto makers shown in the chart above posted more than 100,000 de-duplicated postings from January 2016 to January 2017. And of those unique job ads, nearly 10% were for three job titles: design engineers, software engineers, and systems engineers.

Other common job titles in auto makers' postings: project managers, quality assurance engineers, research specialists, and control engineers. (As hinted at above, job postings tend to be biased toward high-skill positions.)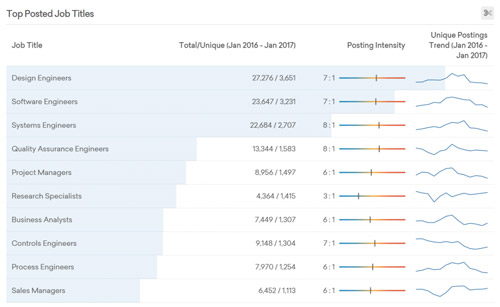 The most unique or relevant hard skill these auto makers asked for in postings was powertrain, followed by design failure mode and effects analysis, and engineering. After CATIA and manufacturing, stamping—or metalworking, a more traditional auto manufacturing skill—appears on the list.

The Supply Side
How do these job posting trends match the supply of the workforce? We found 134,500 workers who mentioned five of these specific skills (powertrain, design failure mode and effects analysis, CATIA, stamping, and Simulink) and have updated their online profiles since 2015. These workers can be found at Ford, GM, Boeing, Chrysler, Cummins, and thousands of other companies. And most of them have the same job titles that the auto makers are putting in their job ads—design engineer, mechanical engineer, and systems engineer are three most common based on the percentile distribution of profiles.

And what about the geographic distribution of these profiles? The epicenter is Detroit, with 14% of the 134,500 profiles. Los Angeles, Chicago and tech hotspots Seattle and San Francisco also have around 2% each of these workers.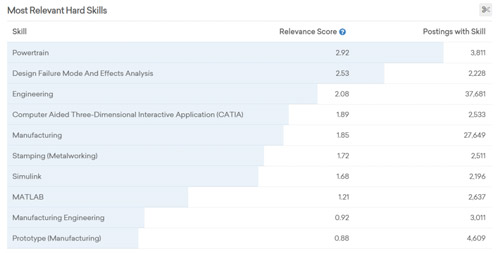 Conclusion
So, back to the question we posed at the start: Are there enough engineers, software developers, and other highly skilled workers to meet auto makers' needs? It'd be helpful to extend this analysis to investigate more skills and more job titles, but at quick glance, it's no surprise that auto companies have a hard time locating talent. For example, we show 144,000 online profiles for design engineers nationwide, but fewer than 13,000 of these profiles include the five core skills we mentioned that auto makers have solicited in their job ads.

In response to these types of talent needs, economic developers and their community workforce partners should have a firm grasp on their key industry clusters and supply chains. We find that there's often high skills transferability between suppliers and manufacturers. And these suppliers, many of them small- to mid-sized businesses, can make great partners for local training providers that are addressing the auto industry's increasingly tech-focused workforce challenges.