Agile work is increasing due to the pandemic. Having experienced some of the benefits of working from home — such as reduced commutes, increased ability to balance work and life, preferred space to execute individualized focus work, etc. — more office workers are going to expect flexibility in where they work.

Recognizing this coming shift is the easy part. Understanding how portfolio and workplace strategies need to adjust — and then executing on those adjustments — is the challenge.

In order to explore and better understand how organizations are thinking about these changes, Cushman & Wakefield partnered with CoreNet Global to survey its membership. With 339 real estate executive responses from more than a dozen countries across all three global regions — Americas, Asia Pacific, and Europe — a few key themes from C-suite executives and business leaders are apparent:

The purpose of the office is changing:
While there have been positives to the work-from-home experience brought on by the onset of the pandemic, the lack of in-person interaction has exposed real concerns for the future of how people work. Over the past year employees have experienced challenges to personal well-being, struggled to connect with colleagues and their company's culture, and do not feel like they are learning. These challenges are particularly pressing for mid-tenure professionals (3–5 years with the company), some of whom could be turnover risks as the economy speeds up in the second half of 2021. In light of all of this, the office is a strategically important tool for meeting human resource and business goals, as it provides employees with things that they can't easily get while working from home. Specifically, office layouts can utilize space, technology, and amenities to enhance connection, collaboration, and creativity — the very things that too much remote work can jeopardize.

What we see in the survey results and with our clients is that there is no single answer to the question of how office space in an agile world best supports productivity, innovation, and growth. Every sector — even every company — is going to take a different approach. What is broadly true, however, is that the future appears to be much more flexible when it comes to work arrangements, and the office will be a critical part of that flexibility.



There is no single answer to the question of how office space in an agile world best supports productivity, innovation, and growth.

Office workers are going to demand much more flexibility moving forward, with options to work from home, work from the office, and likely working in third spaces — that is community locations or coworking sites that are neither home nor the core office hub. Recent Cushman & Wakefield Experience per Square FootTM survey data shows how important autonomy and choice are. Workers who have the freedom to choose where they work rate e-performance indices higher by 25+ basis points: experience, best work, culture, engagement, networks, and work-life balance.

The need to provide autonomy and to support work experiences that are challenged by 100 percent remote work have accelerated trends in office design and physical layout. Workplace approaches — from assigned seating to collaboration spaces to working in third spaces — have significantly changed since the pandemic began. Before the pandemic, 59 percent of companies surveyed used an office-first model. Now, as we begin to move to a post-pandemic model, only 10 percent of companies are office-first, with a stunning 81 percent looking at hybrid models. There is a real opportunity for thoughtful employers to transform the workplace experience with flexible options for employees by offering a variety of locations and experiences to support convenience, functionality, and well-being.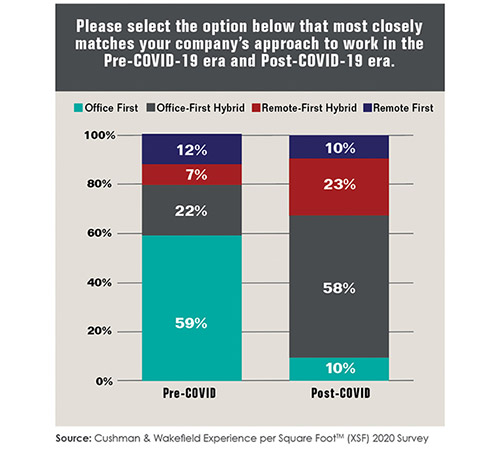 Tailored approaches are required:
Different workers and teams have various needs for how they work, when they work, and where they work. Space, technology, communication, and corporate leadership are thoughtfully customized to seamlessly support different types of employees (i.e., personas) regardless of where they are working. This has never been truer than now.

One of the cornerstones of these tailored approaches is ensuring technology keeps up. 5G equipped offices and mobile devices are quickly becoming table stakes. Adam Stanley, Cushman & Wakefield's CIO and Chief Digital Officer, recently explained the importance. "Online audio calls, video conferencing, cloud-based collaboration, and other activities that consume a lot of data should become much faster (on 5G). And the resulting impact on the employee experience will be significant. In addition, 5G can make remote working more accessible than ever before. Today, there's always a risk of a glitch during a video call, an e-mail getting delayed, or remote attendance tools malfunctioning due to poor network coverage. These hiccups should be less of an issue in the 5G era. Remote employees should feel more connected to their on-premise peers."



The increase in remote work creates opportunities for companies to tap into new employee bases.

Of course, increasing technologies is a major infrastructure project and requires significant capital. It will need strong leadership with a clear mandate. However, it is happening, and this technology infrastructure will be an important tool as flexible work options become the norm.

In addition to tailoring solutions to different types of people in different locations, workplace strategies will be customized for the various tasks individuals and their teams complete on any given day. When asked about the physical work environment, there has been significant movement in people's views and approaches post-pandemic. There is a shift away from owned spaces and a move towards flexible space. People want flexibility, including virtual options and collaboration spaces.

Layouts will be focused less on individual workstations and more on collaboration and connections spaces. This is not surprising as half of the employees surveyed as part of Cushman & Wakefield's Experience per Square FootTM consulting survey tool indicate they struggle to connect with their company's culture during the pandemic because the office is seen as a key supporter of connection to company culture, corporate leaders, and other colleagues. And, the office is also the best place for casual interactions, collaboration, and innovation/creativity.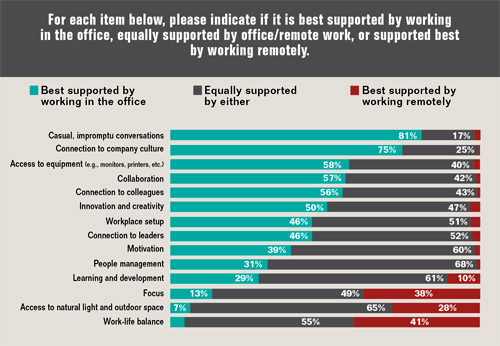 Opportunities for companies to access different pools of talent:
The increase in remote work creates opportunities for companies to tap into new employee bases. A third of survey respondents, including 39 percent of C-suite respondents, expect that companies will allow employees to live anywhere regardless of company office presence. This potentially opens untapped labor pools and gives some employees more flexibility to live outside of major and secondary markets.

Finding qualified talent has always been a heavy lift for companies — especially in-demand, knowledge-economy workers such as those in finance and technology. An unanticipated consequence of the forced work-from-home pandemic response is that management has been able to experiment with more remote work, which may make it easier to fill some roles in the future outside of markets where a company has physical office space. As noted previously, improvements in technology — now tested during a crisis — will accommodate more flexibility for office workers and make remote working more feasible in cases where the role and company culture allows. This, of course, will require an increased emphasis on connecting both in-office and remote employees to corporate culture as well as building interpersonal trust and rapport in new (and potentially challenging) ways.



Different workers and teams have various needs for how they work, when they work, and where they work.

Workplace ecosystems rule the future:
Employers and employees are both going to have to adapt. The post-pandemic workplace is going to require leaders who are nimble and willing to iteratively try new things — whether that is with working arrangements, the physical office space, or technology. Flexibility will be critical as situations change and different solutions are tested.

Employees will come to various conclusions about what is the right workplace mix for them, whether it is work from home, the office, or a third space. The most likely outcome for most will be a combination of all three types of locations varied by the tasks and goals of a given day.

Finally, organizations will need to adapt their corporate culture for an environment with fewer in-person opportunities to engage. The data suggests an ecosystem of workplaces will be the way forward to balance employees' preferences, to maximize business objectives, and to optimize performance. Leaders will need to manage change proactively, will need to offer spaces and technologies that are empathetic to both those in the room and those working remotely, and they will need to provide office space that optimizes productivity, connection, innovation, and well-being.