Private industry is facing two central and sometimes countering dilemmas: how to attract top talent while doing more with fewer resources. A similar challenge exists for economic developers, i.e., how to attract business investment with limited public resources. Both private industry and civic organizations want to stand out from their competition. With that in mind, the following five trends illustrate how some leading companies are using their real estate creatively to drive better, more dynamic and competitive workplaces.

1. Closer proximity and interaction with higher education and start-up communities - Progressive companies have developed multifaceted partnerships with universities and have chosen to locate near such institutions to drive product innovation and achieve workforce objectives.

For example, since 2012 Janssen Pharmaceuticals, a division of Johnson & Johnson, has opened six life science co-working facilities totaling 150,000 square feet (operating as JLabs) in partnership with leading academic institutions. JLabs acts as an active landlord with a goal to accelerate drug development. Startups apply and are judged on their scientific and business-case merit. There are no contractual obligations other than rent, but JLabs is undoubtedly well placed for potential partnerships.

Another example is VMware, headquartered in Stanford Research Park, California. Beyond convenient university access, VMware wanted to ignite collaboration among its employees and visitors alike through inspirational design that highlights natural landscape and environmental architecture. The outdoor landscape features tree preservation, trails, and a town square while the interior allows sunlight to freely flow through glass walls, while natural materials accent the space.

Through the setting and events programming, the campus attracts visitors by the literal busload. Guests attend academic seminars and training sessions, which provide direct feedback for product development.

Lesson: There's an opportunity to replicate the co-working model and partner with institutions to strengthen entrepreneurship. Investors under similar pressures to innovate may have interest in developing institutional partnerships.

2. People-centered space - The built environment influences brain activity in ways in which humans are often not consciously aware. Settings with visual variety and a sense of natural beauty have positive neurological impacts. A famous study, conducted in 1984 by Roger Ulrich, showed that visual access to green space actually has the power to heal. The study found that gallbladder patients with visual access to natural landscapes took less medication and were released one day (out of seven) earlier as compared to those without such access.

Office space has been slow to incorporate these concepts, but there is now a growing recognition that utilitarian office design is harmful to our health. The reality is that sitting stagnant in a chair for 8+ hours a day in an uninspired environment is bad for people. Even Pope Francis has weighed in on the subject: "We were not meant to be inundated by cement, asphalt, glass, and metal and deprived of physical contact with nature." This idea, however, is commonly set aside in the shuffle of daily obligations and cost-minimization exercises. The negative consequences are real, and directly impact the profitability of companies that choose to ignore them.

Outdoor features, such as terraces, are increasingly being woven into architecture. For example, Two World Trade Center, designed by Bjarke Ingels, prominently features terraces that are stacked throughout the building and form its shape. It looks as if it were a grand staircase to the sky, and provides visual connection to nearby greenery, while increasing access to the outdoors for the tower's inhabitants.

Lesson: Each area has a design community; promote it and connect it to potential investors. It could be a unique benefit to an investor while also promoting existing local businesses.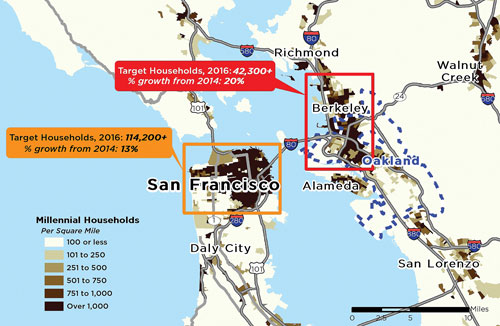 3. Space as a catalyst for cultural change - From 2014 through 2016, more than 100 corporations either completed or announced plans for a spinoff. Stock performance is a common driver, as investors favor these transactions due to tax-free dividend gains, and — they argue — market specialization achieved increases organizational agility.

A side effect of the financial benefit driving the trend is that the new entities are challenged to recreate their identities, while seamlessly continuing normal business operations. A popular method is through headquarters relocation.

Case in point: Abbvie, a Cushman & Wakefield client, spun off from Abbott Laboratories. It relocated its headquarters and rethought its design. Office eligibility was reduced, and offices were placed on the interior core so natural light could fill the workspace. Office-sized spaces were reused as rooms for private conversations. Interestingly, the design adjustments of this strategy did not demand large construction costs. Rather, shifts were made to make a traditional office more appealing. Many employees were skeptical of the changes, but — after the move — 73 percent said they preferred the new space to the old.

Lesson: Be aware of the opportunity to gain (or risk to lose) a headquarters or major regional operation following a spinoff. Perhaps spinoff companies will be willing to listen to an offering as they manage organizational change.

4. Architecture as a workplace benefit - Highly competitive labor markets are looking toward high-end design to attract top talent. One of the most anticipated headquarters is the Frank Gehry design of Facebook's new campus in Menlo Park, California. While critics argue that the space is an extravagant expense, there is a strategic purpose behind it. Facebook is betting big that the artful design will be an asset in the war for talent. The design for the campus centers on what will be the largest open-plan office in the world: 10,000 people will fit in a single room. A space of that magnitude could easily become ominous and imposing, but it will, in fact, not be visible from the side. A rooftop park will give the appearance of a hilly forest rather than a large office building. Through his edgy design, Gehry will accomplish what Facebook has as a company — to be everywhere and nowhere at the same time.

Others are also investing heavily in architecture. Norman Foster designed Apple's $5 billion California headquarters, and Google invested in two designs after stating that it wanted to be more "thoughtful in the (our) design process."

Lesson: Lobby for thoughtful urban design. Walkable, visually interesting, and accessible communities attract population. Millennials demand it, but healthy design benefits all generations. Economic developers can be a powerful voice in that effort.

5.1. Chasing the workforce - The desire for companies to be located near large labor pools is driving a wave of office locations to urban cores across the country. Few examples are more apparent than Salesforce, on track to arguably be the most accessible large tech company in the Bay Area. It will occupy half of the 61-story tower currently under construction in downtown San Francisco.

Space is limited due to high demand and ordinances that allow a limited amount of new commercial square footage each year. Adaptive reuse of existing buildings has become a popular option to address the limited supply, while providing more authenticity to office space. The buildings may be old, but the designs are as young as the millennials who occupy them. Twitter, Airbnb, Uber, Spotify, and Yelp are all examples. Like their Silicon Valley counterparts, they believe that creating uniquely designed spaces will create interest among new recruits and enhance their productivity once there.

5.2. The millennial ripple effect - As housing costs escalate in San Francisco, many workers are looking elsewhere for more affordable living conditions. Oakland is becoming an attractive option due to its accessibility to San Francisco, which is a 10-minute train ride, and relative affordability. The median value of housing in Oakland is 40 percent less than in San Francisco, but it has grown 122 percent since 2000.

Cushman & Wakefield analyzed demographics in millennial neighborhoods across the country and found a narrow segment of highly educated millennials were concentrated significantly higher than the U.S. average. The accompanying map illustrates that demographic cohort living in Oakland. The sizeable and growing volume in locations like Oakland is perhaps an indication of where the next wave of tech office development might occur.

Lesson: Communities must know their demographics and conduct a self-assessment to determine if there is alignment with the type of workforce their target industries are seeking. Using data to illustrate where first-mover advantage might occur could be an effective selling point to potential investors.

In Sum
Architecture, interior design, and location strategy are powerful drivers of employee attraction, retention, and engagement. Real estate and urban design investments that support innovative programming, facilitate more livable environments, and anticipate demographic trends are proactive in attracting a diverse population and serve long-term interests. Companies — and communities — that successfully align their real estate and workforce strategies will create a sizable competitive advantage over their less strategic peers.