AD: Despite the high unemployment rate created by the pandemic, companies are still struggling to find skilled labor. How does GE Appliances' workplace culture factor into attracting these workers?

Rockingham: Having a great culture is critical to attracting talent and our success. This year, 81 percent of employees said GE Appliances is a great place to work – beating the national average and earning the global "Great Place to Work" recognition.

In times of crisis, employees want to hear directly from their leaders. GEA's President and CEO Kevin Nolan began weekly video updates to employees early in the pandemic that provided information and guidance as the team worked together in uncharted territory. We also implemented new texting tools to keep better connected with production employees and link them to important information.

It's so important that people feel valued and have a plan for growth and development. We believe in creating a work environment where people can chart their own career path and have access to opportunities that align with their skillsets and experiences. In our plants, that means a good environment with ergonomically friendly workstations, higher-level work such as problem solving and a focus on new technology, education and training opportunities, competitive pay, and a robust benefits package that fits them at every stage of their life.

AD: The social unrest experienced during the pandemic has also brought to the forefront diversity and inclusion (D&I) issues in the workplace. How are D&I initiatives being implemented at GEA?

Rockingham: At GE Appliances, we work to ensure a safe and inclusive workplace where everyone is valued, and the power of diversity brings us closer to our customers, communities, and each other. We want diversity of thought because we know it will make us a stronger company. Each function has a D&I Talent Counsel that is championing our goals. This includes formal mentoring, which is critical to helping employees be successful and grow their careers. We believe our team needs to reflect the people we serve. This is a journey, and we are setting stretch goals to grow our diverse workforce over the next several years.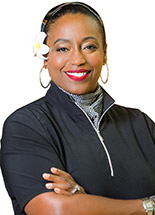 AD: The need for empathetic leadership has also been brought to the forefront. How is that displayed at GE Appliances?

Rockingham: At GEA, we recognize and acknowledge the "how" matters — and that means actionable change. Since the start of the pandemic, the company has been guided by three principles: protect our people, take care of our customers, and support our communities.

The team paused plant operations for one week at the beginning of the pandemic to enhance safety precautions inside our facilities. The business has remained operational since that time while continuing to support our employees and following strict safety measures.

More than 1,000 managers and employees came together to work our assembly lines to address pandemic staffing pressures as production employees needed flexibility to manage their personal lives. While challenging, it brought renewed respect for the work being done and sparked ideas by our engineering teams to improve our assembly operations. It was a tremendous outpouring of teamwork.

AD: What other strategies can company leaders use to attract and engage employees — especially millennials — who want to work for companies whose values align with theirs?

Rockingham: Millennials and Gen Z want meaningful work with a good company where they can achieve their dreams. At GE Appliances, our pipeline starts with more than 450 co-ops and interns who join us each year for significant work experiences. From there we offer numerous rotational training and development programs in digital technology, finance, manufacturing, engineering, and Industry 4.0 that lead to positions in many different parts of our business. Culturally, we like to find employees with potential and give them stretch assignments with as much coaching as needed. Trusting them and setting them up for success early in their careers is very empowering.

We also actively engage them in our community and volunteer efforts and offer them additional professional and personal development through our affinity groups and early-career networks. Early-career employees expect rich experiences and opportunities for exposure and connection. Employees also want to know what the company stands for. We've been intentional about our response to social issues and acted.



We believe in creating a work environment where people can chart their own career path and have access to opportunities that align with their skillsets and experiences.

AD: How does the company engage with the community to build a positive relationship, and why is that important?

Rockingham: GE Appliances is actively engaged in the communities where we have operations, and this has been a part of the company's DNA for decades. For example, in our plant communities when supplies were scarce early in the pandemic, our engineers made face shields and intubation boxes for local hospitals. Our Sourcing team used their global expertise to procure needed supplies and then donated them. The team also introduced the GEA 4 Heroes Campaign where the company donated appliances to 2,000 frontline healthcare workers and first responders in almost every state, partnering with the United Way to help identify those in need. Our employees volunteered more than 20,000 hours last year.

We are also focused on the economic health of the community. That means partnering with government officials and community leaders on investment decisions and bringing more suppliers to the community. These partnerships create jobs, generate tax income, and build the community.

AD: How does GE Appliances continue to engage/retain its workforce once it brings them on board?

Rockingham: We are continuing to evolve our culture, where people feel connected to the value they bring to the business and to the consumer. This is taking shape in many ways from our 12 D&I Talent Counsels who have revised their functional onboarding processes and mentoring to our improved Rewards & Recognition system. Our affinity networks allow for deeper connections to many different employees and the business through professional development, community service, and engagement activities. There's more flexibility in work schedules and location that addresses the needs of individuals. Our overall health and wellness umbrella is called WellWithin — where we support employees' physical, emotional, and financial health. Finally, we offer competitive pay and benefits, which is something we monitor closely and are always looking for ways to improve.



GE Appliances is actively engaged in the communities where we have operations, and this has been a part of the company's DNA for decades.

AD: What specific internal and/or external training initiatives does the company have in place to make sure it has a pipeline of talent?

Rockingham: GE Appliances believes in developing talent in-house and through community partnerships. For example, GEA funded and crafted a blueprint for bridging the manufacturing skills gap that led to the creation of the Greater Louisville Chapter of the Kentucky Federation for Advanced Manufacturing Education (KY FAME), a group of area manufacturing companies taking action to fill the pipeline of mid-skill manufacturing workers.

In 2019, GE Appliances began the two-year Industry 4.0 Development Program targeting recent engineering college graduates or mid-career employees who want to work in the company's nine smart factories in the U.S. The company also offers the Edison Engineering Development Program, where participants gain three years of experience solving real world problems across five different roles while earning a master's degree.

Other community partnerships include the Academies of Louisville, a Jefferson County Public Schools initiative that mixes career-oriented classes with core content to enable students to explore high-demand fields; and GEA2DAY, that allows high school seniors to join a new, weekly two-day workforce that pays $17.00 an hour and up to $6,000 per year in college tuition.