You don't have to be Warren Buffet to understand that high-quality talent equals strong businesses, more jobs and, ultimately, economic growth. To that point, Canada boasts one of the most educated workforces in the world with over 55 percent of Canadians having graduated from postsecondary institutions.

The province of Ontario surpasses the national average, with 68 percent of Ontario adults possessing a postsecondary education — a rate higher than any OECD country.

Ontario is home to some of the most highly skilled, highly educated minds across the science, technology, engineering, and math (STEM) disciplines. In fact, the province is a top producer of STEM graduates with over 40,000 entering the workforce annually — which should come as no surprise for a country with a total of 2.8 million STEM graduates in the labor force.

There will always be a healthy competition to attract and maintain the lion's share of the skilled labor pool. Canada is the world's 10th largest economy, and we know the only way to maintain and surpass that ranking is to continue to grow our talent base.

Where does high-quality talent come from, and how do we get more?
The strength of the Canadian economy and the rate at which we produce and attract talent increasingly depend on our ability to leverage our:
Acclaimed educational system (open to both foreign and domestic students); and
Policies and programs designed to encourage the immigration and permanent residency of foreign talent.

Between Canada's programs and policies put in place to increase immigration, our quality of postsecondary education, and our overall appeal as a study destination, we have earned ourselves a big "X-marks-the-spot" on the world map for talent and innovation.
Canada's universities boast a global appeal.
The renowned University of Toronto is a top 20 global university, with five other schools in Ontario cracking the top 300 in the world. And the graduates of these schools aren't just simply getting a piece of paper — they are well set up to enter the workforce in the digital age.

The University of Waterloo holds the 15th top global computer science program, and its graduates are the second most frequently hired students by Silicon Valley companies. The University of Toronto's computer science program also joins the esteemed global ranking in the number 25 spot.

These rankings are no secret, as the number of international students enrolled in Canadian postsecondary institutions has been on the rise for two decades, with international students now representing 12 percent of overall enrollments.

International enrollment helps institutions fulfill their public mission to positively affect economic impact. For example, the University of Toronto contributes $15.7 billion to the economy every year.International students make up over 20,000 of the 91,000 students enrolled. And then consider the even greater value to the economy if these students stay to live and work here after their studies.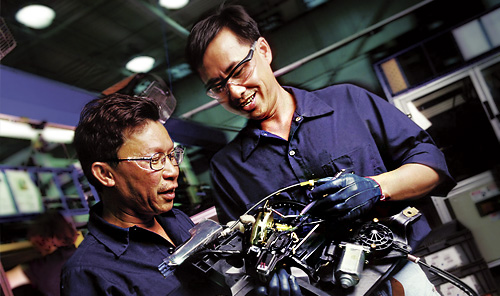 Talent is the lifeblood of our economy.
As someone who grew up in North Bay, Ontario, I know that wherever the labor pool is smaller, there are more opportunities to attract talent, grow businesses, and develop a thriving economy. It is no coincidence then that last year, when foreign direct investment (FDI) into developed economies dropped 40 percent, FDI into Canada increased 70 percent.

Ontario views talent as the lifeblood of our economy. That is why our province works with the federal government to implement immigration programs to help companies recruit and retain highly skilled international talent — and to do so at the speed their business operates. For example, The Global Skills Strategy offers work permits in just 10 business days. Open work permits for spouses and study permits for dependents will also be processed in two weeks — this way, families can stay together.

It's another reason why the Ontario Immigrant Nominee Program (OINP) was developed. The program allows foreign workers, international students, and others with the right skills, experience, and education to apply for a nomination for permanent residence in Ontario. Our government recently implemented some important improvements to the OINP to make it an even more effective labor market tool – such as making it easier for international entrepreneurs to start a new business in Ontario or buy an existing Ontario business.

These programs benefit the province, helping us to meet labor market and economic development needs. With almost a third of Ontario's 14 million people born outside of Canada, we know that international talent is essential to building business and building a strong economy. We are committed to having our skilled foreign workers become permanent Canadian residents. We want the best and brightest to be able to call Canada home.

It's clear — Canada's on the cutting edge.
Canada is the 5th most attractive country for highly skilled talent, and I believe the nation's welcoming approach to immigration expands our talent pool further, while producing different perspectives that enrich the culture of innovation. That innovation is a big reason why Canada remains one of the top places in the world to start a business, as well as to locate a global headquarters.

Canada's highly educated and diverse population, along with policies geared toward attracting the top talent, has made Canada essential to technology companies' growth plans. Multimillion-dollar industry giants across sectors like technology, life sciences, and automotive continue to draw from our deep labor pool. Big data, artificial intelligence, and autonomous vehicles are just a few of our innovative areas drawing in titans such as Amazon, Google, Facebook, Microsoft, and more.

With heavyweights in the tech sphere setting up shop to take advantage of our skilled labor force, even more talent is coming north of the border. Last year, Toronto's tech "brain gain" (57,600) surpassed the Bay Area (54,700) by 3,000 workers. As areas like STEM continue to grow, so will the province's programs to leverage those skills.

Our goal is to be ahead of the curve and challenge the digital shift with breakthrough ideas and technologies. A tough task, as tech is disrupting every industry and creating competition where competition didn't exist before. But we've got the talent to compete on the cutting edge — to keep us learning and earning.

And that's why Canada keeps its doors open to international students, open to talent and, truly, open for business and open for jobs.