If you follow foreign direct investment trends in Canada, you may have heard in recent news that although global FDI flows decreased by 27 percent, Canada saw the highest FDI inflow increase among G7 countries in 2018. In fact, Canada's FDI inflow increased by 60 percent in 2018, compared to 13 percent for France and 10 percent for Italy, whereas Japan, the United States, the United Kingdom, and Germany saw their FDI inflows decrease. More specifically, non-U.S. FDI in Canada increased by more than 300 percent. This is, of course, great news for Canada — there is no doubt that Canada is and has been a premier investment destination over the past few years.

Canada is showing signs of a healthy economy that is attractive for foreign direct investments. According to the Organization for Economic Co-operation and Development (OECD), Canada's average annual real GDP growth in the past 10 years (1.8 percent) ranked first among the G7 countries and will rank second at 1.8 percent in 2019–2020 behind the United States at 2.4 percent. Furthermore, Canada's corporate income tax rate remains one of the lowest in the G7 at 26.8 percent, just below Italy at 27.8 percent and slightly above the United States at 25.8 percent. Finally, the Economist Intelligence Unit (EIU) predicted that among the G7 and G20 countries, Canada will be the best country to do business over the next five years. According to the same source, "The country ranks well for its infrastructure, market opportunities, foreign trade and exchange, and low tax rates."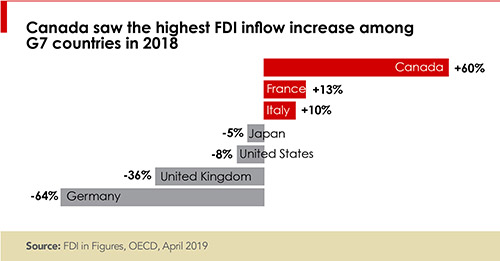 Snapshot of FDI in Canada
The West Coast of Canada distinguishes itself by the large total CAPEX number of US$35.37 billion for 64 projects. The Greater Toronto Area (GTA) and the St. Lawrence Corridor both show a high number of jobs created by FDI projects in the past five years, most notably in Toronto (14,003 jobs) for the GTA region and in Montreal (11,594 jobs) for the St. Lawrence Corridor. The two regions also stand out in terms of the number of projects, each having hosted more than quadruple the number of projects of the West Coast.

The concentration of FDI in Canada's most internationally recognized cities — Vancouver, Toronto, and Montréal — is mainly due to their highly qualified workforce, modern infrastructure, and industrial clusters. This pushes smaller cities to promote their differentiating factors to get a share of the investments. For example, Waterloo in Ontario has "the world's highest concentration of mathematical and computer science talent"; and Brampton, also in Ontario, has the youngest community in the Toronto CMA, a valuable asset considering how Canada's aging population is leading to a decline in labor force participation.

In terms of industries, the software and IT services industry created the most jobs through FDI projects over the last five years, while the automotive OEM industry showed the highest number of average jobs created per project at 236. As a matter of fact, during the same period of time, "Toronto and Vancouver have recruited more technology workers than San Francisco and Seattle combined."

Despite the recent sharp decline in oil prices in Canada, the coal, oil, and gas industry received the most CAPEX through FDI projects in the last five years combined, notably through Shell Canada's US$30 billion liquefied natural gas project in Kitimat, British Columbia. Finally, investments in the manufacturing sector rose 450 percent since 2016. Although last year's investments from the U.S., representing 42 percent, were significantly lower than the 10-year average of 53 percent, Canada's strong economy remains closely intertwined with its neighbor's, the United States. In early 2018, the Trump administration imposed new tariffs on steel and aluminum imports from many countries, including a 25 percent tariff on steel and a 10 percent tariff on aluminum from Canada. Although the U.S. recently agreed to lift those tariffs from Canada and Mexico, Canadian consumers and workers were deeply hurt by that measure as the United States is Canada's number-one customer in the industry; local steel and aluminum businesses will have work to do to get back to their pre-tariff state.

In the past year, the government of Canada took many measures in response to these tariffs, including retaliatory tariffs on various American-made products. An example of a measure taken to help local businesses during the Canada-U.S. trade war is the creation of new streams to the Strategic Innovation Fund (SIF), a program dedicated to stimulating innovation, thus ensuring that Canada remains a prime destination to invest, grow, and create jobs. On June 29, 2018, the SIF announced $250 million in new support to "help bolster the competitiveness of Canadian manufacturers and better integrate the Canadian supply chain of steel and aluminum." The SIF continues to invest in innovative Canadian business through its other streams, including the newest National Ecosystems stream announced in June 2019.

Top Emerging Big Cities
It's not surprising that the three largest metropolitan areas — Montréal, Toronto, and Vancouver — are at the top of the list when it comes to the number of FDI projects, total CAPEX, and total jobs created by FDI in the past five years. With the record-high labor shortage across Canada, we expect that investors will be looking at cities with large labor pools for their future projects. In fact, a recent study by the Business Development Bank of Canada (BDC) stated that these labor shortages are not expected to get better for at least a decade; therefore, availability of workforce will likely stay put at the top of decision-makers' investment criteria.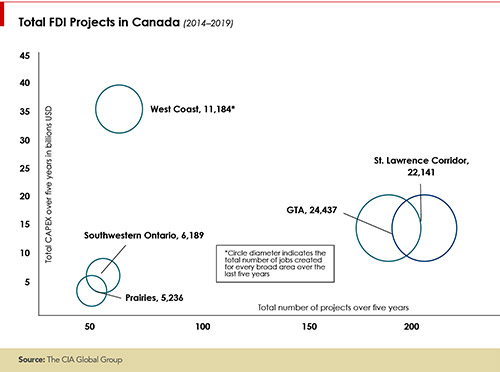 Cities with large and growing populations will become prime investment destinations for FDI. The top five Canadian big cities with the highest population growth are Edmonton, Alberta; Brampton, Ontario; Calgary, Alberta; Surrey, British Columbia; and Winnipeg, Manitoba.

To ensure that the working population continues to grow, Immigration, Refugees and Citizenship Canada (IRCC) announced the government's increased immigration targets for 2019 and 2020 and an extension of the plan through 2021, with a focus on economic immigration through the federal Express Entry economic system, designed to select skilled workers, and Canada's Provincial Nominee Programs (PNPs), which allow for the provinces and territories to nominate candidates for immigration. Under this plan, 1.3 million immigrants will be welcomed to Canada, 60 percent of whom will come through Canada's Economic Class programs.

What's Next?
Major events that could have a direct effect on FDI in Canada will be taking place in the next few months. For one, the Canadian federal election will be held on October 21st of this year. In addition, with the U.S. House of Representatives having gone on their five-week break without ratifying the new NAFTA deal, otherwise known as the U.S.-Mexico-Canada Agreement (USMCA), Prime Minister Justin Trudeau announced that Canada will delay the ratification of the deal until the fall.

Canadian workers and businesses will be paying close attention to how both the elections and the USMCA ratification will unfold. Canada stayed strong during the difficult NAFTA renegotiation and U.S.-imposed tariffs that ensued, and it will continue to make it clear that it is dedicated to protecting its key industries, investing in innovation, and developing its workforce.