Editor's Note: This article was developed in collaboration with Greater Portland Inc.


The greater Portland area has a long history in natural resources and agriculture — and to this day, there's a lot to like about the pinot noirs from the Willamette Valley and the breathtaking view across the Portland skyline and forests toward Mount Hood.

But the Portland area has grown into far more than a trading post near the end of the Oregon Trail. Indeed, a World War II industrial boom was followed by an influx of '60s counterculture and dramatic gains in the knowledge-driven and innovation economy.

That didn't just happen, though. Matt Miller, senior vice president at Greater Portland Inc, the regional economic development organization, says local leaders made a conscious effort to diversify beyond a natural resources-based economy.

"Investments in infrastructure and transit, attention to place making, and efforts to diversify the economy for all have led to the growth of globally competitive clusters," Miller says, "in computers and electronics, athletic and outdoor apparel industries, clean technology, metals and machinery manufacturing, health sciences and technology, and software and media."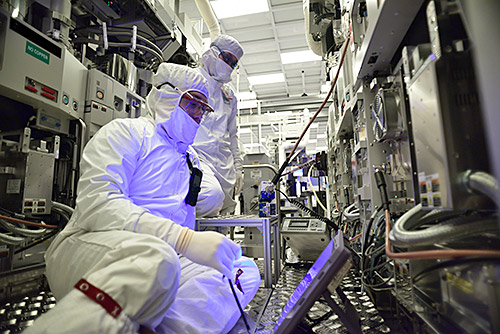 Success Stories
Greater Portland Inc points to a number of recent location or expansion stories to make the point:
Intel is Oregon's largest private employer, with more than 20,000 people on the payroll. The semiconductor giant keeps building upon its investment in Hillsboro, planning a 1.5 million-square-foot addition to its research facility there that could add 1,000 jobs directly. The growing sector has recruited other successes, too, including JSR Micro from California and KoMiCo from Texas.
DWFritz Automation has been expanding quickly in Wilsonville. The company makes custom precision automation systems for advanced manufacturers in a variety of sectors, including consumer electronics, energy storage, automotive, medical devices, and semiconductors. Last year, the company opened a state-of-the-art headquarters operation and advanced research lab, secure manufacturing space, and a clean room.
Element Six is literally making diamonds in the Greater Portland area. Part of the UK's De Beers Group, the company is building a $94 million synthetic diamond manufacturing facility in Gresham. The company's manufactured diamonds have been used for industrial purposes for decades, but this Oregon expansion comes with the unveiling of a fashion jewelry line using synthetic diamonds to boost affordability.
These kinds of headlines build upon a number of growing business hubs in the Greater Portland area. The athletic and outdoor apparel sector features such big names as Nike, Adidas, Under Armour, and Columbia Sportswear. Intel is the most recognizable name on the local computer scene, and it's joined by others such as WaferTech, Tektronix, and ON Semiconductor. Local software and media operations involve everything from smaller players to big names such as Google, Apple, and Oracle. The region's knack for attracting highly educated talent has, in turn, attracted significant operations in renewable energy and health sciences. And the manufacturing sector also boasts operations from Boeing, Daimler Trucks, and others.

Logistical & Other Advantages
Locals appreciate the ability to easily shift from a progressive urban environment to sprawling natural beauty. Some opt to live and work a little further from the center of Portland, such as in and around Salem, a short drive to the south.

Erik Andersson, president of the Strategic Economic Development Corp. in Salem, describes an economy that retains its strong ties to agriculture and food processing, while also branching out. Its location in the mid-Willamette Valley provides both scenery and an ideal climate for growing some of the world's best pinot noir grapes.

But his part of the region is also located along major highways, which means that "another area of our success is warehousing and distribution." The Salem-area community has tried to turn challenge into opportunity by ensuring there are available industrial sites that are as close to shovel-ready as possible. Some prominent names that have chosen to grow in the area include Amazon and Henningsen Cold Storage.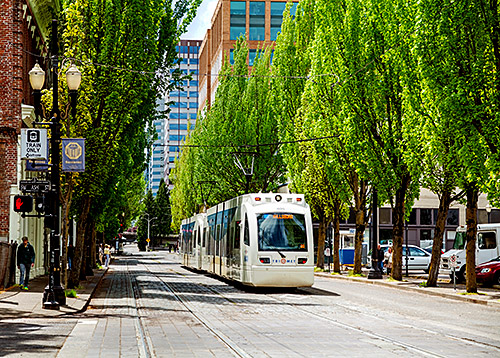 Tackling Challenges
Meeting challenges head-on is kind of a way of life around the Greater Portland region. The local thought leaders who succeeded in transforming and diversifying the area economy in more recent decades have not been shy in tackling other challenges.

Well-known as a hub for progressive values, Greater Portland got to work about three decades ago on reducing its dependency on the automobile. The aim is to boost quality of life, help the environment, and shuttle workers between their homes and workplaces.

The effort got going in a big way in 1986 with the launch of the original "banfield line" light rail. The system has expanded beyond the urban core and into the suburbs. A strong bus system builds upon the connectivity, as do the bike infrastructure and an emphasis on walkability. Reducing dependency on the car was a challenge the area met head-on, and the result is that a growing population has found it possible to forego auto ownership.

For those who still want wheels but wish to reduce their carbon footprint, the community is creating infrastructure to support all-electric vehicles. By next year, it's expected that 50,000 or more registered electric cars will be humming around Oregon roads, aided by local investments in charging infrastructure.

Quality of Life
It's all part of an intentional focus on creating an excellent quality of life to match the sound business climate. Portland General Electric's energy infrastructure is reliable and low-cost for both business and residential customers. Portland International Airport has transcontinental options that, again, support local business needs as well as recreational desires. The area is well-known for its culinary scene, too, along with its list of microbreweries that is well above the per capita average.

Furthering that quality of life is the area's proximity to both the coast and ranges of stunning mountains. The climate is relatively mild — warm and dry in the summers, rainy in the winter but cool, not frigid.

It all adds up to a winning combination, according to Miller at Greater Portland Inc "Our region continues to attract and grow workers because of its excellent quality of life, allowing world-class companies to flourish here."