Editor's Note: This article originally appeared in the First Quarter 2021 Virginia Economic Review, a publication of the Virginia Economic Development Partnership, which approved this posting.


In the two-plus years since Amazon announced that Arlington would be home to its highly sought-after HQ2, Northern Virginia's ecosystem has been supercharged.

This ecosystem has taken root in National Landing — the newly branded community comprising parts of Arlington County and the city of Alexandria — and is already branching out across Virginia, while stoking collaboration between the business, education, and government sectors.

From its strategic perch overlooking the U.S. Capitol and the Potomac River, HQ2 is taking shape as more than a second headquarters for the global technology giant. It is a beacon signaling to the world that National Landing is growing into a tech community like no other. This community includes Virginia Tech's $1 billion Innovation Campus, transportation infrastructure upgrades, significant retail and affordable housing investments, two 22-story towers currently under construction, and Metropolitan Park, a public open space including a dog park, art walk, and recreation areas.

The centerpiece of the next phase of HQ2's construction will be Amazon's recently unveiled Helix — a distinctive building featuring two walkable paths of landscaped terrain spiraling up the outside of the structure — and three more LEED Platinum-certified, 22-story towers scheduled for construction this year.

But that's just a peek at what's to come. Much within the footprint of HQ2 has already begun coming to life.

Hire Ground
Cited as a critical factor for NOVA's selection for HQ2 in Amazon's HQ2 announcement in November 2018, this tech talent pipeline is picking up steam. That's because Virginia universities committed to producing 32,000 new computer science graduates in excess of current levels over 20 years through its history-making Tech Talent Investment Program. Creating this additional workforce is critical, as Amazon alone plans to eventually hire at least 25,000 employees to power HQ2.

After beginning virtual interviews in February 2020, Amazon has hired more than 1,600 employees and has posted another 600 job listings for the Arlington site.

"The hiring and the talent pipeline is exactly what we'd hoped it would be," said Brian Huseman, vice president of public policy for Amazon. "There's no shortage of applicants and great people to choose from."

The focus up until this point has been on establishing the needed infrastructure to set up HQ2, an effort that included hiring recruiters and program managers. That has since shifted because Amazon is now hiring more business-oriented and technology roles.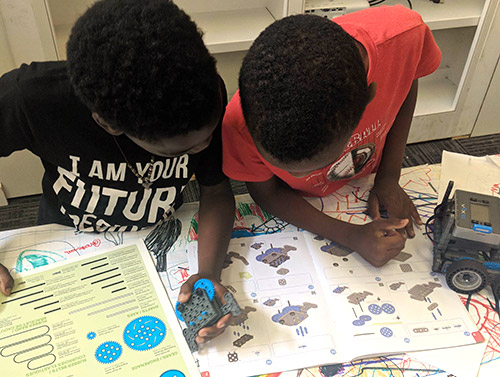 Mastering Innovation
Amazon's new neighbor is Virginia Tech's Innovation Campus, a cutting-edge talent accelerator that's the furthest thing from a typical classroom experience.

About 80 master's students have begun virtual coursework, with the goal of growing enrollment to 750 master's students within the decade. Construction on the Alexandria campus's first academic building, a 300,000-sq.-ft., gem-shaped structure, is slated to begin this year and be completed by fall 2024.

Leading the charge as vice president and executive director of the Innovation Campus is Lance Collins, who formerly served as the dean of engineering at Cornell. While there, he helped launch the school's satellite campus, Cornell Tech, at Roosevelt Island in New York City.

"I think it's going to be transformative to everyone in this region," Collins said.

One way he plans to set this tone is through relationships the campus builds with partnering businesses. Collins sees these as meaningful relationships, with degrees built primarily around project-based learning, where students and faculty work with industry partners to offer solutions to real-world problems. The plan is to build small, nimble teams of students who circulate through leadership roles.

"Everyone gets something out of this model," Collins said.

Business leaders are buying in. Mehul Sanghani, CEO of Fairfax County-based Octo Consulting Group, and his wife Hema donated $10 million to establish the Sanghani Center for Artificial Intelligence and Data Analytics, which will be the first academic building at the Innovation Campus. Some of the funding will be allocated to a scholarship program for underrepresented minorities to pursue graduate degrees with a focus on artificial intelligence.

Finally, Collins is also eyeing the section of pipeline preceding the Innovation Campus.

"I am passionate about creating pathways for young people to think about careers in technology," he said. "I am really interested in thinking about ways to work with the city of Alexandria schools as a template."

Similar to the other critical nexus points in this rising innovation ecosystem, Collins sees the real success in building a model for K-12 schools and higher education that can be replicated throughout Virginia and beyond.

Expect the Unexpected
HQ2 is rolling out according to plan, with two noteworthy exceptions.

First, the pandemic brought new challenges to navigate through. But by every measure, these challenges didn't stall the project's momentum.

"I think we changed and modified to address the pandemic," Huseman said, calling these pivots purposeful and a source of pride for Amazon.

One of these adaptations has been a shift to virtual community gatherings and municipal meetings. Matt Kelly, CEO of JBG SMITH Properties, National Landing's developer, cited the greater level of participation and interaction that online meetings created.

"In many ways, it broadens the base of people who can participate," Kelly said.

Second, Amazon has embraced its role as a corporate citizen. In November 2020, the company announced $9 million of contributions to nonprofit and community groups to commemorate the project's two-year anniversary. This included gifts for legal service providers to support local families, organizations advancing racial equality, and community groups helping to advance economic opportunity through literacy programs and job training.

Amazon estimates it's engaged with more than 100 area nonprofit and community groups since HQ2 began.

"From the beginning of HQ2, we wanted to start out on the right foot," Huseman said. "We want to be the best corporate citizen we can be."

One of the beneficiaries of Amazon's community outreach is CodeVA, a nonprofit founded with the mission of bringing equitable computer science education to all of Virginia's students. In 2019, CodeVA received a note from Mat Wisner, founder of Amazon Future Engineer, a comprehensive childhood-to-career program aimed at increasing access to computer science education for children and young adults from underserved and underrepresented communities.



The hiring and the talent pipeline is exactly what we'd hoped it would be. There's no shortage of applicants and great people to choose from.

Brian Huseman, vice president, public policy for Amazon

The note requested a few proposals Amazon might fund. That outreach sparked a back-and-forth that landed on the CS Ready Schools Program, a partnership between CodeVA and the Virginia Department of Education to design computer science curriculum and teacher training. Amazon donated $3.9 million through 2022 to support Virginia's goal of offering computer science education and training to every high-needs school in the state. More than 700 schools that may otherwise lack access, training, or funding will benefit from the donation, which includes virtual resources and training for students and more than 12,000 teachers.

A Growing Sense of Community
An undercurrent runs through National Landing that's much more than the sum of its parts. It's a growing sense of community — and it's growing more vibrant by the day.

"As we get to know some of the nonprofits and neighbors, I do think there's this sense of togetherness and partnership," Huseman said.

Kelly and JBG SMITH know National Landing well, having acquired a substantial number of properties in the area with their eyes on the future. This move serendipitously intersected with Amazon's selection of the area.

"It's a bit of a renaissance in this neighborhood," Kelly said, noting he's seeing some of the excitement and vibrance it used to possess now returning.

Some of the other planned upgrades and placemaking initiatives are even more impactful, ranging from time-saving to life-changing. Amazon is prioritizing walkways, landscaping, and retail over vehicle traffic and plans to move all vehicle access underground to create a welcoming environment for pedestrians. Additionally, the surrounding streets will have protected bike lanes and each HQ2 office building will have dedicated street-level bike entrances and facilities to encourage bicycle commuting.

Other planned transportation upgrades include a new $320 million Potomac Yard Metro Station slated for completion in 2022. Additionally, environmental impact studies have been completed for the Long Bridge expansion, a $1.9 billion rail project that will bring a second set of tracks to a heavily trafficked stretch connecting Virginia and Washington, D.C. The proposed pedestrian bridge connecting National Landing to Ronald Reagan Washington National Airport could be completed by 2025.

A new grocery store and other retail options are on the way, as well as an effort to bring affordable housing to the area. JBG SMITH has begun construction on the first 800 of what will be 5,000 units. Help also arrived in January 2021 when Amazon named Arlington one of three communities to benefit from its Housing Equity Fund. According to Amazon, the $2 billion investment ($382 million of which is earmarked for Arlington) is designed to preserve existing housing and create inclusive housing developments through below-market loans and grants to housing partners, traditional and nontraditional public agencies, and minority-led organizations.

What's Next
When Collins imagines what's possible for the growing innovation ecosystem from his temporary office space, he looks at Silicon Valley, Austin, and North Carolina's Research Triangle.

"One of the ingredients is a strong academic program that's oriented toward developing technology," Collins said.

Another key ingredient is employers who understand their role inside and outside the boardroom.

"It's usually that pairing where the magic occurs," Collins said. When it comes time to showing and telling other companies the story unfolding in National Landing and the rest of Virginia, "I'd like them to recognize that this is a powerful technology district," he added.

That's already happening. The region has made several big announcements since HQ2, most recently that ZEBOX, a startup incubator and accelerator from French global shipping company CMA CGM Group, will be established in Arlington. Microsoft will open a sales hub in Arlington, taking over 180,000 square feet that will be ready in 2022 — the second major announcement from the company, which also announced plans for a new software and development hub at Reston Town Center in Fairfax County, scheduled to open this summer. In 2019, Google announced that it planned to double its Northern Virginia workforce with new office development in Reston.

Northern Virginia, which previously acted as disparate localities when bidding on projects, has leveraged the momentum built during the HQ2 selection process to form a new regional entity, the Northern Virginia Economic Development Alliance. The organization positions the entire region as a top producer of tech talent.

Its slogan? "Innovation Lives Here."