For more than four decades, the U.S. automotive industry has been manufacturing in Mexico. That might surprise some people who have been led to believe that "offshoring" — or "near-shoring" in this case — is a recent phenomenon. It was in the early 1990s that free-trade proponents in Washington, D.C., decided to carve out a path for the big North American countries — the U.S., Canada, and Mexico — to work together on trade policies to the benefit of all three countries. Thus, in 1994 the North American Free Trade Agreement was born — and the sky didn't fall!

In a feature on "Trade Policy in the First 100 Days: Implications for Automakers and Suppliers," the Center for Automotive Research (CAR) noted that President Trump's first business day in office resulted in his pulling the U.S. out of the Trans-Pacific Partnership trade agreement, "and set the tone for his administration's tough stance on trade issues." And with his first declaration to pull out of NAFTA, it appeared as if the sky just might be on the way down. When President Trump's tone modified somewhat to a "renegotiation" and now being called a "modernization" of NAFTA to obtain a more favorable stance for the U.S., the automotive industry leaders dared to sigh in relief. It appeared that the 23-year-old North American Free Trade Agreement might be safe — in some form if not the original.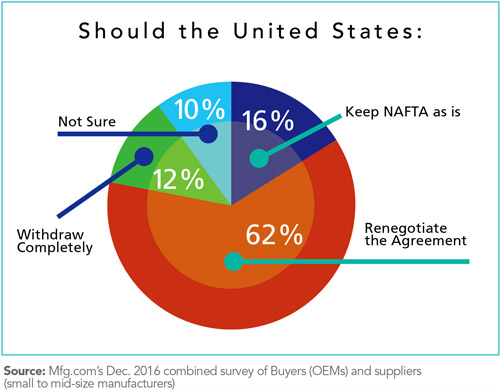 Auto-Related Production in Mexico
The automotive industry's supply chains run far and wide and "are deeply interlinked" in many countries where OEMs manufacture vehicles. CAR notes that "in 2016, U.S. vehicle exports to Canada and Mexico comprised 40 percent of total U.S. light vehicle exports, and these two countries represented half of all light vehicle imports. That same year, Canada and Mexico made up 75 percent of U.S. motor vehicle parts exports, and 51 percent of U.S. parts imports. Changes to NAFTA could significantly change the structure of the North American auto industry."

Still, many argue that the terms of NAFTA could use some tweaking given that it's been more than two decades since it was put into play. Commenting on any negative impacts that a renegotiation of NAFTA might have, Daron Gifford, partner and leader of Strategy and Automotive Industry Consulting at Plante Moran, said, "The long-term risk is that the U.S. auto industry is insulated from global pressures and falls behind in cost structure. It would make the U.S. market even more vulnerable to lower-priced imports in the future."

Sergio L. Ornelas, editor of MexicoNOW, a publication that focuses on the manufacturing economy in Mexico, reviewed the current state of the auto industry in Mexico as well as "the forces that are at play in the upcoming trade negotiations that may affect the structure of the auto players in Naftaland." Ornelas is well aware that a lot is at stake for Mexico in any upcoming renegotiations, but added that there are risks — loss of auto jobs and investments and the resulting economic costs — for all three of the NAFTA members.

Mexico's automotive industry is booming, and according to data from the Mexican Automotive Industry Association (AMIA), the actual output of light vehicles in Mexico for 2016 was 3.5 million units, 40,456 units ahead of the projection made by IHS Markit, a global consultancy in automotive industry consulting. Every major automotive OEM (13 of them in MexicoNOW's chart) manufactures in Mexico. The country's exports in 2016 represented a "record year" as well with over 2.7 million units, of which 77 percent went to the U.S. market and almost 9 percent to Canada, "signaling the continued and extreme dependence Mexico has on NAFTA markets," said Ornelas. Additionally, he notes the automotive industry in Mexico employs 600,000 "highly paid (for Mexico's standards) direct labor, technical and engineering jobs."

Aero-Related Production in Canada and Mexico
Canada has a big stake in any NAFTA "modernization" that might be negotiated. When Canadian aircraft producer Bombardier opened up an assembly plant in Queretaro Aerospace Park in 2007, it gave the aerospace industry a new opportunity to establish production in that country. According to MexicoNOW, "Mexico's aeronautics parts and components manufacturing industry continued to grow at a healthy pace in recent years."

Industry sources cited in MexicoNOW's Aerospace issue (September/October 2016) note,"For the last 10 years, this sector in Mexico has managed to average about 15 percent annual growth in exports to reach US$6.7 billion in 2015. Mexico's aerospace industry exported $7.6 billion in 2016, 90 percent of that to the U.S."



The long-term risk is that the U.S. auto industry is insulated from global pressures and falls behind in cost structure. It would make the U.S. market even more vulnerable to lower-priced imports in the future.

Daron Gifford, partner and leader, Strategy and Automotive Industry Consulting at Plante Moran

Based on both new and expansion projects for the aerospace industry currently being developed, MexicoNOW reports that the "forecast horizon considers a conservative average annual growth of 12 percent during 2016–2020 for US$12 billion annual exports in 2020," making Mexico "one of the world's top 14 sources of aerospace parts."Other aerospace companies that now call Mexico home to manufacturing include Airbus Helicopters, which came to the country just over five years ago to open a component manufacturing plant in Queretaro, as well as a maintenance hub in Mexico City. Aeronova also joined the aerospace cluster in Queretaro to serve the growing aerospace manufacturing sector in that region.

Queretaro isn't the only growing hub for aerospace manufacturing in Mexico. Northern Mexico is seeing its share of aerospace industry growth. Tecma, which provides shelter services for manufacturers in Mexico to reduce production costs, recently announced two of the more notable investments in aircraft manufacturing in that region. One is the new Ion Aircraft facility being opened in Tijuana, just south of San Diego. The 300,000-square-foot plant will manufacture airframe component parts for its AS aircraft and employ more than 1,000. According to Tecma, "Tijuana's aerospace industry currently employs more than 11,000 skilled laborers," a number which has grown steadily since 2007. In addition, Spectrum Aeronautical just announced that it would invest US$300 million in a new facility in Mexicali, Mexico, to manufacture its S-40 business jet. Tecma notes Mexico is now the 12th-largest exporter of aerospace and defense products in the world and the sixth-largest supplier to U.S. markets.

Canada and Mexico Willing to Update NAFTA
Both Canada's Prime Minister Justin Trudeau and Mexico's Economy Minister affirmed the willingness of those countries to update the agreement, said Benesch Law in their June 2017 update NAFTA Watch. And it's getting support from industry leaders in the U.S. "On May 30, 32 chief executives from the automotive industry sent a letter to the Trump administration, urging the administration to move swiftly on an update to NAFTA" emphasizing "the benefits they currently receive from the deal."

A report in April's Politico noted that White House press secretary Sean Spicer offered a brief outline of what the three countries might be seeking in any renegotiation. For the United States there are "some trade imbalances," i.e. the deficits the U.S. runs with Mexico and Canada. For Canada, "the primary goal is maintaining the access it currently has to the U.S. market" and, in particular, access to U.S. government contracts. However, Politico notes, with Trump's "Buy American" mantra, this is not likely to be an outcome of any renegotiation.

For Mexico, "the primary strategy for now appears to be wait and see what Trump is asking for before coming forward with any demands, while also emphasizing that the two countries' bilateral relationship encompasses far more than just trade," hinting at border issues such as illegal migration, drug trafficking, and others. With the automotive industry growing so large so fast, with both OEMs and Tier 1 suppliers establishing new plants and expanding older ones, it's unlikely that any modernization of NAFTA will unravel the whole system.

Benesch Law notes, "Few among Americans, Mexicans, and Canadians want a total overhaul of NAFTA. Most would prefer status quo on the overall structure and an update in various areas such as stronger intellectual property rights, and a commitment from Mexico and Canada not to impose customs duties on digital products is one area which we may see an update."



Few among Americans, Mexicans, and Canadians want a total overhaul of NAFTA. Most would prefer status quo on the overall structure and an update in various areas such as stronger intellectual property rights and a commitment from Mexico and Canada not to impose customs duties on digital products is one area which we may see an update.

Benesch Law

Other issues which have long plagued the U.S. and Mexico in the agreement include government subsidies to certain industries, trucking rates and whether or not Mexican trucks and drivers meet the standard of safety on U.S. highways, and the mountain of onerous Customs paperwork tracking the country-of-origin information on components/parts headed into Mexico to be assembled into finished vehicles. With the twin plant (maquiladora) arrangement established through NAFTA, there is a lot of cross-border traffic between Mexican and U.S. facilities and warehouses, which means a lot to keep track of and that could be — probably should be — simplified.

In a June 19 blog — What Will a NAFTA Renegotiation Look Like? — the Alliance for American Manufacturing (AAM) provided some recommendations to the administration's trade officials. The author of the blog, Matthew McMullan, made reference to a Wall Street Journal interview of U.S. Commerce Secretary Wilbur Ross, in which Ross stated that some of NAFTA's "manufacturing provisions are totally obsolete. In automotive, they put in a procedure which in concept is a good one, called rules of origin. Namely, what percentage of the content of a finished product can come from outside NAFTA and yet get the favorable tariff treatment as though it were all 100 percent from within NAFTA?"The Center for Automotive Research (CAR) released a report in January of this year on NAFTA's importance to the industry and the impact of any dramatic changes. That report noted the global nature of the automotive manufacturing industry with its "incredibly complex web of corporate relationships and supply chains, and products with parts content sourced from multiple automotive regions," resulting in extremely high transportation costs. "NAFTA allows automakers to take advantage of best cost production and lower supply chain risk, thus ensuring automotive production remains in North America. Without NAFTA, large segments of the U.S. automotive industry would have moved to other low-wage countries like Asia, Eastern Europe, or South America." The near-shore opportunities that Mexico provides to automakers — rather than offshore options — mean that "Mexican automotive plants helped sustain a competitive automotive industry across North America."

The CAR report also noted that NAFTA isn't just about Mexico, and Mexican and U.S. and Canadian companies; Mexico is a manufacturing destination for automakers from Japan and Europe as well. "Nearly 90 percent of the new Mexican light vehicle assembly plant investments announced since 2009 are for assembly plants of Japanese and European automakers," said CAR. "These global companies are transitioning production for their home regions to North America, and will increasingly rely on existing North American supply chains, given the logistical disadvantage of sourcing parts and components from overseas."

AAM, in its letter to the U.S. Trade Representative, commented, "While we believe the NAFTA rule of origin on automobiles should be phased in over time to a higher level so that workers in signatory countries can enjoy more of the benefits, we must also update the regional value content rules regarding traced materials to maximize these benefits."

The AAM also submitted to the office of the U.S. Trade Representative its suggestions on how to order a NAFTA renegotiating strategy: "NAFTA's labor and environmental standards should be strengthened; concessions on government procurement market access should be entirely reciprocal; and tough rules on state-owned enterprises and currency manipulation should be enshrined so this agreement can serve as a model for future trade agreements."

While Mexico may be taking a wait-and-see attitude, Plante Moran's Gifford advises auto executives of the big carmakers and suppliers in an article for Automotive News, "Why Auto Suppliers Need War Game Thinking on NAFTA," that they "simply can't afford to default to watch-and-wait mode. Although Commerce Secretary Wilbur Ross (the longtime auto-supplier investor who founded International Automotive Components Group, or IAC) has also indicated the desire to modify NAFTA, he has stated that it will likely be late this year at the earliest."

Note: After this article was filed, on July 17th, the U.S. Trade Representative's office released its "Summary of Objectives for the NAFTA Renegotiation." According to the release:
The new NAFTA must continue to break down barriers to American exports. This includes the elimination of unfair subsidies, market-distorting practices by state owned enterprises, and burdensome restrictions of intellectual property. The new NAFTA will be modernized to reflect 21st century standards and will reflect a fairer deal, addressing America's persistent trade imbalances in North America. It will ensure that the United States obtains more open, equitable, secure, and reciprocal market access, and that our trade agreement with our two largest export markets is effectively implemented and enforced.