One reason Canada is a world leader in knowledge-based industries is its integrated approach to driving economic growth through innovation. Not only does Canada provide lucrative research and development (R&D) tax credits and incentives for high-tech projects, it also aggressively supports entrepreneurial efforts, intellectual property rights, and the immigration of highly skilled business workers and leaders.

High-tech R&D, commercialization, and manufacturing are anchored in high-tech clusters in major cities across Canada. Common features among these clusters are federal and provincial initiatives and funding, strong research programs, collaborations with academic institutions, and incubator resources for small high-tech startups. This kind of pro-innovation environment is especially attractive to major foreign investors who want to enter a market, become key players, and minimize their learning curves. Thriving high-tech clusters also attract world-class talent from overseas.

Much of Canada's high-tech development and commercialization takes place in seven key clusters surrounding Vancouver, Calgary, Winnipeg, Toronto, Waterloo, Montreal, and Halifax. The companies in these clusters recognize that by working together and supporting each other they bring more attention and prosperity to all — and perhaps even make a discovery that changes the world in a spectacular way.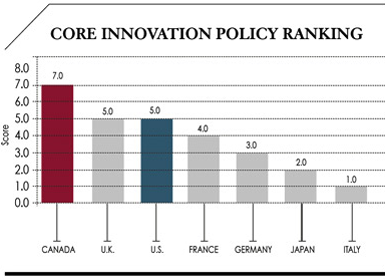 From Conventional Energy to Clean Tech
Alberta is home to more than 60 percent of the country's conventional crude oil reserves and all of its heavy oil and oil sands reserves. Many of the world's largest international oil and gas companies have established headquarters in Calgary, driving almost $75 billion in energy-related projects across the province.

Although oil and natural gas are the major energy targets, Calgary is also the base for a steadily growing Sustainable and Renewable Energy (SURE) sector. The city has been successful in attracting national research initiatives that are exploring new ways of controlling greenhouse gas emissions and increasing efficiencies of renewable energy and energy systems and technologies. Collective energy knowledge and advancements in technology, along with the support of many research and postsecondary institutions, think tanks, and innovators within government and industry, are driving collaboration within the SURE cluster.

Ranked as one of the world's most cosmopolitan cities, Vancouver also has one of the largest clean-tech industries in North America. The National Research Council (NRC) of Canada, which was recently ranked as one of the top organizations in the world for its fuel cell research, conducts much of this work at its state-of-the-art center in Vancouver.

In true cluster behavior, the presence of NRC, along with the Innovation Clean Energy Fund, which provides funding to companies with promising renewable energy technologies, has brought strong growth in this sector. Vancouver is currently home to 25 percent of all clean-tech companies in Canada. One of these leaders is Ballard Power Systems, a manufacturer of proton exchange membrane (PEM) fuel-cell technology that is being used across an increasingly wide range of applications and industries. For example, Nokia Siemens Networks recently partnered with Ballard Power Systems — a collaboration that "allows us to leverage our expertise to deliver an emergency-ready alternative power solution for mobile networks during outages caused by natural calamities and commercial grid failures," says Larry Stapleton, vice president of sales at Ballard Power Systems.



An ICT Leader


With 30 percent of Canada's 40,000 ICT firms, Toronto, Ontario, is also one of the largest ICT clusters in the country. In September 2012 Toronto-based IBM Canada, in collaboration with the federal and provincial governments, opened its IBM Canada Leadership Data Centre in nearby Barrie — one of the most advanced computing facilities in the country and part of the company's $175 million IBM Canada Research and Development Centre network.

"This new facility provides a flexible foundation ingrained in best practices so we can deliver essential services to help organizations and partners better manage data, reduce operating costs, improve productivity, and gain competitive advantage," says John Lutz, president of IBM Canada.

Also in Ontario, the Waterloo region known as the Technology Triangle, which consists of the cities of Cambridge, Kitchener, and Waterloo, has become a preferred destination for technology start-ups, incubators, accelerators, and young inventors. High technology in the "Triangle" is supported by three acclaimed universities, a college, and more than 150 research organizations, including the Perimeter Institute (where physicist Stephen Hawking is a Distinguished Research Chair) and the Institute for Quantum Computing. More than 22 percent of all spin-off Canadian information technology companies have gotten their start in University of Waterloo incubator programs.

And over half of Alberta's fastest-growing companies are in the ICT sector, which includes information technologies, electronics, telecommunications, and wireless. An important asset for Calgary-based ICT companies is Innovate Calgary, a partnership between Calgary Technologies and University Technologies International. This full-service organization provides technology-transfer and business-incubator services to advanced-technology businesses, entrepreneurs, and researchers. Started in 2010, Innovate Calgary has evaluated over 1,500 discoveries, secured nearly 700 patents, and developed or assisted in the creation of over 40 spin-off companies.

Winnipeg, Manitoba, was recently chosen as the site of a new cloud computing center owned and operated by Canadian Tire Corp. The facility will be home to a digital content warehouse, application and testing labs, and a high-performance data center. Winnipeg's burgeoning technology community, media-savvy graduates, and reputation as a gaming hub were among the factors influencing the location decision. The province of Manitoba also offers a data processing tax credit.



Life Sciences Clusters


Toronto's biotech cluster is the largest in Canada, with established headquarters for nearly 50 global pharmaceutical and biotechnology companies, as well as numerous research facilities. A new addition is Sunnybrook Research Institute's recently opened Centre for Image-Guided Therapeutics. The $160 million, 150,000-square-foot facility provides space for more than 300 research and clinical teams that are working in partnership with 30 leading biotechnology companies and other organizations on new devices and treatments.

The Greater Montreal, Quebec, region, is a major world center for biotechnology. The largest amount of biotech R&D in Canada is conducted in Montreal, including work on aging, neuroscience, cancer, cardiovascular and metabolic diseases, genetics, genomics, and proteomics. In 2011 Montreal ranked sixth among North America's largest metropolitan areas in life sciences employment. Over $1.6 billion in venture capital was invested in Montreal's life sciences industry between 2001 and 2011.

Greater Montreal is where many internationally recognized biotechnology companies are headquartered, including Alethia Biotherapeutics, Bio-K Plus International, and Caprion, a leader in proteomic services. Caprion has experienced growth of 35–40 percent over the past few years, a trend that should continue as the company develops its own diagnostic tools for cancer and other diseases.

"Greater Montreal has a significant pool of talent trained in the scientific disciplines that are critical for our success," indicates Martin Leblanc, president and CEO of Caprion. "It also has people with vital management and business development skills. What we have is a complete ecosystem, a unique cluster in North America that brings together players capable of collaborating and adopting common strategies."

Halifax — a major port and the regional growth engine for Nova Scotia and the Atlantic Canada region, as well as one of the most competitive Canadian cities for doing business — supports another life sciences cluster. For example, the Brain Repair Centre, based at Dalhousie University, is an internationally acclaimed partnership that brings together more than 100 world-class researchers and physicians to find treatments for Parkinson's, Alzheimer's, spinal cord injury, and other brain disorders. Halifax is also home to a world-class marine research cluster that includes Defense Research and Development Canada; the Bedford Institute of Oceanography, Dalhousie University; and Lockheed Martin's Technology Collaboration Center.

Manitoba's biotechnology sector is one of the fastest-growing in Canada, with a focus on biomedical R&D and agricultural biotechnology. Winnipeg is home to the National Research Council's Institute for Biodiagnostics, Canada's most advanced research facility for developing nuclear and other magnetic resonance imaging technologies.

Next: Advanced Manufacturing