Centreport Canada is a tri-modal inland port and foreign-trade zone located in the heart of the continent in Winnipeg, and at the hub of international trade gateways moving in all geographical directions. Many high-profile companies call CentrePort home: Boeing Canada, Magellan, MacDon, GE Aviation, Paterson Global Foods, Bison Transport, and North West Company.

As Canada's only tri-modal inland port and FTZ, significant investments are underway including the new CentrePort Rail Park, which will provide prime co-location opportunities for rail-intensive businesses. In addition to providing access to Winnipeg's three Class 1 railways (CN, CP, and BNSF), CentrePort is a major international trucking hub and features a 24/7 worldwide cargo airport.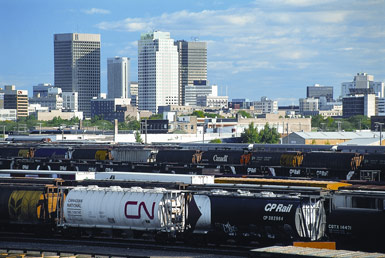 CentrePort also offers big-city advantages such as abundant, skilled labor; industry-focused training programs and incentives; and competitive wages (15–25 percent lower than Ontario and Western Canada). Also, combined corporate taxes are 33 percent lower in Canada than in the U.S..

These advantages have helped attract nearly 40 new companies to CentrePort's 20,000-acre footprint — industrial land that is ideal for any size of development.