Editor's Note: This article was contributed by the Kentucky Cabinet for Economic Development which approved and paid for this post.


With pent-up demand for growth coming to fruition amid the nation's economic recovery, speed to market has become more critical than ever for companies in expansion mode. For decision-makers at businesses considering a new location, states capable of streamlining the selection process stand to gain a significant leg up on the competition.

Kentucky is matching companies' sense of urgency and expediting project timelines in a way many others states cannot, an advantage that could help effect profound change through increased investment and job creation. Speed to market not only provides a benefit to growing companies, it's also a catalyst for creating well-paying jobs, a core tenet of Kentucky Gov. Andy Beshear's mission.

"At a time when people around the world are seeking healing and new opportunities, it's crucial that we connect our people with sustainable, high-quality careers," Gov. Beshear said. "In Kentucky, we have the capability to bring companies to market quickly, which serves the dual purpose of saving them time while creating much-needed jobs for our people. We've been laying important groundwork in Kentucky throughout the past year, and now we're poised to become leaders in the post-pandemic economy."



Speed to market not only provides a benefit to growing companies, it's also a catalyst for creating well-paying jobs.

Sealing the Deal
One example of the state's speedy services resulting in new opportunity comes from Chapin International, North America's largest producer of blow-molded compressed-air sprayers for lawn and sanitation markets. Kentucky's highly skilled workforce and ideal geographic location caught the eyes of Chapin's leaders in September 2020, when the Batavia, New York-based company was seeking the ideal location for its new warehousing and manufacturing operation. With the company looking to begin operations before the end of 2020, Kentucky's swiftness in bringing the project from start to finish sealed the deal, as Chapin landed in southeastern Kentucky's Rockcastle County.

"I've never worked with anyplace that moved as quickly as the state of Kentucky and Rockcastle County," said Chapin CEO Jim Campbell. "They brought everyone together in one meeting, and so we could do the deal in one day. They were very open about the facility and what was there and what they would do for us."

Aiding this expedited approval process is Kentucky's unified approach between state and local officials, utility providers, and higher-education institutions, which work seamlessly together to quickly resolve needs, including permitting. In this instance, Kentucky had all the environmental aspects of the transaction in place, which allowed operations to begin quickly.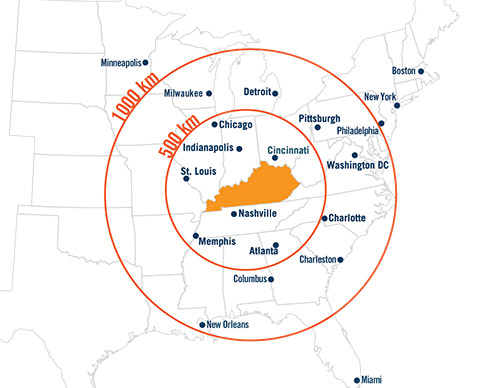 Build-Ready Sites
This approach stands to benefit a host of different industries that thrive in Kentucky, including advanced manufacturing, automotive, distribution and logistics, food and beverage, and healthcare.

Looking ahead, the state is paving the way for future speedy development through its Build-Ready Sites program, which aims to help companies get to market faster by eliminating the grunt work of selecting a site.

The state recently certified its 17th Build-Ready tract, located in Western Kentucky's Butler County within Morgantown Industrial Park South. The site includes a 50,000-square-foot building pad on 9.5 acres, zoned for industrial use, and includes access to water, sewer, natural gas, electric, and broadband.

Build-Ready certification means the site includes a pad ready to accommodate a building of 50,000 square feet with the ability to expand to 100,000 square feet or more and utilities extending to the site's edge. It means the applicant — usually a city, county or economic development group — already filed the necessary permits, including water, environmental, and geotechnical, as well as preliminary building plans, cost estimates, and schedule projections.



Local officials, utility providers, and higher-education institutions work seamlessly together to quickly resolve needs, including permitting.

To date, four former Build-Ready-certified sites in Graves, Laurel, Warren, and Washington counties have been selected by companies for new location projects, highlighting the program's effectiveness at getting companies online in a quick, cost-efficient manner.

The state's Build-Ready program evidences Kentucky's continued focus on preparing the way for future development, and such initiatives are especially important given the post-pandemic increase in economic activity.

Take, for example, the Product Development Initiative (PDI), another program helping Kentucky to maintain a robust selection of project-ready sites and buildings across the state. PDI, a partnership between Team Kentucky, the?Kentucky Association for Economic Development, and a leading group of?utilities?offers communities up to $500,000 to upgrade their sites and buildings,?as well as professional site-selection analysis and feedback. A third round of PDI launched this spring, and work could begin on selected sites and buildings later this year.

Business-Friendly
Complementing Kentucky's speed-to-market advantages are a host of other business-friendly elements, including a second-to-none geographic location that places the state within a day's drive of more than two-thirds of the nation's population, personal income, and manufacturing operations. Additionally, Kentucky's three air cargo hubs — UPS Worldport, DHL, and Amazon — have the state poised to take the top spot nationally in air-cargo shipment volume. This strong presence by the world's most prestigious logistics companies means products manufactured in Kentucky can virtually get anywhere in the world overnight.



Kentucky's three air cargo hubs have the state poised to take the top spot nationally in air-cargo shipment volume.

Equally advantageous for manufacturers is Kentucky's nationally low industrial electricity rates, which are the lowest east of the Mississippi River and rank among the lowest in the U.S.

The Bluegrass State's efforts have it ready to sprint out of the gate once the pandemic is in our rearview mirror. Already, Kentucky's commitment to bring companies to market quickly, create high-wage opportunities, and improve infrastructure throughout the state is paying dividends, and the state sits in good position to build a brighter future through these early successes.