The world of real estate today is consumed by the conversation about e-commerce. And rightly so. The significant growth in e-commerce and same-day/next-day delivery services is directly impacting industrial lease rates, land pricing, and development costs in every city, submarket, and MSA in the world.

The growth of online retail sales as a significant percentage of total retail sales is showing no signs of slowing. The shift in how people are shopping is a leading demand driver that will increasingly in?uence real estate decision-makers and their markets. Forrester Research estimates that the online share of the retail sector would reach the mid-teens during the coming decade, up from less than 10 percent today.

In turn, retailers and third-party logistics organizations are working to secure the best sites close to population centers. This has been a tremendous boon to owners and developers of entitled land adjacent to urban areas and suitable for development.

Although secondary markets have also seen an increase in development, activity in primary markets has been stronger, particularly in core markets like Atlanta, Chicago, Dallas/Fort Worth, and the Inland Empire, which each have in excess of nine million square feet in the construction pipeline. The Inland Empire, with 18.8 million square feet of space currently in development, tops the ranking.

With projected occupancy gains of 380 million square feet in warehouse/distribution space from 2014–2017, activity will remain strong. At the same time, limited land availability and high land prices are making urban facilities in top markets more expensive. This supply and demand imbalance has neighboring submarkets increasingly land-constrained. Diversification of Uses and Users
The market today on land is certainly a hurdle, and the challenges include assemblage and readiness — not just ownership. Corporate real estate professionals today are particularly interested in shovel-ready "certified" sites. An increasing number of owners are working with land-certification companies that can complete zoning, wetlands studies, and utilities improvements upfront when marketing a parcel for sale or as a build-to-suit opportunity. Just because one parcel may be available and ready to sell does not mean adjacent parcels, which may be needed for an industrial requirement to be developed, can be added to the assembled project. The market is difficult.

In addition to new development, some markets are beginning to see older stock buildings demolished and rebuilt, or adapted for modern needs. For example, KTR (now Prologis) completed a substantial demolition and rebuild for Amazon in Avenel, N.J. In California, Prologis is preparing re-development plans that include the demolition of existing obsolete structures in a close-in site just south of Market Street in San Francisco. Many more examples can be found coast to coast. These reuse projects are driven by the lack of functionality with the current building, certainly, but just as much by the dirt underneath and the opportunity it can unlock.

For many retailers, future sales — and profits — will be dependent on how quickly and consistently goods can be delivered to customers in major metro areas. Developing robust, flexible, highly responsive final mile networks will be critical for both retailers and shippers. Amazon, as a clear and present first mover, is helping accelerate the migration in retail that technology has enabled. Order it online, or mobile, get it today or tomorrow. That is the expectation stretching the retail world.



The growth of online retail sales as a significant percentage of total retail sales is showing no signs of slowing. The shift in how people are shopping is a leading demand driver that will increasingly influence real estate decision-makers and their markets.

E-commerce Networks Buildout
Amazon is clearly making the largest e-commerce impact in the U.S. today, occupying more than 60 million square feet of distribution space nationwide. In a move to compete with Amazon, Wal-Mart is now investing heavily in the buildout of its e-commerce fulfillment network. This includes one million-square-foot projects under development or already operating in six major markets. Home Depot, Target, and Kohl's are also making major investments in e-commerce–related facilities throughout the U.S. The overall acreage required to deliver these projects rises into the multiple thousands.

While requirements for big-box space are common among e-commerce tenants, there is also growing demand for smaller- and mid-size buildings. Increasing service expectations, elevated transportation costs, and the need to access labor are leading e-commerce companies to establish smaller infill locations around major population centers. Not only do companies covet the closeness to FedEx/UPS ground shipping centers these locations often bring, but also proximity enables them to fill and deliver orders to a large number of customers quickly. Where the land is becomes more important by the day.

Omni-channel commerce is also behind some of the most creative logistics solutions the supply chain field has seen. Some of the world's largest retailers are turning their existing stores into mini-distribution hubs to help them compete better online against Amazon. Instead of fulfilling web orders from warehouses hundreds of miles from shoppers' homes, companies including Wal-Mart, Best Buy, and Gap are routing orders to stores nearby. This trend, known as "Ship from Store" (SFS), allows retailers to ship online orders from a physical store, which may be closer to the end consumer than the retailer's e-commerce fulfillment facility.

Wal-Mart, Sam's Club, and dozens of anchor and grocery chains are investing in creating convenient store pick-up experiences to complement in-store and online sales. Amazon reportedly is preparing to pilot a grocery drive-up offering in Tampa …more land needed.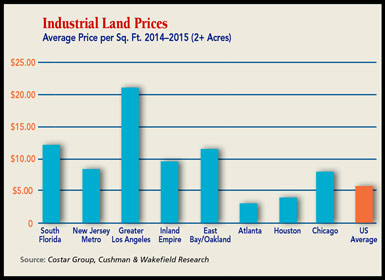 Looking Ahead in E-commerce
The real estate footprints and building strategies that companies will employ continue to unfold, and it is becoming quite clear that "one size fits all" will not be part of the picture. E-commerce real estate requirements likely will continue to move toward four distinct categories:
Mega big boxes landing well outside major metropolitan areas
Mid-sized distribution/fulfillment centers seeking to locate inside the "ring of faster gratification"
Medium to large sortation centers popping up within major urban centers to accelerate delivery
Small depots emerging seemingly on a corner near you, where the last mile really begins
We also know this new world will drive absorption and development in industrial real estate for years to come. Over the next three years alone, an anticipated 290 million square feet will be completed, with much of it over 100,000 square feet per building.

The "Amazon Effect"
As the overall economy improves and last-mile delivery strategies begin to gel, expanded close-in development of smaller facilities is guaranteed by two major factors. The first is certainly urbanization and the gradual net movement of population toward the dense core of the city. The second major factor is the rising service level expectations from e-commerce buyers. — i.e., the "Amazon effect."

The more Amazon drives up the expectations around service levels with offerings as short as same day and even two-hour delivery, the more proximity becomes critical to retailers and other fulfillment organizations trying to keep pace. Competitors in the space are going to need to develop their fulfillment infrastructure closer to cities. Landowners already have investors and industrial developers in bidding wars for their property.

At the same time, however, these infill parcels are also appealing for office and multifamily development. With all of these new, urbanization-spurred requirements for development in the urban core, land prices in these areas have gone up significantly to the point where development in some markets now has a very challenging payback.

On the other hand, industrial land in the exurban parts of any major city, further out, remains available and generally plentiful depending upon its proximity to other population centers and transportation infrastructure. Except for the nation's densest industrial markets, industrial land is generally readily available at reasonable prices — for now.

It is important to note that the trend toward urbanization does not mean that suburban growth is over. In fact, suburban and rural consumers will continue to be significant demand drivers. This means that last-mile providers will need to craft solutions for both urban and suburban needs. And while the right answers will vary significantly from market to market, they will have one characteristic in common: they will need to meet consumer expectation for a fast, seamless, and friction-free delivery experience.

Good News?
What does all of this mean? E-commerce retail, and soon wholesale direct-to-consumer, will continue to grow commensurate with the conversion of our economy to an information and services market. Ultimately, so will competition for the best land sites.

Generally, however, we think this is good news for manufacturing and economic development for the typical projects looking for affordable land in lower cost markets. The competition for those land sites is now focused elsewhere. Attracting manufacturing jobs and investment is never easy for municipalities looking for that growth, but perhaps, at least, finding land for these projects may not get any harder for the time being.