New research by Jones Lang LaSalle (JLL) has tracked the first increase in technology manufacturing U.S. job growth since 2001. After a long period of contraction and job loss, the tech industry is now enjoying a period of stabilization. Looking forward, manufacturing employment is projected to see positive net growth, according to the Bureau of Labor Statistics. While the rate of growth is expected to be a nominal 0.7 percent between 2013 and 2018, it is a positive sign that the pain endured during the early years of the millennium may be over.

As a result of domestic technology job growth, demand for industrial space in the tech sector is increasing, particularly in markets with a high concentration of technology firms. Unlike other manufacturing operations, these highly automated technology manufacturing facilities are opening with a need for proximity to highly-skilled labor — and so are best located near tech-savvy work force clusters. For example, a major cell phone manufacturer recently announced plans to open a plant to assemble smart phones in Fort Worth, Texas. The location makes it easier for engineers, many of whom were based in tech-mecca Austin, to make design tweaks in response to shifting customer tastes.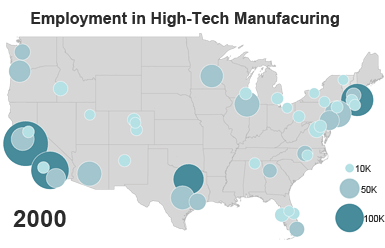 For site selectors, that anecdotal evidence is substantiated in the JLL research Perspectives on Technology Manufacturing, which reveals that access to specialized expertise has started to outweigh the costs of real estate and labor as a site selection factor. Access to talent is one of the reasons that manufacturing facilities for technology firms are often located in tier-one locations where labor and real estate are generally more expensive.

In addition to access to skilled talent, high-tech manufacturing firms are also looking to locate in clusters close to suppliers and customers, especially for business-to-business interchanges. As a result, in 2010 about 79 percent of moderately-high-tech manufacturing jobs, and 95 percent of very-high-tech manufacturing jobs, were located in the 100 largest U.S. metropolitan areas. Lower-skilled technology jobs are more concentrated in the southern states, while more than one third of the most-high-tech positions reside in companies on the West Coast.

"Hot" Markets
Between 2012 and 2018, high-tech manufacturing jobs are expected to proliferate further in California's Silicon Valley — creating an even tighter real estate market as tech companies look for industrial space, in addition to expanding their need for traditional office space, as they grow.

As stated, another attractive market is Austin, Texas. Already a mushrooming technology hub, Austin is now also becoming a magnet for high-tech manufacturing growth. The area offers a well-established presence of manufacturing and R&D operations that take advantage of the thousands of engineering and computer science graduates the University of Texas generates each year. An annual survey by Forbes ranked Austin among the top five U.S. cities for job prospects in 2013.

Additional high-tech opportunities are located in Los Angeles; Binghamton, New York; Portland, Oregon; Boulder, Colorado; Phoenix; Boston; and Boise, Idaho. A second tier of smaller but growing high-tech clusters are scattered across the United States, but expanding most rapidly in the southeastern states, where companies are taking advantage of the low cost of living and less expensive, yet skilled, labor force. Other North American cities will also compete with American hubs as important technology manufacturing centers, including Toronto in Canada and Guadalajara, Juarez, and Tijuana in Mexico. Location Factors

When making technology manufacturing location decisions, site selectors should consider:


Where are my markets? If you innovate highly specialized products for specific customers, you'll likely want to be closest to your largest source of customer orders. If you market consumer electronics or computer-related products to a broader audience, proximity to nationwide distribution may be more important. Location near well-connected "inland ports" such as Dallas/Fort Worth, Chicago, Kansas City, Atlanta, Memphis, southern California's Inland Empire, or Charlotte might represent strategic locations for supply chain optimization.


How important is proximity to the very best and brightest workers and technological resources? If access to world-leading scientists, engineers, technicians, and educational and technology-transfer resources is critical, then Silicon Valley or another high-tech hub like Austin, New York, or the Greater Toronto Area might be the best choice of location. Of course, you'll pay top dollar for both real estate and talent.


Will you require a large manufacturing space with lots of employees? If so, you will probably want to stay away from top-tier high-tech hubs and lean toward lower-labor-cost markets. From the Southeast to Arizona, there are many manufacturing clusters combining lower-cost workers, including right-to-work status, with available land at reasonable prices. These locations offer incentives to support manufacturing operations, and in today's competitive climate, areas newer to high-tech manufacturing often offer the best package of incentives that can include tax concessions, economic grants, reimbursements, and training partnerships through local institutions. These areas also tend to have more land available than legacy tier-one markets.

Not only is suitable space in tier-one locations like Silicon Valley expensive, the supply is typically scarce. Many former light manufacturing facilities were either converted into offices early in the decade or now require significant upgrades to accommodate more recent technologies.

Over the next decade, the technology sector will join other industries that are manufacturing in North America as a prudent — and profitable — way to do business given current global economic trends. As economic development agencies actively court technology firms — from the West to the East and everywhere in between — there are many jurisdictions for site selectors to consider. While economic incentives can be persuasive, a good starting point for site selectors is to make industrial location decisions based on access to skilled talent, customers, and suppliers. Optimal location selection will help meet tech firms' innovation and speed-to-market goals, critical elements for success in this highly competitive industry.