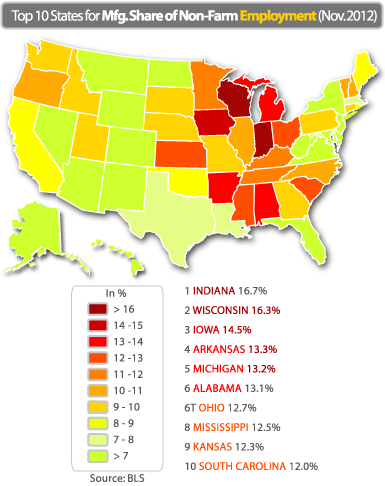 Manufacturing is the backbone of America. It's in our blood. Americans know how to build — it's how we forged a nation, won two world wars, put men on the moon, and shaped the "new economy." American workers are among the most productive in the world. With new advances in technology, lean manufacturing techniques, and best practices, American manufacturing is becoming cost-competitive with offshore locations, resulting in more companies bringing their operations back to the United States (or near-shoring to Mexico).

According to the Institute of Supply Management (ISM), American manufacturing continues to improve. The ISM recently reported that manufacturing activity expanded in January 2013 for the second consecutive month and that the overall national economy grew for the 44th consecutive month. The Purchasing Managers Index (PMI) registered 53.1 percent, an increase of 2.9 percent from December's value of 50.2 percent. All five PMI component indices registered above 50 percent in January — including employment, one of the most critical indicators.

The PMI employment index jumped from 51.9 percent to 54.0 percent in January 2013. This is especially significant because manufacturing companies learned how to be incredibly efficient during the Great Recession, doing more with far less — this means manufacturers are reaching their limits and must hire more to keep up with new orders.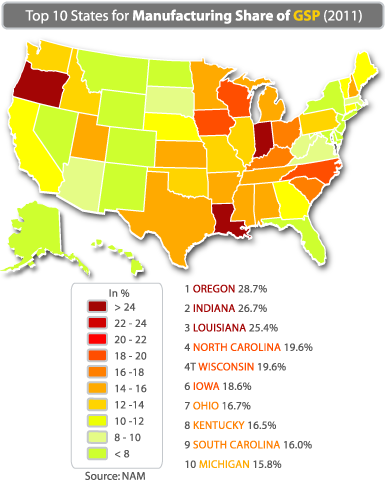 So, which are the top manufacturing states that are leading us out of recession? We compiled this list from the Bureau of Labor Statistics' (BLS) November 2012 rankings for the top 10 states in total manufacturing jobs and the top 10 for manufacturing's share of non-farm employment, as well as the National Association of Manufacturers' top 10 states for manufacturing's share of GSP (2011).

This simple approach identified 19 states that are leading the U.S. in manufacturing prosperity: Alabama, Arkansas, California, Illinois, Indiana, Iowa, Kansas, Kentucky, Louisiana, Michigan, Mississippi, New York, North Carolina, Ohio, Oregon, Pennsylvania, South Carolina, Texas, and Wisconsin. Shared traits include a diversified manufacturing base, positive business climate, flexible incentive packages, outstanding work force development programs, and highly proactive local and state governments that support manufacturing. Below are manufacturing snapshots of each state that show how they are strengthening their industries and contributing to our national economic recovery.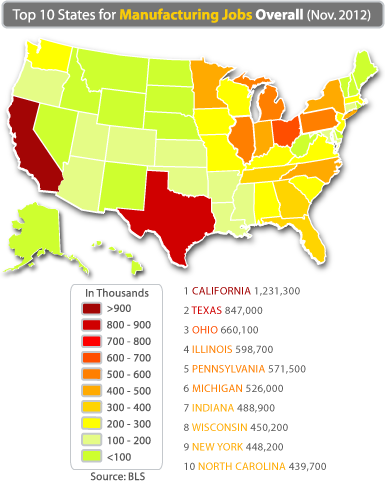 Alabama


Key manufacturing sectors in Alabama are aerospace/defense, automotive, agricultural products/food distribution, metals, forestry products, chemicals, biosciences, and information technology. Much of the state's manufacturing output is exported — in fact, 2012 was a record-breaking year with $19.5 billion in exported goods, an increase of almost 10 percent over 2011. "This shows that Alabama's economy continues to improve and we are making gains in exporting to countries all over the world," says Governor Robert Bentley. "The products made in Alabama are second to none, and we have a world-class work force."

The high quality of Alabama workers reflects the state's investment in work force training. Alabama Industrial Development Training (AIDT) services are free for employers or trainees. The Alabama Technology Network (ATN) of the Alabama Community College System also works closely with companies to provide the skill sets they need.

Alabama's automotive manufacturing industry, with three major automotive assembly plants, three auto engine plants, and nearly 400 auto suppliers, is a big contributor to the state's overall economy. Alabama's top automakers (Mercedes-Benz, Honda, and Hyundai) together produced more than 880,000 vehicles in 2012, a 17 percent increase from 2011 and a new state record. As a result, Mercedes is expanding its assembly lines and hiring about 1,000 more employees to manufacture the C-Class sedan. Honda is expanding to produce the Acura MDX, and Hyundai has added a third shift that it expects to run all year.

"It is very encouraging to see our automakers reinvest in their operations by updating their equipment and expanding the capacity of their production lines," comments Secretary of the Alabama Department of Commerce Greg Canfield.

Arkansas
Arkansas continues to diversify its manufacturing base by adding advanced manufacturing jobs. Top sectors are food and beverage, paper, transportation, machinery, wood products, chemicals, plastics and rubber, and apparel.

Arkansas' highly skilled work force and favorable business climate, combined with its research and education opportunities, make the state an attractive location for manufacturing. Arkansas' workers continue to impress employers with their work ethic, skills, productivity, and low turnover rates. Arkansas' labor force is projected to grow by 4 percent by 2015.

The Arkansas Economic Development Commission (AEDC), working with other state agencies, offers a Career Readiness Certificate for potential employees, which documents their skills for prospective employers.

This productive manufacturing environment continues to attract big projects, such as Big River Steel's announcement it will build a $1 billion steel mill in Mississippi County that will employ about 500 workers. Big River will produce steel for the automotive, oil and gas, and electrical energy industries. The company cited the high-quality work force, geographic location, well-developed transportation infrastructure, availability of reliable electrical power, and helpfulness of state and local government as the major reasons it selected Arkansas.

"A project of this scope will be a catalyst for job creation, investment, and economic development beyond this one facility," says Governor Mike Beebe. "Building Big River Steel will mean up to 2,000 construction jobs and it will help us recruit more supplier businesses and steel consumers to Northeast Arkansas."



Next: California, Illinois, Indiana, Iowa, and Kansas