Auto plants are considered top economic development prizes, typically creating 5,000 or more jobs with above-average wages and benefits and thousands of spinoff jobs. This is confirmed by a recent study detailing Nissan North America's Canton manufacturing plant's impact on Mississippi's economy.

Since its inception, Nissan was the catalyst in recruiting manufacturing companies to Mississippi. The National Strategic Planning and Analysis Research Center's report details the economic impact — 25,000 direct and indirect jobs created and more than 6,000 Mississippians directly employed. This success exemplifies the success automakers have experienced with Mississippi.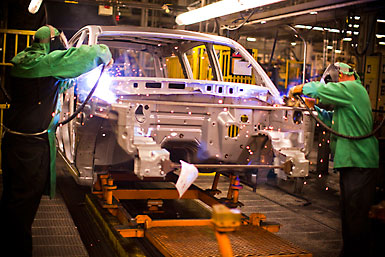 "Our workforce here is a world-class workforce, among the best we have within the Nissan community," says Scott Becker, Nissan North America's senior vice president of Administration. "One of the key reasons we located here, obviously, was the high-quality workforce, as well as a very business-friendly environment and government officials who are very collaborative and understand what it takes to build this kind of world-class workforce and to grow your business."

The state's innovative approach to building a next-generation workforce includes its top-ranked community college system and the state's research universities. For example, Mississippi State University's Center for Advance Vehicular Systems (CAVS) focuses on meeting the needs of advanced manufacturers.

"Programs here at CAVS are focused on enhancing critical problem-solving skills by working with engineering and technical professionals as they become more and more experienced at dealing with the problems of advanced manufacturers," says Clay Walden, director of CAVS. "Mississippi has a great network, a rich network of people who are focused on assisting industry."

The state continues to position itself to strengthen, accommodate, and exceed manufacturers' workforce needs. The new Mississippi Works Fund commits $50 million to train the next generation of skilled workers, allocating 75 percent of the funds toward job creation and 25 percent for existing workforce and certification, and allowing training primarily through Mississippi's community college system.

The Mississippi Development Authority may direct funds as part of recruitment and expansion efforts. The legislation enhances the collaborative efforts of the post-secondary education institutions to create a robust workforce and thriving business climate and increases Mississippi's capability to meet the training needs of current and prospective employers. This is important if more successes are to come.

According to Jay Moon, who led the team that landed the Nissan plant and is currently president of the Mississippi Manufacturer's Association, Mississippi's first advanced manufacturing victory led to later successes including a Toyota plant, Airbus Helicopters, Yokohama Tire, and most recently Continental Tire. He expects more successes to come and believes Mississippi is making great strides in meeting the needs of today's advanced manufacturers.