The key to economic development often lies in transforming existing assets and evolving new approaches to the work force, and the workplace. This is especially true for a growing number of cities and locations around the U.S. where local officials have set their sights on the emerging innovation, or knowledge economy, and a new "creative class" of workers as the best path to economic renewal.

Case in point? Newark, Delaware, home to the University of Delaware and a region, like many others in the U.S., that has last lost its share of legacy manufacturing and industry in recent years, most notably a Chrysler plant that once produced autos and SUVs. The loss and ongoing transformation of Newark's 272-acre ex-Chrysler facility into a new Delaware University Science Technology and Research Center (The STAR Campus) has prompted local officials to take a fresh look at "asset utilization" with a special focus on future real estate use and work force development.



"...the needs of the creative class is changing the thought process for land use, employee recruitment and real estate development."

New Castle County, Delaware Chamber of Commerce president Mark Kleinschmidt

Next week, on January 23rd in Newark, Delaware, the New Castle County Chamber of Commerce and the Greater Newark Economic Development Partnership will focus on these topics in a regional economic development seminar: Real Estate & the Creative Economy. he keynote speaker will be Steven Pedigo of the Creative Class Group, who will discuss Building Your Community for the Future.

For Newark and other communities working the transition into the knowledge-based economy, the increasing concentration of the creative class, and millennial-generation work force, is changing the way communities implement economic development strategies and the way employers seek to attract employees and operate their companies.

"This powerful trend goes beyond location. The work style and lifestyle of the creative class are forcing developers, property managers, and corporations alike to reassess how real estate is designed and used," according to New Castle County Chamber President Mark Kleinschmidt, who noted that "the seminar will examine how the needs of the creative class are changing the thought process for land use, employee recruitment, and real estate development." The keynote will be followed by a panel discussion from various stakeholders, regarding implementing these strategies on a regional and local level, and tours of STAR Campus.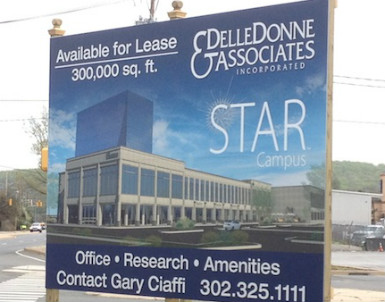 "Bloom Boxes"


The emerging face of Newark's high-tech, knowledge-based economic profile came into high relief late last year with the official opening of Bloom Energy's new manufacturing facility on the STAR Campus, and news that Bloom will be hiring more than 100 new workers at the facility in the coming months, including positions for welders, production control technicians and electric/electronic engineers.

Bloom is famous for its "Bloom Boxes," which use revolutionary solid oxide fuel cell technology to convert fuel to electricity using electrochemical reaction, rather than combustion. Major customers include companies like JP Morgan Chase, Wal-Mart, Google, Apple, Bank of America, FedEx, Staples, AT&T, Verizon, and eBay, which find they can reduce their carbon footprint while cutting operating costs.

"This is the new face of manufacturing, and we have it right here in Delaware " noted Governor Jack Markell, who spoke about traveling to Bloom's California headquarters in 2010 to talk with company leaders about expanding to Delaware. "The growth of innovative companies like Bloom and of new, high-tech manufacturing is necessary to move Delaware's economy forward. We know one of the major reasons Bloom chose Delaware is our outstanding work force. We are committed to supporting and developing a pool of talented workers prepared for jobs in new manufacturing."

The emerging face of Newark's high-tech, knowledge-based economic profile came into high relief late last year with the official opening of Bloom Energy's new manufacturing facility on the STAR Campus



STAR Campus champion and University of Delaware President Patrick Harker noted, "This is a milestone moment for us in terms of sponsoring innovation. Bloom saw the potential of this campus early on. They understood the advantages of proximity to the University of Delaware: the creative energy of a lot of great minds working together; the efficiency that expedites time-to-market for important discoveries; the synergy of centralizing high-quality R&D education and training, technology development, and manufacturing so that each can inform and improve the other."