An office is much more than a central location where people report for duty. It can be a personification of a brand and a source of pride for employees. When built and organized correctly, an office facility can empower a company to achieve its goals and address certain challenges. Simply put, office spaces are much more than destinations; they can be drivers of business strategy.

These days, selecting office space is not simply a matter of size and cost. Factors such as the location and appearance of the office and how it's organized make a statement about an organization's core values and ethics. An office space represents the organization's brand, impacts employee recruiting and retention, and is a visual testament to how the company invests in idea creation, productivity, and human capital.

The focus on office space is not merely a request from employees seeking nicer workspaces, but is being driven by corporate leaders who understand the impact of space on performance. According to Jones Lang LaSalle's Global Corporate Real Estate Trends 2013 survey, 72 percent of corporate real estate executives face high expectations to deliver clear enhancement in workplace productivity, and 65 percent are charged with transforming the quality of the workplace.



The Drive for New Office Space


It's not surprising that companies are honing in on workspace. Well-designed and thoughtful office spaces, or new office space, can aide in recruiting and retaining talent, promote collaboration and innovation, encourage employee health, and lead to a more engaged workforce — ultimately yielding greater productivity. Real estate now represents a tool to do business better, rather than a cost of doing business.

If corporate real estate leaders hope to capitalize on the benefits of new office space, they must first understand what it is. Evaluation of recent and long-term office space development and leasing trends reveals several factors that are raising the visibility and usefulness of new office space. At the core of these trends, however, is a need for engagement. According to human resources consulting firm Towers Watson, "Only about a third of workers globally are highly engaged; and a quarter are completely disengaged. The risks to an organization's productivity and performance goals are real and material."

While new office space won't solve all productivity and engagement challenges, several trends reveal that it can be a powerful tool in addressing them.



Flight to Quality


As we continue to emerge from the Great Recession, companies are back in growth mode and fighting for top talent. One of the lessons learned from the recession is that while there is always the potential to recruit employees, it is a difficult task to recruit and retain great talent. Oftentimes, great talent is able to choose their workplace, which is influenced by work-life integration and the office space.

Complementing the focus on great talent, companies are now realizing that higher quality office space is accessible without uncomfortable price tags. Two things have occurred to allow this general flight to quality. First, while companies will always manage expenses, they are no longer as focused on cost savings. Second, according to research by Gensler, square foot/person has dropped about 325 square feet since the 1970s. This essentially allows a hypothetical company to move from 100,000 square feet at Class B office rates to 70,000 square feet of Class A office rates without affecting their bottom line — housing the same number of employees and significantly upgrading their office environment.

Pre-recession, companies compared options using a price/square foot metric. In today's market, companies compare options using a cost/employee metric. Price/square foot is not irrelevant, but cost/employee is much more accurate and more effectively compares office options. Additionally, evaluating space in this manner empowers an organization to choose those offices that would be most attractive to top talent.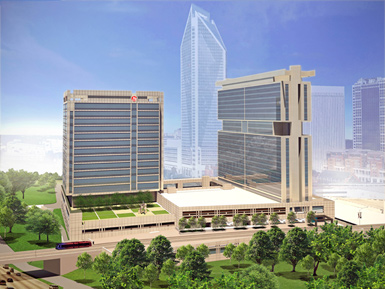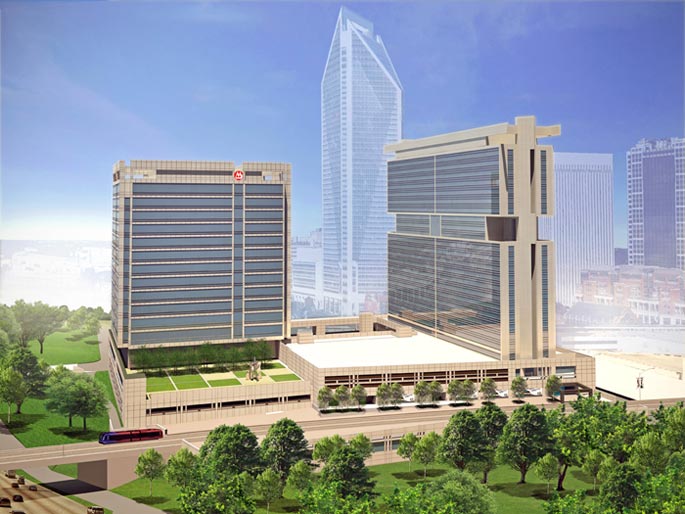 Urbanization


Companies are seeking locations where employees can easily access amenities not present in suburban office parks. This is important for both large and small organizations. They want to have access to restaurants, entertainment, other people, and especially public transportation. A great example of this is the 615 South College office building currently under development in Charlotte, N.C., which is actually connected to a stop on the light rail line — a major strength of the property to many perspective corporate tenants.

Companies are seeking dense, urban locations that allow them to be near others in related or supporting industries, creating "clusters." Competition for technology and other knowledge industry workers is also bringing attention to education clusters, also frequently found in urban settings. The attractiveness of clusters is illustrated in a mixed-use development in San Diego that will provide a hub for the region's budding design and tech cluster in an edgy, former warehouse district downtown. Interest in the Makers Quarter project has been significant, as technology and knowledge-focused companies are reaching a critical mass and seeking an area to cluster for mutual benefits. The appeal for urban, creative clusters cannot be underestimated. Jamestown Properties' Chief Operating Office Michael Philips agrees. He told Crain's New York Business: "There's a variety of different uses — from food manufacturing to clothing to technology to media — that all want to come together and be near each other where their creativity feeds off of one another in this kind of space."



Flexible and Collaborative Work Environments


Today, we're seeing a significant demand for office layouts that are open and efficient, and adaptive to change. Companies desire space that allows them to provide employees with a variety of workspace types. While traditional workstations offer quiet and privacy, many corporations see a need for employees to work in teams, interact intentionally or unintentionally, and socialize. Flexible workstations, coupled with office common areas, can create opportunities for informal meeting spaces and greater collaboration.



Bringing It All Together: Better Work-Life Integration


Closely related to the drive for new office space is the evolution from work-life balance to work-life integration. Due to advances in technology and cultural/generational shifts, workdays have become more flexible, and interaction within the area where one spends the most time (the office or office area) has become increasingly important. As companies are responding to employees' preference to have an urban lifestyle differentiated by "walkability," access to transit, shopping, eating, entertainment, recreation, and overall convenience, they need to have higher-quality offices with better locations and amenities to enjoy.

Having the correct work-life integration is not only attractive to employees but could also be a huge cost savings by lowering the large costs involved with employee turnover. Work-life integration, very much driven by the office location and surrounding environment, is typically a top-five "most important value to employees" in today's market.



Leasing for the Future


Large office leases are typically 10–15 years in term. If an organization is signing a 15-year lease, some of the employees to be recruited in that space are only 16 years old today. Think about the connectivity the worker of tomorrow has grown up with and how an organization can compete in the future battle to recruit and retain that talent. A company's real estate choices will increasingly impact those efforts and the organization's future growth.