This article was commissioned by Enterprise Florida, which approved and paid for this posting. There are vibrant Fintech clusters across the state of Florida, supported by university-industry partnerships that are helping to provide the required workforce.



"Fintech"— technology that improves operations and customer service in the finance industry — is a rapidly growing sector in Florida. Technologies include blockchain, mobile applications, artificial intelligence (AI), machine learning, and cloud-based data management. Fintech improves speed, security, customization, and mobile access to services and transactions. Also, as regulations become more complex, a new class of services known as "regtech" is emerging that will utilize AI to analyze large volumes of regulatory data.

With vibrant fintech clusters across the state, including Jacksonville and Miami, Florida has become a key fintech player. Home to more than 120 commercial banks representing nearly $157 billion in assets under management, Florida's financial services industry is one of the state's fastest-growing sectors. Miami, with more than 30 international banking regional headquarters, is Florida's largest fintech cluster. Known as "Wall Street South," the city is an international banking hub that primarily services Latin American and Caribbean markets. Another growth market is Jacksonville's investment-banking sector, which attracts financial institutions (FIs) that locate their investment banking hubs there for continuity purposes. "A Florida-based location allows institutions to keep their operations afloat when Wall Street is down," says Tim Vanderhoof, senior vice president of business development at Enterprise Florida.

In recent years, the financial services industry has experienced a model shift, where banks also function as IT companies that invest assets. As a result, FIs and fintechs need more employees with IT/technical skills — a big reason they are attracted to the more than 38,000 STEM (science, technology, engineering, and math) students who graduate every year from Florida universities and colleges. But FIs often require even more specialized skills to support their client bases and prevent cybersecurity threats. To meet these needs, Florida universities partner with private companies to provide innovative, cutting-edge training programs specific to the fintech industry.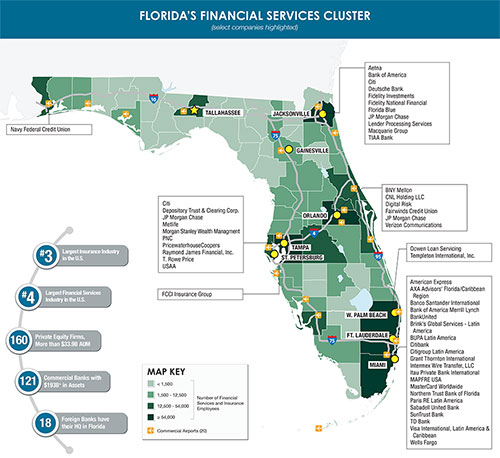 Florida's fintech-university partnerships "allow a direct pipeline to a very specific expertise and skill set that would otherwise be recruited from outside the state and/or developed within the individual business," says Vanderhoof. "Partnering with local colleges and universities is a cost-effective approach for companies to tap into new talent and acclimate them to the culture of the financial services industry."

Innovative Partnerships Abound
Designated by the National Security Agency and Department of Homeland Security as a National Center of Academic Excellence, the University of West Florida (UWF) partners with government and industry to provide cyber defense education. For example, UWF's Department of Computer Science has collaborated with Navy Federal Credit Union since 2012 to create a talent pipeline with a specific cybersecurity skill set, which includes coding and threat protection. Students gain hands-on training for protecting information systems and ensuring information security and member and employee access, as well as developing critical thinking, communication, and business management skills. "These internships have led to full-time employment at Navy Federal for a number of our students," says Thomas Reichherzer, chair of the Department of Computer Science.

A partnership between the University of South Florida (USF) and Citigroup in Tampa has implemented a customized curriculum that develops the skill sets that Citigroup needs to support its fintech operations, especially its rapidly growing anti-money laundering (AML) operations."At the time, there were no AML-specific academic programs in Florida that prepared college graduates for AML-related roles," indicates Kaushal Chari, associate dean for research and professional programs and professor of information systems and decision sciences at USF's Muma College of Business.

To quickly build a pipeline of talent for AML roles, Citigroup provided weekend boot camps on AML at USF. The success of the program led to other boot camps that focus on AML analytics, third-party risk management, and global banking. During these efforts, Muma College of Business collaborated with Citigroup and the Depository Trust and Clearing Corporation (DTCC) to develop a "for-credit" graduate certificate in compliance, risk management, and AML.

University-fintech partnerships are not limited to enhancing the skills of recent graduates entering the workforce. For example, in September 2018, Florida International University (FIU) partnered with Fintech Americas to launch its Banking Innovation and Transformation Continuing Education Program. The program is designed for mid-career banking professionals who want to become knowledgeable and proficient on the innovative trends, technologies, and strategies that bankers and banks need to transform in the digital age.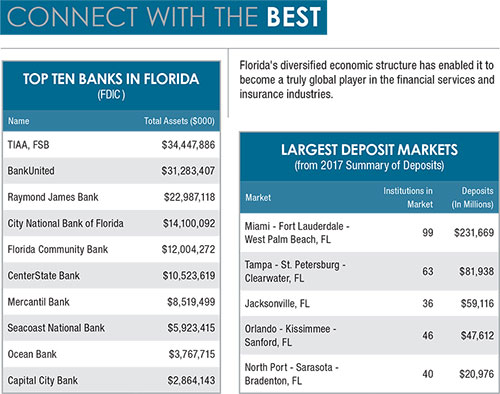 "As banking disruption accelerates, many banking professionals find themselves in need of a new strategic and business-model framework in order to help their organization, and careers, remain competitive in today's age of banking disruption, automation, artificial intelligence, and blockchain," says Ray Ruga, co-founder of Fintech Americas. "Having access to a program that provides accreditation from a respected university like FIU is an important step in helping bankers and banks continue retooling their teams to meet the changing needs of the market."

The program introduces attendees to the topic of digital disruption of banking and finance, how this disruption impacts the industry, and the strategies and technologies they can utilize to make their institutions more competitive in today's market, which continues to evolve at a rapid pace. "We are significantly expanding the curriculum into every area of banking innovation and transformation," adds Ruga. "The platform will include digital education, as well as customized, in-house programs for banks and financial institutions."

More Partnerships in Development
Florida's successful university-fintech partnerships have both university and industry leaders thinking of new ways to customize their knowledge and training. For example, Muma College of Business is now focusing efforts on other fintech categories, such as blockchain and business-intelligence technologies. The collaboration between the Muma College of Business and Finametrics has led to a new project funded by the U.S. National Science Foundation and the Office of Financial Research at the U.S. Department of Treasury. The project explores distributed computing approaches for the analysis of enterprise and systemic risk using financial contract-based infrastructures. In addition, USF is interested in sharing its AML program with other financial institutions across the state and developing more fintech programs.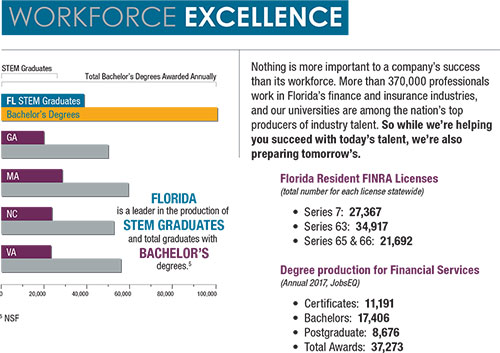 "We continue to successfully engage with fintechs and create value for them," says Chari. "In fact, the USF, UWF, and FIU programs could be models for other states that are interested in developing collaborative university-fintech partnerships."

Banks continue to invest heavily in facilities, human capital, and the technical resources they need to stay current on cybersecurity, regulatory issues, and recruitment. "As the fintech sector grows across Florida, we will continue to see more universities partner with private organizations to provide customized training for the fintech workforce," concludes Vanderhoof.