Editor's Note: This article was contributed by the Kentucky Cabinet for Economic Development, which approved and paid for this post.

Demand for tech talent is soaring. With the U.S. technology sector slated for more fast-paced growth in the years ahead, about 3.5 million STEM-related job openings are expected by 2025. Despite this abounding opportunity, even some of the most skilled workers still struggle to attain their full potential while dealing with the exorbitantly high costs of living in areas like San Francisco, New York, Chicago, and Washington, D.C.

As massive societal shifts change how many Americans will work and live, an opportunity for a fulfilling career in tech while enjoying a higher quality of life is emerging in Kentucky, which features a growing innovation and entrepreneurial ecosystem, affordable living, and entertainment options that run the gamut. Complementing these advantages is the state's strong economic momentum, making it an ideal landing spot for young talent looking for both personal and professional development in the years ahead, said Kentucky Gov. Andy Beshear.

"Here in Kentucky, we're building an economy for the future, and continuing to grow our burgeoning technology community is a key part of that mission," Gov. Beshear said. "As a father of two young children, I'm committed to not only creating opportunities for this generation, but also setting the stage for future generations of tech workers to thrive in the commonwealth. Considering our ongoing economic boom and our expanding skills-training opportunities, the commonwealth is a great landing spot for young professionals looking to enter or further develop a career in technology."

Livability Key in Attracting Skilled Tech Workers
In contrast to the sky-high costs associated with many of the country's tech-centric regions, Kentucky boasts one of the nation's lowest costs of living, ranked 7th in that category by U.S. News and World Report, and 9th for overall affordability. The state's prices for housing, groceries, utilities, transportation, and other living expenses sit well below the national average.

Long commutes are another pervasive issue for many tech workers — but not in Kentucky. The Bluegrass State's average one-way commute comes in at around 23 minutes, ranked second-lowest among states east of the Mississippi River.

Complementing Kentucky's comfortable living is a wide array of world-class events and attractions such as the Kentucky Derby, a thriving bourbon scene, dozens of beautiful natural parks, food and music festivals, and a multitude of outdoor recreation spots throughout the commonwealth.

Along with its livability, Kentucky's continued drive to encourage innovation and grow its startups and small businesses bodes well for young professionals in the state seeking meaningful careers.

Growing Innovation in the Bluegrass State
Kentucky is building vibrant, regional innovation clusters statewide, an effort that modernizes the commonwealth's support for entrepreneurs and high-tech, high growth-potential startups by leveraging each region's unique strengths. Through KY Innovation — the state's office for entrepreneurship and small business growth — these hubs unite Kentucky's universities, established companies, and industry sectors, entrepreneurs, business accelerator and incubator programs, and many other public and private entities to best serve business founders across the commonwealth.

This support gives entrepreneurs across the state with an innovative startup or scalable existing business access to early-stage education and mentorship, pitch competitions, assistance with navigating local and state regulations, regional and statewide networks of other entrepreneurs, introductions to relevant industry sectors and big corporations, and other business tools to help turn ideas into reality.

Underpinning this mission are priorities by the state to make resources more accessible to Kentucky's innovators and to expand efforts in recruiting more highly skilled workers and companies to the state.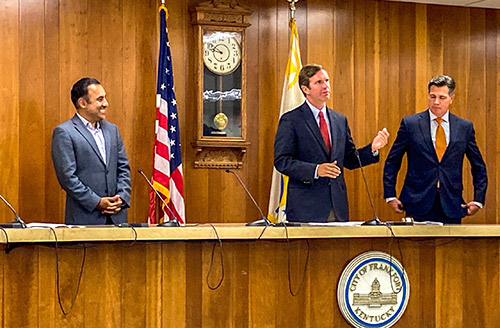 Success Stories Show Building Momentum in Kentucky
The commonwealth's growing technology sector has spurred a number of success stories in recent years. One great example is Interapt, a Louisville-based software and digital workforce development company, which not only continues to grow in Kentucky, but also is equipping Kentuckians with skills to help meet the increasing demand for tech workers.

In June, the company announced a new apprenticeship program to train future data analysts in Kentucky, a step toward Interapt founder and Kentucky native Ankur Gopal's vision of creating 10,000 technology jobs across the commonwealth. Through this partnership with the City of Frankfort, consulting firm Ernst & Young, and workforce training firm General Assembly, participants in the program will learn software skills intended to help propel them into a technology-oriented career, all while earning a stipend.

Another tech-based, homegrown Kentucky company seeing growth is Rubicon, a $1 billion firm that has been referred to as the "Uber of trash." A software platform that provides smart waste and recycling solutions to businesses and governments worldwide, Rubicon announced in June the company is establishing its new global headquarters in Lexington, Kentucky. In addition to its focus on the waste and recycling space, Rubicon also intends to support waste-related research and manufacturing opportunities.

As the number of technology-related jobs continues skyrocketing in the years to come and remote work becomes increasingly common, Kentucky and its growing tech community, high quality of life, affordability, and capability to maintain a healthy work-life balance make it an appealing location for budding talent.

For more on how Kentucky is growing innovation, visit kyinnovation.com.