The aerospace and defense (A&D) industry had a record year in 2019. Revenue passenger miles set a record, up 4.2 percent from 2018, and have been growing at roughly double GDP for the past two decades. Airbus' and Boeing's order backlogs ended 2019 at around 13,000 aircraft. The industry reported a record $780 billion in revenue — 5 percent over 2018.

But in March 2020, the COVID-19 pandemic plunged the industry into crisis, literally overnight, with air traffic decreasing about 90 percent as society shut down and stayed at home. Hopes for a quick recovery have been dashed by the persistence of transmissions, and many believe it may take up to five years for a full recovery. Current projections are that airlines may rack up more than $80 billion in losses in 2020.

One bright spot is demand for military equipment — it has been unscathed by the pandemic, at least for the moment. And while defense companies have had to grapple with some increased levels of absenteeism and adopt new production techniques to protect workers, the defense segment has fared relatively well.

But for companies in commercial aerospace, the emphasis has switched from expansion to liquidity and de-risking the supply chain, while planning for a return of volume in three to five years. De-risking the supply chain has many considerations, including protecting financially vulnerable suppliers, potential vertical integration, and deglobalization, which involve the potential for relocation.

At the same time, aerospace manufacturing capacity took decades to build, and it should stay agile in order to fully rebound. Many A&D companies will likely emerge from the crisis changed — perhaps even enhanced. Industry stakeholders fully grasp that they may need to become more resilient, agile, and innovative in order to survive a disruption of this scale.

So where are some ideal places for companies that need to consolidate production and relocate supply chains? What about defense companies that are still expanding?

PwC's 2020 Aerospace Manufacturing Attractiveness Rankings analyzed the key states and countries that drive the industry for the seventh year in a row. The report is a helpful tool in planning for production, enhancing manufacturing supply chains, and re-examining costs. We analyzed the macro considerations around the A&D industry, talent, cost, tax policy, infrastructure, and economy. The metrics and data are carefully examined to help companies find the appropriate areas to invest, build, expand, consolidate, or relocate operations.

The methodology for the 2020 rankings changed when compared to previous editions. This year, the country rankings combined a total of 32 metrics, and the state rankings were based on 36 metrics. The metrics were spread across the following seven categories: cost, economy, geopolitical risk, industry, infrastructure, labor, and tax policy. Geopolitical risk was excluded from the state rankings due to the similar risk for all states.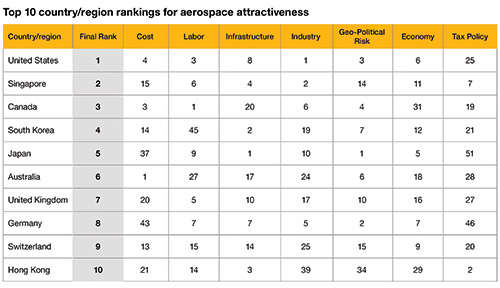 Aerospace Manufacturing Attractiveness Rankings by Country
The United States remained in the top-ranking position due to its large aerospace industry with $277 billion in sales last year. The U.S. was also the global leader in A&D exports in 2019, generating $141 billion in revenue, and A&D exports were the country's top net export. In fact, the U.S. improved its dominance as a result of the 2018 tax reform, which helped improve its global tax policy ranking to 25. The U.S. scored in the top 10 in the other six categories.

Following the U.S., Singapore moved up to the #2 spot. Singapore is Asia's leading provider for aircraft maintenance, repair, and overhaul (MRO) needs, accounting for 10 percent of the world's aerospace industry's MRO output. It is also home to more than 60 foreign and domestic aircraft parts producers.



The United States remained in the top-ranking position due to its large aerospace industry with $277 billion in sales last year.

Canada ranked #3, largely due to its highly educated labor force, low level of geopolitical risk, and industry size. Canada's aerospace and defense industry has tripled its global market share in the last two decades, making it the fifth-largest aerospace producer in the world. Most (77 percent) of the industry's products are manufactured for commercial aircraft, and 82 percent of the products are exported — the highest percentage globally. Also, the country's Strategic Innovation Fund has encouraged R&D efforts, which in turn have spurred growth and expansion in the A&D industry. Canada's A&D industry invested $1.4 billion in research and development — roughly a quarter of total manufacturing R&D in the country.

Rounding out the top five are South Korea coming in at #4 and Japan taking the #5 spot. The countries filling out the top 10 are Australia, the United Kingdom, Germany, Switzerland, and Hong Kong.

South Korea has been moving up the rankings in recent years. In December 2019, the government launched a policy to further ramp up its competitiveness in the A&D sector. The policy includes breaking into new markets and increasing demand for inbound travel, financing aircraft acquisitions, cutting airport fees, and investing in local MRO enterprises. The policy also called for increasing the number of slots at Incheon International Airport to as many as 70 per hour, with preference to inbound carriers.

The country is also investing heavily in innovation: Its R&D investment as a percentage of GDP is number one in the world — 4.8 percent in 2018, up steadily from 3.1 percent a decade earlier. The country's defense industry is also on track to becoming a rapidly growing A&D export juggernaut. Toward this aim, South Korea continues to offer incentives for international industrial collaboration — particularly cross-border commercial ventures with foreign defense contractors.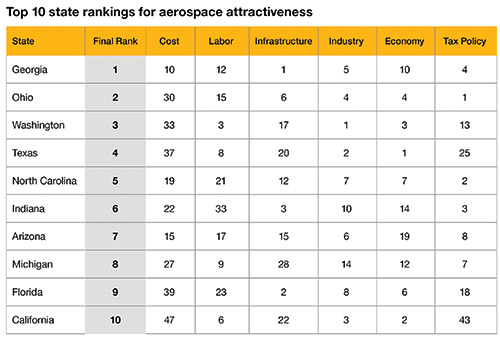 Aerospace Manufacturing Attractiveness Rankings by State
Georgia climbed to the top ranking after being runner-up last year, continuing its position as a stalwart top-10 finisher in our index. The state ranked in the top 10 in all categories except labor, with its ranking in infrastructure rising to number one from 15. The state's A&D workforce of 108,000 is employed by more than 800 aerospace companies. Aerospace products, valued at $10.8 billion, account for the state's top exports and represent the second-largest manufacturing industry in the state, representing $57.5 billion in economic impact. Georgia also cut its top corporate income tax rate to 5.75 percent from 6 percent in 2019.

Ohio ranked #2 among U.S. states this year, buoyed by its attractive corporate tax structure, healthy economy, and strong industry presence. This year, Ohio ranked number one in the tax policy category, up from eighth last year. (The state has no corporate income tax but does levy business taxes on gross receipts.) With an A&D workforce of 38,000, Ohio is also the largest U.S. state supplier to Boeing and Airbus. The state has an A&D ecosystem of more than 550 aerospace and aviation A&D organizations, including Battelle Air Force Research Laboratory, the Ohio Unmanned Aircraft Systems Center, and the NASA Glenn Research Center.

Last year's winner, Washington, ranked #3. Over decades, the state has developed a deep and wide A&D ecosystem that goes well beyond Boeing, with some 1,400 aerospace and related companies. Washington is the country's long-standing A&D hub, with some 100,000 workers.



Georgia climbed to the top ranking after being runner-up last year — its workforce of 108,000 is employed by more than 800 aerospace companies.

North Carolina, Indiana, Arizona, Michigan, and California remained in the top 10, while Texas and Florida returned to the top 10 in 2020.

California ranks near the bottom in the categories of cost and tax policy. However, its very strong rankings in industry, economy, and labor helped the state achieve a top-10 rank. California's aerospace industry, which is made up of approximately 850 companies, falls only behind Washington. Also, the presence of three NASA research centers and the Mojave Air and Space Port has encouraged the growth and development of the state's sector.

South Carolina was this year's biggest gainer, soaring to #14 this year from a ranking of #29 last year. Tailwinds included improved rankings in the index's tax policy, labor, and economy categories. The state is home to approximately 400 private enterprises employing some 19,000 workers — with 5,000 jobs created over the 2011–2019 period. Sales of aircraft exports totaled $12.4 billion in 2019, up 56 percent from the previous year.

Context Behind the Methodology
We emphasize that any methodology is imperfect; for example, there is no consistent data available for skilled manufacturing, a priority for the industry, but we were able to add a metric for ISO 9100 certifications in the state data for 2020. Further, the data should be tailored to each company's specific circumstances.

Despite this, we believe our report is a useful tool that can be used as a framework to help evaluate investment decisions and as a guide for future strategy and planning.