Earlier this year, it was difficult to escape talk of the looming fiscal cliff that threatened to shake the U.S. economy. The life sciences industry has been battling its own challenging precipice — the patent cliff.

The patent cliff, or the mass expiration of patent protections on a variety of drugs, is fueling significant change among big pharma companies and the broader life sciences industry. In 2013 alone, patents will expire on drugs that currently have sales of about $29 billion annually, according to data from EvaluatePharma. Those patent expirations are a big blow to large pharmaceutical firms such as Johnson & Johnson, Pfizer, and Roche that now face more competition from generic drug-makers.

"Over the last few years, that patent cliff has been significant, and it has forced a lot of consolidation within the industry," says Roger Humphrey, an executive managing director and lead of the Life Sciences division at Jones Lang LaSalle. Following years of growth, the life sciences industry is now facing a more challenging climate marked by expiring patents and greater competition from generics, as well as pricing pressures to provide affordable healthcare and heightened regulatory scrutiny.

Patent expirations are at the forefront, because they are creating margin and price pressures within the pharmaceuticals industry. The global generic drug market is expected to grow at an annual rate of 10 percent between 2010 and 2015, from $87 billion to an estimated $140 billion, according to a 2013 "Global Life Sciences Outlook" report issued by Deloitte Consulting. That profit loss is fueling a wave of merger and acquisition activity as pharmaceutical firms try to acquire a pipeline to new patents and create added operational efficiencies.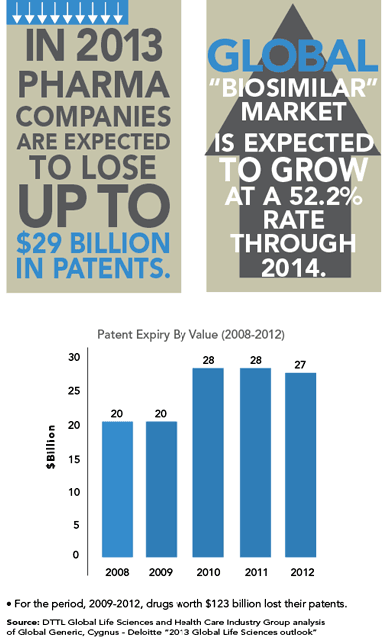 There is definitely a trend to acquire similar life sciences organizations in order to acquire drugs that are in discovery to help backfill that patent expiration loss. There also is a notable trend among big pharma firms that have built their business on the chemistry side to expand into the biology side of biotechnology, adds Humphrey.



Growth Shifts to Biotech


The biotech sector has been a shining star in the life sciences industry in recent years. Biotechnology uses biology to develop technologies or "grow" new solutions and products for applications ranging from battling diseases and enhancing crop yields to creating products that can be made to improve food preservation. The biotechnology sector has been on an accelerating growth track even during the recession. For example, the global "biosimilar" market — the use of biology and living molecules rather than chemistry to create drug solutions — was valued at $420 million at the end of 2010 and is expected to grow at a 52.2 percent rate through 2014, according to Deloitte. Another sign of the biotech industry's growth is a surge in IPOs in 2013. Year-to-date through September, 23 U.S.-based biotech firms had launched IPOs, compared to 13 in each of the last two years.

Currently, there are more than 250 biotechnology healthcare products and vaccines available to patients, many for previously untreatable diseases. More than 13.3 million farmers around the world use agricultural biotechnology to increase yields, prevent damage from insects and pests, and reduce farming's impact on the environment. And more than 50 bio-refineries are being built across North America to test and refine technologies to produce biofuels and chemicals from renewable biomass, which can help reduce greenhouse gas emissions, according to the Biotechnology Industry Organization.

The promising future for this niche is attracting attention from pharma companies that are looking to find new avenues of growth. "I think that there is going to be continued acquisitions of biologics companies, but very targeted acquisitions," notes Humphrey. In particular, there is likely to be a lot of focus on DNA type of research that focuses on very specific areas of illness versus broad spectrums of illness, he adds.

Another segment of the life sciences industry poised for growth after weathering the recession is medical device manufacturing. The sector does face concerns that a tougher regulatory environment and a new 2.3 percent medical device tax will hamper growth. However, the sector is expected to benefit from the influx of newly insured people created by the healthcare reform bill, as well as the aging population that is sparking demand for everything from hip replacements to pacemakers.

According to data from Jones Lang LaSalle, there are an estimated 9,274 firms within the 21 markets it tracks that currently employ more than 311,000 workers. A common theme that will continue to drive decision-making among medical device manufacturers, as well as the broader life sciences industry, is the focus on delivering value as the industry faces more pressure to deliver affordable healthcare solutions.


Next: Merger and Acquisition Activity Leads to RE Portfolio Optimization