With the growing importance of a high-skills workforce, companies are feeling the pressure to tap into the brightest and savviest talent before their competitors. Adding to this pressure is the fact that it is no longer only typical technology companies that are seeking engineers, data analysts, and the like. Technology is disrupting every industry — in fact, in a 2016 PwC survey, 78 percent of U.S. CEOs expressed concern about the speed of technological change in their industry.

Today, automakers are competing with technology companies like Apple and Google for the best autonomous vehicle technologies. Traditional defense contractors are competing with Silicon Valley giants and startups to advance in-demand technology ranging from data management to precision navigation and cybersecurity. Automation and big data are disrupting what we used to know about supply chain management and logistics.

The rate at which the competition is plucking up high-skills talent is startling. The 2016 State of the CIO survey found that 49 percent of chief information officers expect to experience IT skills shortages through the rest of 2016. Also, the Harvey Nash/KPMG CIO Survey 2015 discovered that nearly six out of 10 CIOs believe skills shortages will prevent their organizations from keeping up with the speed of change. This represents a one third increase from just three years ago.

To succeed going forward, companies need to seek talent that is not just smart, but nimble and prepared for the next technological disruption. For this, companies need only to look to Canada. It is consistently ranked by publications, such as Forbes, as one of the best countries for business, and has led all G-7 countries in economic growth over the past decade (2006–2015).

Not only is Canada close to the U.S. geographically, but it is also familiar in culture and infrastructure. In addition, Canada continues to bolster its talent through further investments in education. So far, the results are impressive: Canada has the highest availability of qualified engineers in its labor force among G-7 countries, according to a survey conducted by the International Institute for Management Development (IMD). Canada's largest province, Ontario, boasts the most highly educated talent pool among the Organization for Economic Cooperation and Development (OECD), with 67 percent of its adults having attained a postsecondary-level education, such as a college degree. This is significantly higher than the U.S. (44 percent), UK (45 percent), Germany (36 percent), and Japan (47 percent).

Canada: A Familiar Face as Companies Brace for the Unfamiliar
Today, it is not enough to be book-smart — technology has drastically changed the traditional role of engineers. Now, they not only need to have traditional technical skills, but they must also (1) anticipate new technological advancements and adapt quickly, and (2) have interpersonal skills to understand organizational needs and communicate technical information to a non-technology audience.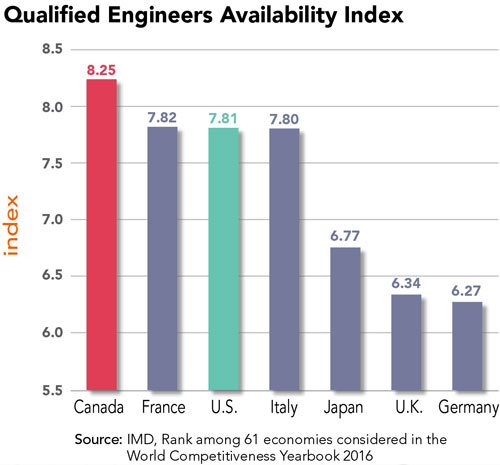 In its survey, PwC reported that 75 percent of engineers say that a skilled, educated, and adaptable workforce should be a priority for businesses. Advanced programs within Canada's universities — such as at Simon Fraser University and the University of Toronto — conduct innovative, global research and regularly collaborate with private industry to commercialize these technological advancements. By doing so, students are groomed to have an entrepreneurial mindset within the confines of a safe and nurturing place that allows them to freely test their ideas. This forward-thinking outlook is encouraged throughout Canada's educational system. It may be the reason why Canada ranks first overall for "entrepreneurial abilities" in the Global Entrepreneurship Development Institute (GEDI)'s 2015 Global Entrepreneurship Index (GEI).

A fitting example of Canada's collaborative advanced programs is the University of Toronto's Creative Destruction Lab (CDL), which was created by the university in 2012. CDL, which has quickly become one of the fastest-growing venture labs in the world, gives students the opportunity to work alongside successful venture entrepreneurs to learn how to evaluate, manage, and even finance tech startups, using experiential learning methods.

To answer the need for skillsets critical to early career development, the University of Waterloo's Professional Development program (WatPD) is designed to help students navigate the connections between the workplace, academic courses, and their career path. While in the academic setting, students are simultaneously prepared for the workforce. The University of Waterloo's cooperative learning model blends academic and practical experience with an impressive conversion rate post-graduation: approximately 20,000 students are placed with about 6,500 employers each year. Engineering students alternate their academic terms with professional experiences (e.g., four- to five-month stints at companies). Unsurprisingly, the school has produced entrepreneurs typically associated with Silicon Valley — e.g., the founders of OpenText, Instacart, messaging app Kik, and BlackBerry.



Canada's largest province, Ontario, boasts the most highly educated talent pool among the Organization for Economic Cooperation and Development (OECD), with 67 percent of its adults having attained a postsecondary-level education, such as a college degree.

Tried and True
With these educational structures in place, major multinational companies are flocking to Canada to take advantage of this steady stream of talent. Recently, automaker General Motors (GM) announced it would employ approximately 700 engineers in its Oshawa, Ontario, engineering center to advance its autonomous and alternative-fuel vehicles. In the increasingly competitive and crowded market of high-tech automobiles, even the auto industry is now competing against Silicon Valley for the best talent.

To that end, GM's CEO Mary Barra recently cited the University of Waterloo as one of the best sources for math and science graduates. In fact, the university's graduates are the second most frequently hired in Silicon Valley, according to a 2015 report by Compass. Though companies face a tightening labor market of skilled workers, GM's investment demonstrates that the best science, technology, engineering, and math (STEM) talent still resides in the United States' northern neighbor.

In addition, Microsoft announced a new engineering center in Vancouver, British Columbia, called the Microsoft Canada Excellence Centre (MCEC). This new center will employ more than 750 people, the majority fulfilling the company's need for developers. In addition to access to talent, the company also cited Vancouver's proximity to its headquarters in Washington, which allows easier collaboration for major projects. This is a significant advantage for companies to outsource its high-skills talent to a region within close proximity, versus overseas. The ability to be able to access a top-tier talent base outside of the usual suspects, like Silicon Valley, and maintain a collaborative environment is truly an advantage to investing in Canada.

Adding to the roster of powerhouses moving to Canada is General Electric (GE). GE Power will move its gas-engine plant from Wisconsin to Welland, Ontario, which is slated to begin production by early 2018. The Niagara-Welland region, home to Niagara College, not only gives GE access to engineers but also technologists and other skilled workers necessary to carry out its cutting-edge data science and analytics functions. At the time of the announcement, Heiner Markhoff, head of GE Power's water and distributed-power business, mentioned that the region "provides a collaborative community environment that will attract talented employees." Moreover, the region provides the unique advantage of being a 30-minute drive from the U.S. border — a key driver of GE's decision to invest in the region.

Don't Forget To Look Up
You might be surprised to learn that all three of these announcements were made in the span of one month. Perhaps, then, it will be less of a surprise when we continue to see more multinational companies leveraging Canada's impressive talent base. Nearly 90 percent of those responding to Area Development's 12th annual Consultants Survey revealed that labor is the reason their clients are moving their businesses to other countries. This trend is here to stay, and Canada is here to help.

In an age where disruption is the new norm, companies shouldn't have to sacrifice accessibility and reliability in order to access smart and savvy talent. One needs only to look up.