At first glance, 2017 was not the best year for foreign direct investment (FDI) in Canada. FDI inflows into Canada decreased by 36.4 percent to $31.5 billion, mainly due to an overall decline in global FDI which fell by 23 percent to $1.43 trillion. Important divestitures by foreign-based companies in the oil and mining sectors in Canada also contributed to the decline of FDI inflows. Although there was a general decrease of inflows from the U.S. into Canada, the decline in FDI from other parts of the world was much more pronounced.

However, as Erik Hertzberg, journalist for Bloomberg, wrote, "Outside of oil and gas, foreign investors haven't given up on the Canadian economy." In fact, the manufacturing sector did incredibly well in 2017: FDI inflows in manufacturing showed an impressive 94.5 percent increase in 2017, almost doubling since 2016, a clear indicator that Canada is a destination of choice for growing manufacturing companies.

FDI stock measures the total level of direct investment at a given point in time. In Canada, excluding oil and gas from the equation, it grew by 4.7 percent, a larger increase than in the past two years. Including oil and gas in the evaluation of FDI stock results in a 1.9 percent increase during the past year. Furthermore, although the manufacturing sector did not drive the growth in FDI stock, it still holds the largest share at 21.4 percent, followed closely by the management of companies and enterprises sector totaling 20.7 percent.

In recent years, the Canadian government has been making FDI a priority, namely by improving the FDI attraction strategy and program structure. The Advisory Council on Economic Growth, established by Canada's Minister of Finance, mentioned in its "Bringing Foreign Direct Investment to Canada" report that "there is no clear national strategy," resulting in many initiatives being introduced in the 2017 federal budget. Those initiatives include Innovation Canada, a one-stop-shop for innovating businesses that need support and funding; the Clean Growth Hub, a group dedicated to guiding clean technology producers through the various services and programs applicable to them; and the Innovation Superclusters Initiative, a program supporting business-led innovation superclusters in various industries such as advanced manufacturing, artificial intelligence, and clean resources.

The federal government also simplified its program offerings by consolidating innovation funding programs, resulting in a more cost-effective overall structure. The Strategic Innovation Fund (SIF) is a product of the consolidation of various innovation programs with a total budget of $1.26 billion over five years to support large projects leading to significant investment and job growth.

The launch of Invest in Canada by the Government of Canada in March 2018 marked an important development for FDI attraction and the jobs that come with it. The organization was created to position Canada as a top destination for global investment and to make it easy for investors to build innovative and global businesses in Canada. The establishment of a federal government agency dedicated to FDI attraction is a first-time development for Canada and sends a clear message to foreign investors that Canada intends to pull its weight on the global stage.

"Canada has an extraordinarily positive global brand — by leveraging that, we can highlight Canada's status as a premier investment destination," says Invest in Canada CEO Ian McKay. "Companies that are already invested in Canada are expanding rapidly. And those that are not yet here are having a good, hard look at all of our competitive advantages — talent, market access, and a best-in-class business environment."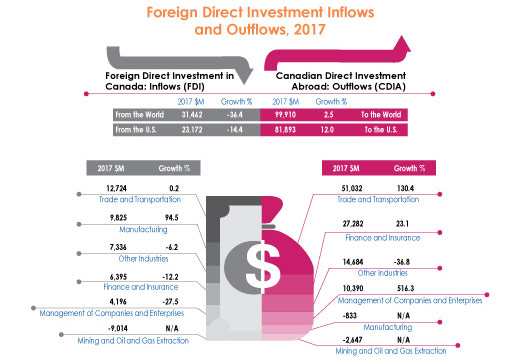 NAFTA Renegotiations and Their Impact on FDI in Canada
The NAFTA renegotiations began on August 2017 and, since then, a number of chapters have been successfully updated and closed. The presidential elections in Mexico have put the negotiating sessions on hold since May, but as of this writing they were scheduled to resume in August.

Recently, the U.S. applied a 25 percent tariff on steel and a 10 percent tariff on aluminum imports from Canada and other countries, claiming a risk to national security as per the Trade Expansion Act of 1962. The U.S. is also hinting at an automobile tariff in the near future, an industry with heavily integrated supply chains in every NAFTA country. This could potentially prove more damaging than the current tariffs on steel and aluminum. Following these new tariffs, many countries, Canada included, have retaliated with tariffs on American products such as steel, aluminum, and various food products, resulting in a situation that is now being described as a trade war.

Although the NAFTA renegotiations and a trade war between Canada and the U.S. are two entirely separate issues, they nonetheless affect one another and the relationship between the two long-term allies. It is safe to say that the North American business community has remained in a state of uncertainty since the beginning of the NAFTA renegotiations last year. What was once a stable and successful agreement since its signature in 1994 has now become a source of concern for all parties involved.

"NAFTA, after 25 years, is due for a tune up, but it is the framework for an integrated North American economy that has benefited all three partners significantly," says McKay. "Adding CETA, CPTPP, and all of Canada's bilateral trade deals, investors here have unfettered access to a market of 1.7 billion consumers. Canada is well positioned to tackle the challenges of the 21st century economy and global investors are recognizing that."

"Although the global context is tainted with uncertainty and the business relationship between Canada and the U.S. has become unstable, our businesses are pursuing their expansion projects, increasing their competitiveness, and creating quality jobs." says Carl Viel, president and CEO of Québec International, a public agency pursuing inward FDI attraction for the Québec City metropolitan region.

Representatives from economic development agencies in Montreal, Toronto, and Vancouver are also seeing normal growth in their respective business environments. In other words, tangible impacts of the NAFTA renegotiations are not yet being observed in the Canadian business environment. Raymond Bachand, Quebec's chief negotiator for NAFTA, claims that Canada's value proposition has actually improved in recent months in terms of workforce, immigration policies, research and development skills, and the government's financial health.

Dominique Anglade, Quebec's deputy premier and minister of Economy, Science and Innovation, who is responsible for its digital strategy, believes that this continuous economic strength results from the fact that with regard to attracting FDI, "we are a very stable region that is well positioned in terms of talent, costs, and access to market." As a matter of fact, according to the World Bank's Doing Business 2018 report, Canada is the 18th easiest country to do business in among 190 economies. As previously mentioned, Canada is also a member of major free trade agreements, namely NAFTA, CETA (with the European Union), and the CPTPP (with Pacific Rim countries), providing access to a large and diversified market, an important attraction tool to bring in foreign investors.

Although Canada's business environment is still showing evident signs of economic prosperity, the current context seems to be making some foreign investors hesitant when it comes time to finalize an investment in the region. What we are seeing is a delay in making final decisions around investments because investors want to make sure that the uncertainty is behind them.



Outside of oil and gas, foreign investors haven't given up on the Canadian economy.

Erik Hertzberg, journalist, Bloomberg

What's Next?
Although most individuals were hoping for the agreement to be finalized in 2018, NAFTA renegotiations have not yet neared a conclusion as of May 17th, which was the deadline on an impending NAFTA deal set by the U.S. Congress. Knowing that it could take up to six months for Congress to vote on a new agreement, and with the U.S. midterm elections to occur in November, it is highly unlikely that a new and improved NAFTA will be unveiled prior to 2019.

With the world economy buffeted by the strongest challenges to globalization in the past 50 years, investors are being confronted with a higher degree of uncertainty. As a country that is a 10th of the size of its largest trading partner and immediate neighbor, Canada does not have the same clout to influence the global trading system as its partners. However, Canada is betting that maintaining and deepening economic ties to the rest of the world will ensure its continued growth.

Canada will continue to promote FDI by maintaining an open economy. By investing in its workforce through both education and an open immigration system, it will continue to provide the highly trained personnel sought by investors. Furthermore, by engaging in regional trade partnerships that stretch across the globe, it will ensure that the country will continue to be integrated into global supply chains. The message being sent is that Canada will be an attractive destination for foreign investment in the coming years no matter what happens to the global economy.