Every successful company faces growing pains. From undersized facilities to evolving technology and changing employee requirements, it isn't always easy being successful. Growing needs and rising construction costs leave many company executives scratching their heads for solutions on how to expand operations while keeping a close eye on the bottom line.

In the quest for an optimal build-to-suit facility, it is imperative that a company selects a location that is tailored to suit its current needs and long-term goals. Future growth, state-of-the-art technology, and energy efficiency should also be taken into consideration. Every detail needs to be carefully considered in order to deliver the most value for a reasonable cost. But how can a company with limited resources achieve its vision?



A Holistic Approach: Tenant-Based Build-to-Suit Development


In order to align a company's goal with its budget, thorough planning is mandatory. The overall construction process can be made seamless by taking a holistic approach that addresses the full spectrum of deliverables — from ground-up development, to asset procurement and installation, to on-site management. The benefits of this approach include speed of delivery, quality of delivery, lower cost, and a smooth transition. Working with the architect and general contractor during the planning stage is critical to a successful project. Value engineering and review of various design scenarios or changes on paper are more effective and less costly than experimenting in the field. Depending on whether the tenant's goal is to own or lease the building, there are several options to achieve a company's vision while sticking to a budget. Between selecting a site, negotiating lease terms, and managing a project timeline, many companies turn to a tenant broker representative to assist with the process of selecting a developer and/or development site. This scenario is typical when the tenant wants to lease the property long-term. The tenant may elect to own the asset and may consider either a partnership with a developer or hiring a developer as the owner's representative. In either scenario, the developer receives a fixed fee for managing the entire process, including major areas such as site selection, general contractor selection, and financing.


By involving tenants in the overall financial and construction decision-making process, and having the developer coordinate all aspects of the project, a high-quality building can be delivered in less time and at a lower cost.


While tenant representation and owner representation are tried-and-true options for businesses acquiring real estate, a fresh approach to build-to-suit development has emerged. Essentially, this approach combines tenant broker representation, owner representation, and traditional developer/tenant relationships into one, tenant-based, build-to-suit development. This solution eliminates risk for both sides and is truly a "partnership" approach. The rent is based on total project costs and estimated financing of the project with a pre-determined amortization schedule. The final rent may fluctuate based on final financing and project costs achieved. The advantage for the tenant is that they receive "wholesale" pricing on their rent. Careful attention must be paid to FASB accounting rules for long-term leases under this scenario, but it can be achieved if both parties are willing to pursue a development in this open-book manner.

Layered on top of the development component is the next and most important stage, which is the relocation and procurement of all furniture, fixtures, and equipment (FF&E). While traditional development stops at building delivery, a more holistic approach allows the developer to provide the initial outfitting and transitioning (IO&T) services so as to deliver the space fully equipped and ready for occupancy. In order for this approach to be successful, there must be a level of trust between the tenant and the developer. The tenant needs to be assured that the developer has the same goal — to deliver the highest quality project at the best possible cost, with the lowest financing that meets the developer's investment criteria.

This approach may not be for every build-to-suit opportunity, but it's a true open-book process that provides complete transparency between the developer and the tenant, enabling them to align their goals. By involving tenants in the overall financial and construction decision-making process, and having the developer coordinate all aspects of the project — including FF&E and IO&T — a high-quality building can be delivered in less time and at a lower cost.



Advantages of a Holistic Project
Quality of delivery —

Since this holistic tenant-based solution is a ground-up approach, the developer is able to implement the latest and most effective construction technologies to deliver the facility. Recent improvements in tilt-up construction have led the way to endless design capabilities that allow for faster delivery of a quality project. Tilt-up advances — such as adding brick veneer, natural stone, and wood in combination with curtain-wall glass — create a very appealing aesthetic product. Tilt-up construction also offers extremely attractive energy-efficient advantages. The use of insulated panels slightly increases the upfront costs, but the ROI is staggering due to the R-value it produces for the building envelope. In some cases, a tenant could potentially save 30–40 percent on energy costs.

Keep in mind there are a few limitations with tilt-up. It requires large staging areas to prepare the panels, and the maximum height of the building is limited to two or three stories. Tilt-up is best suited for a one- or two-story office, flex/light assembly, or warehouse type of applications.

Speed of delivery —

Before breaking ground, the developer and tenant map out the construction processes and schedules. As the construction process commences, information is presented in real time, eliminating guesswork and allowing the project to move forward. Since this is a holistic approach, the developer is able to coordinate all aspects of the project, including FF&E installation and final move-in and relocation.

Lower costs —

Since the developer and tenant are acting with one goal in mind, construction costs should be considerably lower. The developer is motivated to obtain the best financing available, and the tenant is part of the decision process, just as it would be in selecting the general contractor.

In order to keep costs in check, it is important for the developer to be transparent and hold frequent planning meetings, including weekly status meetings with all stakeholders. The developer should also provide monthly cost reports and real-time project reports. If additional costs arise, the tenant and developer can move quickly to reallocate resources accordingly or make decisions that make sense for the overall project.

Seamless Transition —

Since design details are hammered out in the early stages of the project, this holistic approach allows the tenant to prepare for its new location long before the walls go up. Transition, asset management, and on-site management services all contribute to a seamless move to a new facility. As part of this open-book approach, relocation services and installation of assets also speed up the delivery and quality of the end result, which for tenants is not just a delivered building, but being relocated and operational in it.
A Tenant-Based Build-to-Suit Success Story


Like many successful companies, Scientech (a division of Curtiss-Wright Corporation), a provider of global commercial nuclear power products and services, had outgrown its facilities. The company lacked a centralized location and was operating out of four separate offices, limiting space and resources for its employees. For years the company struggled to find the right facility for its operations. Scientech had dealt with old buildings and cramped spaces, and even operated out of a former pizzeria and a grocery store. Finally, the company decided it was time to bring all of its employees under one roof.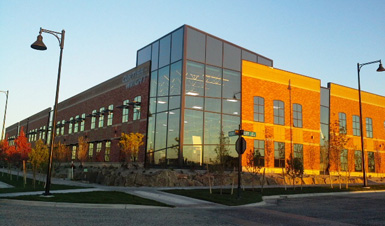 After selecting a site and evaluating finances, Scientech decided to proceed on a build-to-suit facility that would allow for future growth. Using the above holistic open-book approach, all financial, construction, transitioning/FF&E, and timing matters were mapped out in advance. Scientech and Martek Global Services, the developer, agreed on an innovative tilt-up structure that would allow for speedy delivery at an affordable cost. In the summer of 2013, Scientech broke ground on the 112,000-square-foot project in Snake River Landing in Idaho Falls, Idaho.

The use of tilt-up construction paved the way for unique, functional, and operational design capabilities. The brick structure was modernized with insulated panels and curtain-wall exposed glass to give employees a pleasant view of the mountains, river, and parks. By employing local labor, Scientech was able to gain additional savings on construction costs. In addition, the use of energy-efficient insulated panels lowered Scientech's energy costs by an estimated 35 percent.

The interior of the building features inviting finishes, cantilevered glass conference rooms, and a unique replica of a 1911 Curtiss Flyer that hangs in the lobby. The new space allows Scientech to better engage with the local community and will continue to promote growth throughout the company.

The project was named by the Idaho Business Review as one of 2013's largest construction projects in Idaho. Despite the size, the holistic approach delivered this project's rent approximately 30 percent lower than market. Besides the incredible economics that were achieved on this project, one of the best testaments to how successful a holistic tenant-based development project can be is directly related to the time of business operation. The project broke ground the first week of August 2013 and a temporary certificate of occupancy was issued to the tenant on July 31, 2014; Scientech had occupancy and opened operations — fully outfitted and equipped — just 11 days later on August 11, 2014 — that's holistic.