Within the last five years, there has been a significant geographic shift in the locations automotive OEMs and suppliers are selecting for new plants and plant expansions. Although the Southeast U.S. has traditionally had a stronghold, Mexico has emerged as a powerful rival for automotive investment. While Mexico does hold many advantages, including a lower cost of labor and favorable free-trade agreements, there remains a strong case to be made for new development in the Southeast U.S. In the future, this region will become particularly attractive if negotiations related to the Transatlantic Trade and Investment Partnership (TTIP), a proposed free trade agreement between the United States and the European Union, become fruitful.

A Buzz of Activity in Mexico
The automotive industry has seen a worldwide trend in OEMs moving production capacity from their home countries to Mexico. Japanese (Toyota, Nissan, Honda, and Mazda) and German brands (Daimler, Audi, and BMW) are among those that have invested in Mexican plant locations. The "Detroit Three" (General Motors, Ford, and Fiat/Chrysler) are also increasing production capacity in Mexico — more quickly than they are expanding in the U.S. As a result, the geographic center of all automotive production is moving 14 miles per year in a southwest direction.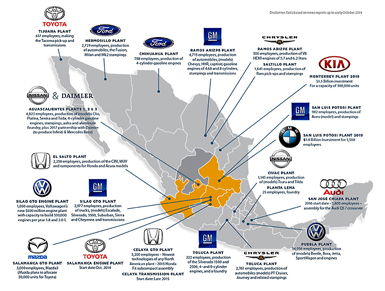 OEM investment in Mexico is causing a ripple effect. To minimize logistics costs, OEMs want their Tier 1 and Tier 2 parts suppliers located in close proximity to their new plants. In the U.S., suppliers located in Southern States such as Texas, Mississippi, and Alabama have a logistics advantage due to their relative proximity to Mexico. Suppliers who aren't already well positioned may be forced to consider opening a new facility in Mexico. Mexico has thus also become a big player in the auto parts production market. Even the average U.S.-assembled car now has approximately $4,000 in Mexican parts, a figure that is growing by the day.

In addition to the geographic shift, the site selection process itself has adjusted to today's changing market. OEMs are frequently accelerating their site selection process to adjust to increasing demand. As a result, suppliers are often also pressured to proceed on a compressed schedule when building a new facility. Indeed, few plants in the automotive industry are now built on anything other than a "fast-track" schedule.

Mexico Encroaches on China's Territory
Mexico's status as a favored low-cost manufacturing base initially took flight after the signing of the North American Free Trade Agreement (NAFTA) in 1994. In 2001, it took a hit after China entered the World Trade Organization and gained a significant share of factory work. It appears that the pendulum is now starting to swing back.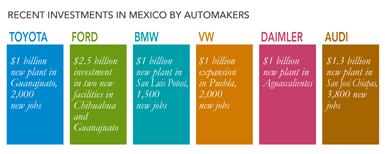 Manufacturing wages are low. Adjusted for productivity, wages are 25–30 percent lower in Mexico than in China. Mexico's gain in relation to China does have an advantage for the U.S., because Mexican factories use four times as many American-made components as Chinese factories do.
Energy costs are also low. Natural gas prices in Mexico are tied to those of the U.S., which are exceptionally low because of a glut of supply on the market. China pays 50–170 percent more than Mexico for industrial natural gas. Mexico also has an edge over China in electricity costs, although electricity rates in the U.S. are the lowest of the three countries.
More free-trade agreements than any other country. Mexico has free-trade agreements with 44 countries. These pacts give exporters from Mexico duty-free access to markets that contain 60 percent of the world's economic output. The agreements result in significant savings — for example, exporting an Audi SUV (Q5) from Mexico to Europe costs approximately $4,500 less than exporting it from the U.S. to Europe.
A growing cluster of automotive companies. Mexico has become a major auto manufacturer; 89 of the world's top 100 auto parts makers have production in the country. The plants are concentrated in five Mexican states, reducing transportation costs.
Challenges Faced by Mexico
Although Mexico is an attractive location, there are drawbacks to locating a facility there. Some companies, particularly those in Europe and Asia that may be less familiar with Mexico, are concerned about its high crime rates. They may choose to avoid exposing their employees to the perceived risk of living there. Other challenges relate to utilities. In some areas of Mexico, it is difficult to locate a site near a sufficient source of water (which is mainly supplied through wells), and a reliable source of power. In addition, electricity rates are high compared to those in the U.S.

Although labor costs in Mexico may be inexpensive, U.S. workers do have an edge when it comes to productivity. Companies locating plants in the U.S. benefit from the fact that U.S. workers are three times as productive as workers in Mexico, as measured by GDP per hour worked.

Additionally, the Transatlantic Trade and Investment Partnership (TTIP), a free-trade agreement under consideration by the U.S. and the EU, would lessen Mexico's advantage should it be finalized. The TTIP's aim is to reduce trade barriers, tariffs, and other restrictions on economic exchanges between the two blocs. If finalized, it would neutralize the trade advantages of locating an automotive plant in Mexico, and is therefore likely to reduce Mexico's share of produced parts in U.S.- manufactured vehicles.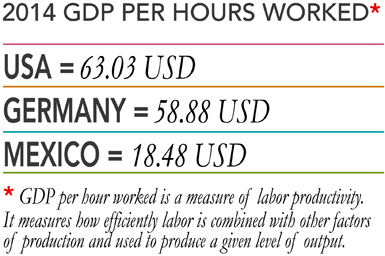 The Southeast Remains in the Running
The Southeast U.S. has many advantages as a manufacturing base and should be considered by companies making "fast track" location decisions. Southern States, particularly those with seaports on the Gulf of Mexico (Texas, Louisiana, Mississippi, and Alabama), will continue to be competitive options for OEMs as well as suppliers of automotive plants in Mexico.

Companies are usually looking for:
Simple ownership
Graded sites
Utilities at site or nearby (maximum 12-month construction/upgrade time)
Flexible covenants
Fast-track permitting
Site in county limits
Incentives approved by legislature
Flexible local team capable of adjusting to cultural differences posed by international clients
Easy and nearby interstate access
Rail-connected or nearby intermodal hub
No environmental issues (e.g., Phase 1, archaeological, endangered species; completed geotechnical and wetland mitigation reports)
No expanding clays, good soil bearing pressure, no sinkholes
Attainment area
Southeastern States can make their case by showing how they meet these criteria as well as by playing up their assets, including:
Close proximity to Mexico by sea and rail
Skilled workforce
Productive workers
Established training programs
Safe working and living environment
Established aerospace and automotive supplier base
Lower power rates
Competitive incentives for the start-up phase of a project
The competitive threat by Mexico should serve as motivation for the U.S. to ramp up efforts to win new investment by automotive companies. Even in the absence of TTIP, the U.S. has strong advantages to offer.