Through tax and regulatory reform, U.S. manufacturing has had a strong year. According to the National Association of Manufacturers (NAM), the industry's optimism registered at 93.9 percent, which is the highest year average in history. Despite strong developments, work is still needed, particularly in infrastructure. Although touted aggressively in 2018, a large infrastructure investment has yet to be announced and is not expected to happen this year. The reasons are ultimately political, but it's important to recognize the role infrastructure plays in a successful manufacturing landscape.

Modern Manufacturing's Infrastructure Needs
The fact is U.S. infrastructure is decaying. From roads and bridges to airspace, water, energy, and even cybersecurity — these systems are crumbling, and the band-aid fixes are no longer sustainable. The American Society of Civil Engineers (ASCE) graded America's infrastructure a D+ in its 2017 evaluation. This is actually the same score the U.S. received in 2013, meaning little improvement has been made.

For the manufacturing industry, infrastructure is necessary to efficiently acquire materials and reliably transport finished products. Without strong infrastructure systems, the supply chain is broken, slowed or cumbersome, at best. Apart from the obvious decline, modern manufacturing involves sophisticated logistics with inter-modality coupled with containerization and instantaneous communication. It is critical to not only identify changes to the industry but to anticipate further evolutions to plan and invest for the future. For example, what was required for the steam engine centuries ago is irrelevant in the modern era. Currently, advanced communications facilitate the disintegration of the manufacturing process, allowing design, finance, administration, component manufacturing, and assembly to be in different locations, yet still function cohesively.

Ultimately, manufacturing and infrastructure need each other. When both are strong, they are an unstoppable force.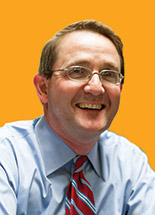 Advances on the Legislative Front
Though a popular talking point, the infrastructure problem persists at a federal, state, and local level. Esri, a geographic information system software company, reports that federal infrastructure spending has dropped by 50 percent in the past 30 years — from 1 percent to 0.5 percent of GDP. State and local investments are also at a 30-year low.

As a percentage of GDP, the U.S. is investing significantly less in its infrastructure when compared to other nations. The current U.S. rate is 2.4 percent, while China's rate, for example, is 8.6 percent.

The White House previously touted a $1.5 trillion plan to repair and upgrade America's infrastructure, leveraging state and local tax dollars plus private investment. After much opposition from Congress, largely due to responsibility given to states and cities for infrastructure improvements, the plan is, by all reports, dead. Still, the administration appears confident to pass a bipartisan plan for publicly funded projects.

In July, House Transportation and Infrastructure Committee Chairman Bill Shuster introduced a draft plan that addressed possible funding sources for a number of potential projects that levies taxes on multiple fuel sources. While the bill did not receive action, it has kept momentum for infrastructure alive and laid a solid groundwork for what needs to happen. While a large plan seems on hold, some positive action has taken place more recently. In October, Congress passed the Federal Aviation Administration (FAA) Reauthorization Act of 2018. The bill provides for long-term funding for the FAA and touches upon numerous issues of importance to the industry, from certification and regulation to the enabling of the future of supersonic travel and the facilitating of a range of new electrical and autonomous systems. It ascertains infrastructure investment to modernize the aviation sector. Manufacturers welcomed the action both for strengthening the nation's air transportation as well as increasing U.S. manufacturing competitiveness, efficiency, and growth.



The fact is U.S. infrastructure is decaying. From roads and bridges to airspace, water, energy, and even cybersecurity — these systems are crumbling, and the band-aid fixes are no longer sustainable.

Also, more recently, the president signed America's Water Infrastructure Act of 2018 (AWIA) into law. The act will authorize federal funding for water infrastructure projects, expand the country's water storage capabilities; upgrade wastewater, drinking, and irrigation systems; in addition to permitting or reauthorizing water infrastructure projects and programs. NAM points out that "upgrading and modernizing harbors and ports as well as aging inland waterway lock systems" is critical for moving U.S. manufacturing forward.

It's worth noting that the Fixing America's Surface Transportation Act (FAST Act), also known as the highway bill, will expire in 2020. With this deadline looming, Congress is being urged now to build a plan to ensure more funding for transportation improvements.

Outside Investment
While recent positive moves have occurred, big initiatives have fallen short. As such, private equity firms are taking matters into their own hands and are poised to raise a substantial amount of funding for infrastructure investments. Collectively, firms have raised some $68.2 billion in the first three quarters of the year, which is up 18 percent from last year.

Still, to truly solve the problem and shore up the infrastructure landscape to ensure a strong U.S. manufacturing economy, federal infrastructure intervention is necessary. The need is clear — our infrastructure needs updating. Without action, America's economy could be detrimentally impacted, especially the manufacturing sector. The ASCE report cites the following consequences if infrastructure investment is neglected:
$3.9 trillion in losses to the U.S. GDP by 2025
$7 trillion in lost business sales by 2025
2.5 million lost American jobs in 2025
As with any big investment, cost is always an issue, especially considering the capital investment as well as ongoing maintenance. However, if the focus shifts from the cost to the opportunity presented, the return on investment is more prominent. Infrastructure is truly an economic investment that impacts multiple industries translating into new jobs and increased GDP.