Where are the best job opportunities, and in what sectors? The research from market analytics consultant Emsi suggests that some of the most attractive sectors in terms of decent-paying jobs are also doing fairly well in terms of job growth.

Most states will welcome all the manufacturing activity they can get, for example, and many states have been seeing healthy manufacturing job growth in recent years. Auto manufacturing is in respectable shape, biopharm is healthier all the time, and there's always a need to make more food. Some job sectors are relatively flat, but even the one that has suffered the most in the past few years — oil and gas — seems to be on the mend.

The State of Manufacturing
Manufacturing jobs continue to be a bit of a wild card. It's a U.S. sector that by most measures isn't what it used to be, thanks to ever-increasing competition from overseas locations. And according to projections from the Bureau of Labor Statistics, it's not a hot sector overall, with total employment expected to drop by half a percent between 2018 and 2028.

Despite the projections, the trend line in the near term has been moving in a positive direction. By late 2017, the sector had finally recovered all of the jobs it lost in the Great Recession, and the numbers kept moving upward before appearing to level off as 2019 progressed.

Even if the sector as a whole is only lukewarm, the state-by-state tallies from Emsi indicate that some areas are downright on fire. Nevada continues to be a runaway leader in the percentage of manufacturing jobs added since 2015, up an astonishing 35.1 percent. Idaho has upped its count by 10.7 percent. Florida's manufacturing total grew by 9.3 percent, and Arizona's by 9.1 percent.

By Emsi's count, California remains the nation's leading manufacturing state in terms of total jobs, at nearly 1.4 million, up 2.9 percent between 2015 and 2019. Of the top 10 manufacturing states by job total, only one has shown a decline since 2015: New York. In that group of the 10 biggest makers-of-things, Michigan recorded the highest growth since 2015, at 7.5 percent, followed by Indiana's 4.7 percent manufacturing expansion.

Overall, according to one BLS report, manufacturing output is higher than it was two decades ago, by at least 5 percent — but the growth is more capital-intensive than labor-intensive. There are fewer jobs than two decades ago, and those that remain are more likely to require higher levels of education, in many cases calling for at least some college.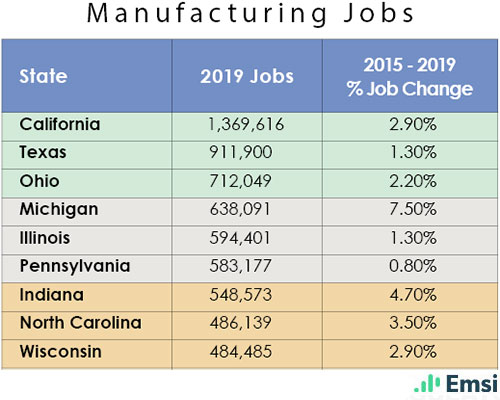 Industrial Sectors With the Most Jobs
Manufacturing Jobs

Automotive

Aerospace Vehicles & Defense

Biopharmaceuticals

Food Processing

Info Technology & Analytical Instruments

Oil & Gas

Transportation & Logistics

Financial Services

Business Services
Drilling Down into Manufacturing Industries
Among the states with the most manufacturing employees, one of the biggest common denominators is the automotive sector. Simply put, a lot of American jobs have ties to the wheels we drive.

The well-known automotive capital of Michigan, for example, is the fourth-biggest manufacturing state by overall employment, according to Emsi data. About 639,000 Michigan residents take home a manufacturing paycheck, and nearly 200,000 of those jobs are in the auto sector. And the sector is growing there — Michigan has seen 10 percent growth in auto jobs since 2015.

Similarly, Ohio ranks third in overall manufacturing and second in auto manufacturing, though its auto number hasn't really budged in the past few years. Indiana is third in auto making, seventh in overall manufacturing jobs.

Much of the major job growth in auto manufacturing has been in the newer auto hotbed: the South. For example, there has been 37 percent auto job growth in South Carolina, according to Emsi data, where it's a $27 billion industry that really got rolling in the 1990s when BMW started making cars there. Georgia has seen 24 percent growth, with Kia a big name on the list of many employers. In California, meanwhile, the auto jobs picture has been heading well into positive territory in the past few years, up 33 percent. A major player there is Tesla, which a decade ago took over ownership of the former General Motors-Toyota joint venture assembly plant in Fremont and now employs thousands.

While the automotive sector has been flying, the business of aerospace vehicles and defense has been a bit grounded. There are pockets of significant growth, but some of the busiest aerospace states have seen employment decline in the past few years. California and Washington lead the way in employment in this sector, but in both cases their numbers are down since 2015.

The sector is certainly evolving, as more companies are reaching for the stars. California, for example, has historically built airplanes, but these days there's a lot of focus on space vehicles. That space-focused trend certainly has helped fuel the significant increase in Florida's aerospace sector, and fast-growing Oklahoma has been getting a lot of attention in the area of unmanned aerial vehicles, including combat drones. Overall, the BLS sees aerospace product and parts manufacturing as a sector that's at least slowly growing, and definitely lucrative.

The biopharmaceuticals sector is, overall, on a healthy trend, according to Emsi statistics. Though jobs leader California has seen a slight dip in employment since 2015 — as have New Jersey, Indiana, and Massachusetts — the rest of the top 10 states have seen stable to growing job counts. That trend is even more pronounced a little further down the chart.

Biopharm is, as a whole, a growth sector, according to industry researchers. Its products continue to gain acceptance and use, as they tackle diseases that were previously seen as untreatable, and in some cases offer potential cures rather than just symptomatic treatment. It's a business with challenging manufacturing requirements and complex supply-chain needs, so locations that hope to succeed in this area will need to check off a lot of location factor boxes.

It should be no surprise that food processing and manufacturing is an ever-growing industry, given that there are ever-more mouths to feed. According to Emsi research, every state is involved in this sector in one way or another, and since 2015 only two states have seen a drop in employment. California is the biggest player here and has seen 9 percent job growth, while employment is up 10 percent in Illinois and 20 percent in Texas.

Food manufacturers are plugging billions of dollars into such capital expenditures as machinery and equipment, hiring more people, and paying them more. Meanwhile, cultural shifts and business challenges continue to alter the playing field for the future. New modes of delivery, from Amazon to sophisticated vending machines, are poised to have an impact, along with growing interest in plant-based foods and items containing cannabis. And as in many sectors, transportation issues such as driver shortages are making life difficult. It makes sense that, as technological advances hit virtually all aspects of life, there are growing job opportunities in information technology and analytical instruments. Multiple states have seen employment in this sector grow, Emsi reports, including sector leaders California and Washington.

Ups and Downs Elsewhere
The oil and gas sector was the bleakest of all as of last year's report. The job change picture was blinking red across-the-board, with double-digit declines in most states with a big role in oil and gas. Make no mistake, it's still not pretty, but now that the timeframe has shifted a year to reflect employment changes from 2015 to 2019, the picture is not nearly as ugly. Texas, the job-leader in oil and gas, has picked up more than 20,000 jobs in this sector since last report, and several thousand more jobs are now showing up in Oklahoma.

Indicators keep pointing up in transportation and logistics, too. The growth rate in Texas and Florida is holding steady, and it's accelerating in California, Georgia, and Illinois. Over the longer-term, BLS projections peg this sector as growing a bit faster in employment than the all-industries growth rate.

Financial services continues to add jobs, growing at a healthy pace in Arizona, North Carolina, Colorado, and Ohio. It's a field of ever-increasing automation, so the bright side is that there are only a few places where the sector is actually shrinking. Finally, there continues to be very healthy growth in the area of business services, with more than half a million jobs added in that sector last year alone — the most in any sector — according to BLS data. California, Texas, Florida, and New York continue to lead in business services employment overall.