How many places in the world can claim to be on the cutting edge of both space and ocean transportation? It's a striking illustration of the economic diversity you'll find as you scan down the East Coast of Florida and then partway up the Gulf side. There's a lot going on in this slice of the Sunshine State.

With regard to the ocean - the Panama Canal is in the midst of an expansion project that will soon double its capacity and enable larger ships to pass through. Miami, meanwhile, will be "the first major port on the East Coast to handle that size of ships," says Jaap Donath, senior vice president for Research & Strategic Planning at The Beacon Council in Miami. A dredging project is deepening the port to 50 feet to allow the big ships access.

It's the closest U.S. port to the Panama Canal and is a bustling destination for both cargo and cruise ships. The port is getting ready for the future in other ways, too, including boosting its cargo-handling capabilities to serve bigger vessels. A tunnel project will give the port greater access to other transportation arteries.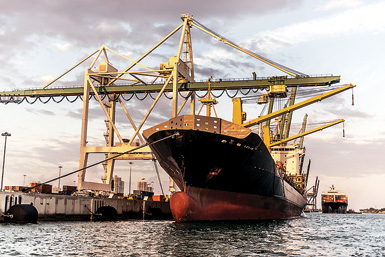 A Place on the Spaceflight Map


And then there is space. Florida, of course, has long had a major place on the spaceflight map with its NASA operations at the Kennedy Space Center. The area's space business took a hit in 2011 with the shutdown of the space shuttle program and the related layoffs of thousands of people. But that's not the end of the story, notes Lynn Pitts, director of Economic Development, Florida Power & Light. "What's changing is we're going from NASA to private-sector companies involved in space," he says.

Examples include SpaceX, Stratolaunch, and Sierra Nevada, which have operations there. Boeing also has a major presence, and earlier this year announced plans to convert a former space shuttle facility to allow it to land, refurbish, and relaunch X-37B reusable unmanned spacecraft.

Somewhat closer to the ground but still flight-related, Brazilian plane maker Embraer recently announced plans to expand its assembly operation in the Florida community of Melbourne to turn out midsize business jets. And Northrop Grumman Corp. is adding jobs, Pitts says. In May, the company announced plans to create up to 1,800 jobs through expansions at its campus in Melbourne. Northrop Grumman already had announced plans for a Manned Aircraft Design Center of Excellence in Melbourne and an Aircraft Integration Center of Excellence in St. Augustine.



Diversifying the Economy


Such headlines offer a glimpse into the way Florida has responded to challenges, such as that posed by the phase-out of the space shuttle program. Another glimpse came in response to the recent economic downturn. Florida has been accustomed to economic success through organic growth, but as Pitts notes, the influx of prosperity took a hit.

"Unemployment was a couple of percentage points above the national average," he notes. The state responded with a significant regulatory streamlining and a concerted effort to reach out to the business community. "The business perception of Florida turned around, and a lot of people started big projects here," Pitts says. "We're trying to diversify and get more manufacturing, more corporate headquarters, more technology-based companies."

South Florida already had a fair number of corporate headquarters. As Pitts notes, Miami is something of a gateway to the southern hemisphere and an ideal location for such things as international banking and Latin American headquarters. But there's always room for more. The Greater Fort Lauderdale Alliance, for example, boldly went out in search of headquarters and landed some healthy catches, including a dozen or more in the past few years. The area is now home to about 150 corporate or international regional headquarters.



Recent Investments


Meanwhile, the Fort Myers area last year landed a big fish when it lured the world headquarters of car rental giant Hertz from New Jersey. Its $50 million project was expected to bring in some 700 jobs, according to Pitts. At the time of the announcement, company officials pointed to their acquisition of Oklahoma-based Dollar Thrifty, noting that they felt a Florida address would be an attractive draw for retaining and relocating valuable Dollar Thrifty employees rather than losing them.

Big manufacturing operations are certainly attractive for economic development officials anywhere, but midsized projects are also quite pleasing to leaders in Florida, which historically has been known more for tourism and agriculture. Over along the western edge of the peninsula, one example is Air Products. The company earlier this year opened a liquefied natural gas heat exchanger manufacturing plant in Palmetto, and noted that proximity to Port Manatee made the site irresistible.

Global opportunities should continue to grow in the Miami area, with the establishment a couple of years ago of a "mega" foreign-trade zone. It's a streamlined arrangement that allows companies located on the right parts of the map to operate their own industrial facilities as FTZs, according to Donath. "Now any building can be designated as a foreign trade zone."

Also poised for growth are R&D-intensive industries, including those related to biotech and healthcare, according to Pitts. Scripps Florida, Max Planck Florida Institute, the Torrey Pines Institute for Molecular Studies, and other institutions join the state's universities in drug development and other groundbreaking work, and that holds a lot of promise for business and employment growth.



Nurturing Talent


Donath notes the importance of continuing to nurture that kind of brainpower to keep moving the area forward. That's why the region assembled its One Community One Goal's Academic Leaders Council, comprised of the leaders of six major universities and the local public schools. "They meet on a quarterly basis," Donath says, with wide-ranging goals that include beefing up programs in life sciences, aviation, and trade/logistics, along with other workforce initiatives geared toward strengthening the local economy. He says it's all part of answering a critical question: "Can we find the labor we need with the skills we need?"

Given how successfully this piece of Florida has adapted to the challenges of recent years, there's a good bet that the answer will be "yes." As Donath notes, though some measures of the economy aren't quite where they were before the recession hit, normalcy is returning. "It's improving. A lot of things are happening."