With auto manufacturers facing more restrictive emissions targets, a move to lightweight materials has become imperative. At the center of that change is the implementation of aluminum automotive bodies, also known as Body-in-White.

Last year alone, the booming aluminum industry produced $2 billion for Kentucky's gross domestic product and currently employs nearly 20,000 Kentuckians. Over the past two years, some 40 companies have announced aluminum- related projects in Kentucky, which has led to nearly $735 million in new investment.

Aleris in Lewisport is one of the companies taking advantage of the move to lightweight materials and has announced a $350 million expansion of its rolling mill.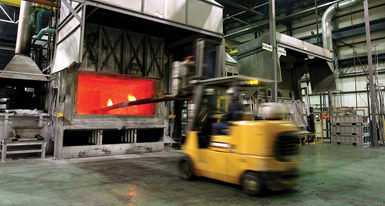 "Aleris has been a provider of state-of-the-art lightweight aluminum solutions to the European auto industry for a number of years, and we expect our Lewisport investment will allow us to extend those capabilities to our automotive customers in North America," said Steve Demetriou, Aleris chairman and CEO. "We believe the shift toward greater aluminum use in automotive manufacturing is one of the most significant opportunities in our industry's history, and we are excited to establish our Lewisport facility as a strategically important site in this evolution."
Constellium N.V. and UACJ Corporation have joined to build a $150 million aluminum production facility in Bowling Green. Constellium, a European aluminum company, and UACJ, a Japanese aluminum company, both will supply the aluminum coils that will then be processed.

"This project is very significant for UACJ in terms of our Body-in-White market strategy," said Mitsuru Okada, CEO of UACJ. "We look forward to supplying automotive OEMs throughout the U.S. with advanced products utilizing the technologies each party has separately developed in Europe and Japan. We welcome this joint venture with Constellium to tackle the strategic automotive market in the U.S. Both companies have been working hard together in the spirit of equal partnership, allowing us to finalize the agreement in a timely and efficient manner."

Other companies also have announced expansions to take advantage of Kentucky's aluminum expertise. Those include Hendrickson USA LLC, Martinrea, T.RAD North America, Gibbs Die Casting, Century Aluminum, Kobe Aluminum, Tower Automotive, and Angell-Demmel North America.

Use of aluminum sheet for vehicle bodies is projected to increase from 200 million pounds in 2012 to 4 billion pounds by 2025, so it is no wonder Kentucky is getting in on the ground floor of this rapidly growing industry.